Dragon Baker
Price: $1,299.95
The Dragon Baker! Freight quote required, delivery by lift gate truck!
The SilverFire Dragon Baker is a ornate cast iron massive bake and heating wood burning cookstove is ideal for baking or heating. Primary and Secondary hot flu gas combustion means efficiently burned wood, smoke and exhaust, when using quality, dry fuel. Reduce your cooking and heating bills and live green by utilizing renewable fuels. Large firebox and ash bin means easy maintenance.
Maximum Heat Output: 61,000 BTU / HR / 18 KW.
Estimated heating capacity: 1,000 - 2,800 sq. ft.
Baking compartment: 22" wide x 16"deep x 10" tall.
Firebox: 19.5" wide x 15" deep x 18" tall
Recommended Fuel Length: 18" maximum
This heavy duty cast iron is tough, elegant and will keep you cozy! Key cast iron firebox components are rugged, modular, and replaceable. Firebox features hot flu gas double wall construction. Primary air dampener below grate and secondary hot flu gas ventilation dampner above (directly below firebox). Uses 6" round chimney, vented through rear of stove. Hot ash door and removable tray for easy access cleaning. Maximum combustion burn times are going to vary typically from 7 to 15 hours, depending on load volume, species, moisture content, and density of fuel.
Note: All stoves burn cleaner with dry fuel. Any stove with a chimney is designed to vent emissions outdoors. Our chimney stoves are designed for use with dry fuel, fuel with increased moisture content produces smoke and results in inefficient combustion and increased soot formation. Our small portable biomass stoves without chimneys are designed for dry biomass, however still function, though less efficiently using wet fuel. Burning fuel wet fuel is irresponsible and should be avoided if possible.
Internal baking chamber: 22" wide x 16" deep x 10" tall.
Overall oven dimensions are: 25" wide x 22" deep x 39" tall
Weight 403 lb. / 183 kg
Pallet LTL quote & delivery required.
Combustion Process Diagram: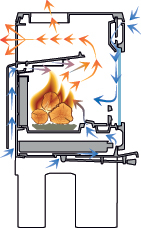 Secondary hot flu gas combust at top of firebox, maintain efficient rolling flames and keep firebox door glass clean. This secondary combustion ensures efficient, clean burning performance.
Primary ventilation dampener allows easy wood burning ignition and the secondary airflow dampener above controls comfort.
The goal of a well designed clean burning cook stove is to burn cleanly as possible, reducing emissions and fuel use. The secondary combustion above the flame is also known as gasification. All SilverFire stoves provide both primary and secondary combustion, to maximize combustion efficiency and protect the environment.
Description

The Dragon Baker! Freight quote required, delivery by lift gate truck!

The SilverFire Dragon Baker is a ornate cast iron massive bake and heating wood burning cookstove is ideal for baking or heating. Primary and Secondary hot flu gas combustion means efficiently burned wood, smoke and exhaust, when using quality, dry fuel. Reduce your cooking and heating bills and live green by utilizing renewable fuels. Large firebox and ash bin means easy maintenance.

Maximum Heat Output: 61,000 BTU / HR / 18 KW.

Estimated heating capacity: 1,000 - 2,800 sq. ft.

Baking compartment: 22" wide x 16"deep x 10" tall.

Firebox: 19.5" wide x 15" deep x 18" tall

Recommended Fuel Length: 18" maximum

This heavy duty cast iron is tough, elegant and will keep you cozy! Key cast iron firebox components are rugged, modular, and replaceable. Firebox features hot flu gas double wall construction. Primary air dampener below grate and secondary hot flu gas ventilation dampner above (directly below firebox). Uses 6" round chimney, vented through rear of stove. Hot ash door and removable tray for easy access cleaning. Maximum combustion burn times are going to vary typically from 7 to 15 hours, depending on load volume, species, moisture content, and density of fuel.

Note: All stoves burn cleaner with dry fuel. Any stove with a chimney is designed to vent emissions outdoors. Our chimney stoves are designed for use with dry fuel, fuel with increased moisture content produces smoke and results in inefficient combustion and increased soot formation. Our small portable biomass stoves without chimneys are designed for dry biomass, however still function, though less efficiently using wet fuel. Burning fuel wet fuel is irresponsible and should be avoided if possible.

Internal baking chamber: 22" wide x 16" deep x 10" tall.

Overall oven dimensions are: 25" wide x 22" deep x 39" tall

Weight 403 lb. / 183 kg

Pallet LTL quote & delivery required.




Combustion Process Diagram:

Secondary hot flu gas combust at top of firebox, maintain efficient rolling flames and keep firebox door glass clean. This secondary combustion ensures efficient, clean burning performance.

Primary ventilation dampener allows easy wood burning ignition and the secondary airflow dampener above controls comfort.

The goal of a well designed clean burning cook stove is to burn cleanly as possible, reducing emissions and fuel use. The secondary combustion above the flame is also known as gasification. All SilverFire stoves provide both primary and secondary combustion, to maximize combustion efficiency and protect the environment.

Reviews
---