Economy Scout with MSR Pot Combo Order
Price: $54.95
Economy 201 SS SilverFire Scout with MSR Pot Combo Order!
Our new improved pot support design increases stability, accommodates smaller pots and eliminates hinged pot supports! Read carefully, this item can be purchased in 4 different configurations! The stove alone is 5 & 1/8" wide, 2 & 3/4" tall collapsed.
Configuration #2. MSR Pot, & Economy Scout Stove!
To Order: Select Add to Cart and proceed to Cart to checkout on top right of page. You never have to create an account to buy from SilverFire!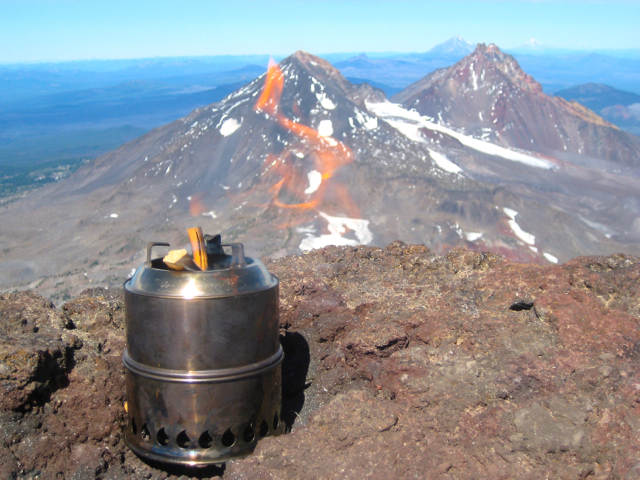 Economy Scout at 10,358 feet (South Sister Cascade Range, Oregon. Photo courtesy of Colin Albi ,September 2015.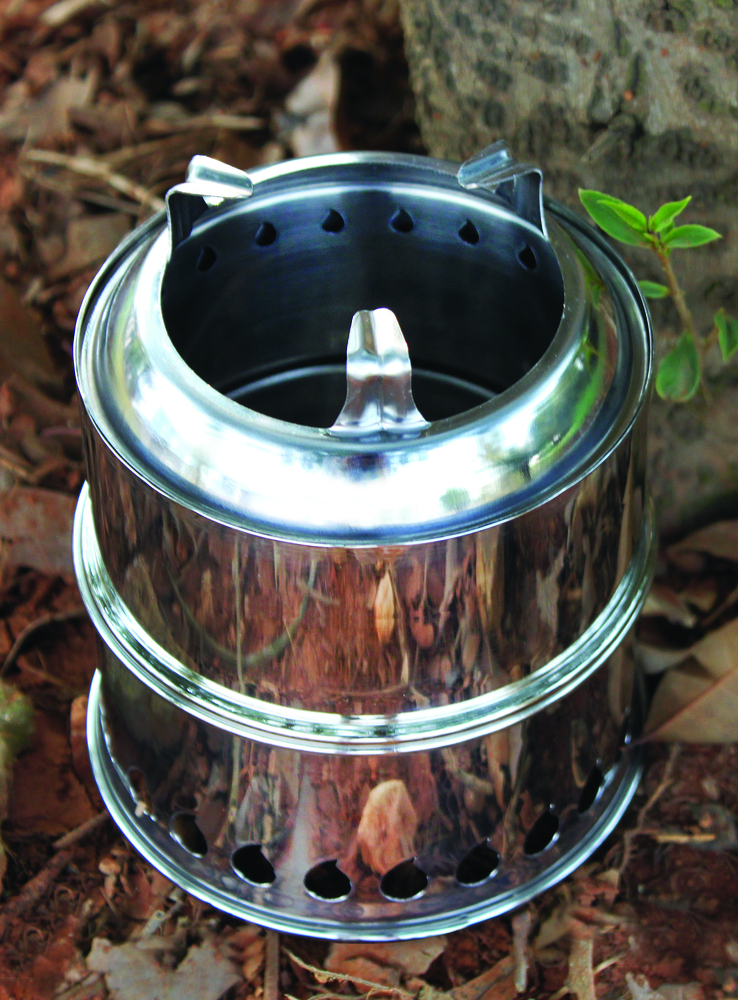 Awesome backpack / bug out bag triple product combination kit! The Economy Combo FS sale includes Economy 201 SS Scout stove, and MSR pot and, which both fit inside the black nylon draw string Scout bag. SilverFire Scout Stove nests inside MSR folding locking Alpine Stowaway pot! This complete field stove / pot cooking combination could save your life in the field! Our Economy 201SS SilverFire® Scout is an ultra lightweight wood fired gasifier stove, that operates on twigs or flammable biomass. The rugged stainless steel MSR 775 ML pot is the perfect protective companion for your SilverFire Scout Twig stove. The small backpack and extra pot collapsed is shown with SilverFire Scout, & MSR Alpine Stowaway pot. A rugged black nylon drawstring bag is included in the sale.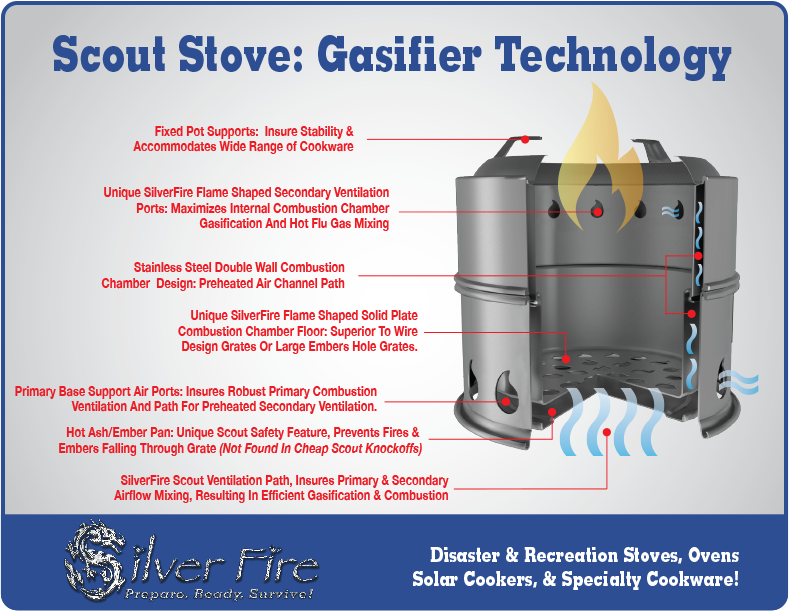 Warning: Buyer's beware, only the SilverFire® Scout has a safety ash / hot ember plate attached below the combustion chamber and flame shaped ventilation holes in our custom patented design. The Internet displays numerous cheap Scout knockoffs, that do not include our ash plate design and have large holes in combustion chamber floor, which allow hot embers to fall through, This is an extreme safety liability and may result in igniting a fire outside the stove! These knockoff stoves are easily identified by round or square shaped ventilation holes, and do not exhibit our smaller SilverFire flame shape motif! Buyer beware!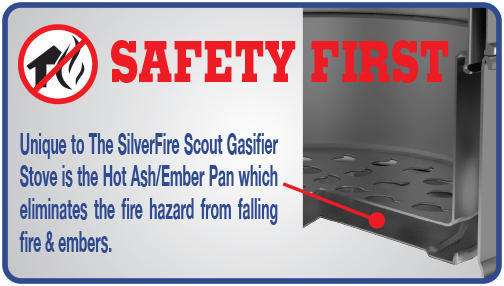 Baking a Chicken with the SilverFire Scout!
Minimum Fuel, Maximum Taste! Scout filled with wood pellets to maximize the duration of burn time for baking. This oven is a prototype built by Tyson Traeger of Wood pellet products here in Oregon with a surplus firebox from his Lil Timber patio heater.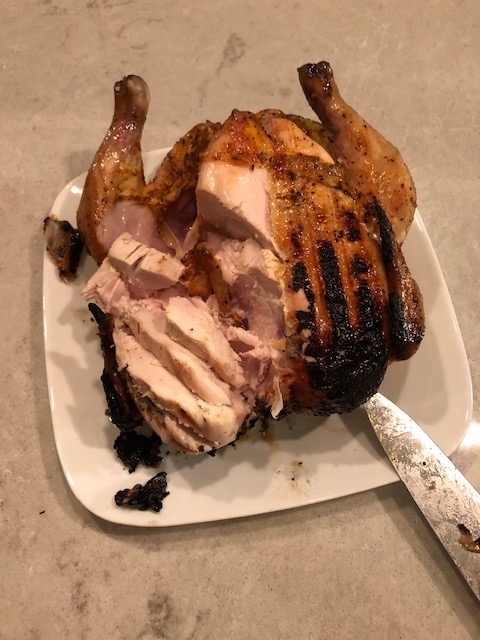 Finally the perfect TLUD* compact stove for backpacking or bug out bags with the MSR Alpine Stowaway pot. This all stainless steel stove's state-of-the-art design blends practical technology, durable materials, safety, and ease of use. The compact Scout design nests in the rugged MSR pot perfectly for travel. It is the must-have companion for the SilverFire Scout. This stove/pot combination could save your life in the field. Our simple modular nesting stove is the diameter of a CD and the profile is only 2 & 1/2" tall when collapsed and stowed in our nylon bag. The Scout TLUD is a leading compact gasifier stove design (vs bulkier Solo, BioLite, Bush Buddy, & Wood Gas stove options). While other nesting gasifiers maybe appear similar at first glance, only the Scout has a protective ash plate below the combustion chamber floor, to ensure safe operation and control of live embers. Ensure you are ordering the stove with our easy recognizable flame shaped ventilation holes. Nesting stoves with square or round ventilation holes do not incorporate our important safety ash plate design found below the combustion chamber. Our simple stove design does not use a fragile spring wire pot support system that can leave your stove inoperable in the field. We use a refractory stainless steel grate floor, not wire. Wire grate combustion chamber floors are fragile compared to our stainless steel plate floor. We have received reports from owners of stoves with wire grates that snapping and failing in the field when fuel is inserted into the combustion chambers or during cleaning. Fortunately, they have been able to replace their stove with our superior, simple, and more compact design with a solid combustion chamber floor. The SilverFire® Scout is designed for minimalist cookware. Large heavy cast iron cookware is not suitable for this stove. It is designed for backpack cookware and small pots. It is not suitable for small diameter cups or cookware with a diameter of less than 2.5" or 6.35 CM or less (most small footprint cookware Stanley cup and other micro diameter MSR type small diameter cookware is fine). Large, heavy cast iron cookware is also not suitable for this stove. It is designed for backpack cookware and small pots. Buyer's beware, only the SilverFire® Scout has a safety ash plate and flame shaped ventilation holes in our custom patented design. Our factory makes every attempt to catch sharp edges or burs left from production. In the event, there is an issue are more than happy to accommodate you. The thin gauge stainless steel is very easy to remove any sharp edges with a fine rasp, file, metal sanding pad, Emory cloth, or sandpaper. In the event a stove does not meet your expectations, please return it to us and we are happy to replace it or detail it for you. Clean burning gasification is provided by natural draft ventilation. The stove produces high heat for a twenty-minute burn with a single load of ordinary twigs. Longer durations are possible with more fuel or denser hardwoods. There are no moving parts, no electronics, and a zero post-manufacturing carbon footprint.
MSR Alpine Stowaway Pot, amazing design for the compact footprint of the SilverFire Scout Backpack/Bug Out Bag Stove. This rugged stainless steel pot is the perfect companion to carry your SilverFire Scout Stove. This MSR Alpine Stowaway 775 ML pot is the perfect footprint for any small pack bag, glove box, or fanny pack. The Folding pot handle locks in place and ensures your SilverFire Scout is safe. The Alpine Stowaway stainless steel pot is complete with a folding locking lid and time to boil is 5 minutes or less. It is the most durable pot in its class and weighs in at 13 oz / 365 gm.
You are only limited by your imagination. Here is an example of waffles on the Scout below. We found a salesman's 1910 Wagner Cast Iron Sample Wagner Iron. In the 1900's salesmen would carry this miniature sample into department stores to show the buyer the new model that year and take orders. We decided to give it a try. Since the diameter was small we use a piece of flat perforated stainless to support the cast iron waffle base. It worked fine!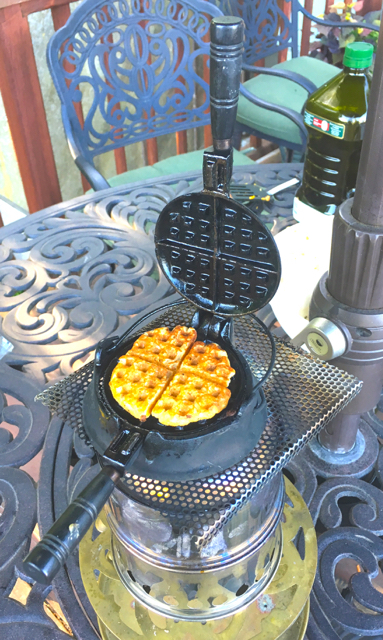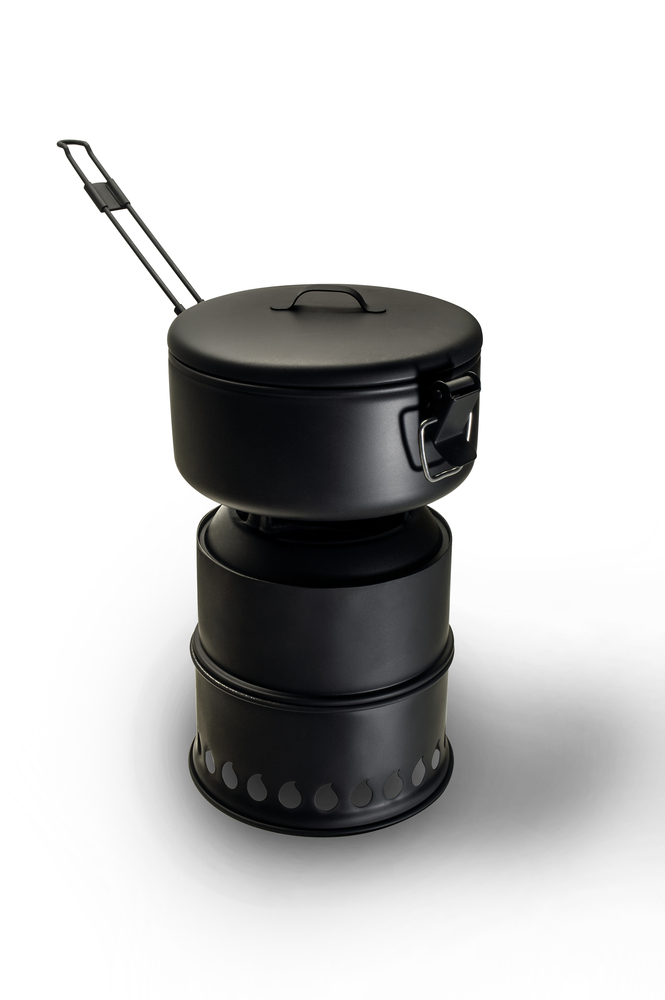 We have had a few customers inquire about custom stove finish options. Cerakote, matte finishes, and camouflage finishes have all peaked interest. Heat resistant paint can quickly be applied per your preference.
Unlike other wood-burning stoves, the SilverFire Scout nests together inside the MSR Alpine Stowaway pot, and quickly assemble into a robust cooking platform. This pot combination could save your life in the field, or in your vehicle glove box, if used with the SilverFire Scout.
DIRECTIONS ON USE:
TO IGNITE FINE, DRY TINDER: Set tip of flint directly into tinder. Scrape firmly all the way to the end of flint rod. If tinder does not ignite right away, scrape flint consecutively 2 or 3 times. Its the last part of the flint that will ignite the tinder.
TO IGNITE DAMP TINDER: Shave magnesium (lighter rod) into a quarter sized pile. Place fine tinder on top of magnesium. Then scrape flint (darker rod) with a solid, firm scrape to ignite the material.
TIPS ON USE:
Place the tip of the fire starter firmly on the ground.
Hold the scraper at an angle to the rest of the fire starter. Slanted forward.
For best results, the flint bar should be touching or nearly touching tinder.
If the scraper is lost, a knife, broken glass, chipped rock or any hard sharp edge will work in its place.
Tinder includes moss, dead grass, pine needles, leaves, wood shavings, steel wool, cloth, paper, etc.
Shavings from the wooden handle make excellent fine and dry tinder.
Returned SilverFire products are subject to a 25% product restocking fee and all shipping costs are non-refundable. A tracking number is sent to your provided email entered at the time of order. The tracking number is generated at the end of each business day after the carrier scans the package (Monday through Friday). Please refer to the email for the tracking number. There is no ground service on weekends.
Please note many of our important stove and cookware options are found on our Accessories, H20 &LED, and oven links!
Always feel free to call with questions 10 AM - 4:00 PM Pacific Time Zone, Monday through Friday regarding our products.
Questions?
Write SilverFire Sales: sales@silverfire.usPacific Time Zone, 10 - 5:00 PM USA Domestic & Humanitarian Sales
SilverFire Warehouse: +001 541 222-9212 Pacific Time Zone 10 -5:00 PM
Description

Economy 201 SS SilverFire Scout with MSR Pot Combo Order!

Our new improved pot support design increases stability, accommodates smaller pots and eliminates hinged pot supports! Read carefully, this item can be purchased in 4 different configurations! The stove alone is 5 & 1/8" wide, 2 & 3/4" tall collapsed.

Configuration #2. MSR Pot, & Economy Scout Stove!

To Order: Select Add to Cart and proceed to Cart to checkout on top right of page. You never have to create an account to buy from SilverFire!

Economy Scout at 10,358 feet (South Sister Cascade Range, Oregon. Photo courtesy of Colin Albi ,September 2015.

Awesome backpack / bug out bag triple product combination kit! The Economy Combo FS sale includes Economy 201 SS Scout stove, and MSR pot and, which both fit inside the black nylon draw string Scout bag. SilverFire Scout Stove nests inside MSR folding locking Alpine Stowaway pot! This complete field stove / pot cooking combination could save your life in the field! Our Economy 201SS SilverFire® Scout is an ultra lightweight wood fired gasifier stove, that operates on twigs or flammable biomass. The rugged stainless steel MSR 775 ML pot is the perfect protective companion for your SilverFire Scout Twig stove. The small backpack and extra pot collapsed is shown with SilverFire Scout, & MSR Alpine Stowaway pot. A rugged black nylon drawstring bag is included in the sale.

Warning: Buyer's beware, only the SilverFire® Scout has a safety ash / hot ember plate attached below the combustion chamber and flame shaped ventilation holes in our custom patented design. The Internet displays numerous cheap Scout knockoffs, that do not include our ash plate design and have large holes in combustion chamber floor, which allow hot embers to fall through, This is an extreme safety liability and may result in igniting a fire outside the stove! These knockoff stoves are easily identified by round or square shaped ventilation holes, and do not exhibit our smaller SilverFire flame shape motif! Buyer beware!

Baking a Chicken with the SilverFire Scout!

Minimum Fuel, Maximum Taste! Scout filled with wood pellets to maximize the duration of burn time for baking. This oven is a prototype built by Tyson Traeger of Wood pellet products here in Oregon with a surplus firebox from his Lil Timber patio heater.

Finally the perfect TLUD* compact stove for backpacking or bug out bags with the MSR Alpine Stowaway pot. This all stainless steel stove's state-of-the-art design blends practical technology, durable materials, safety, and ease of use. The compact Scout design nests in the rugged MSR pot perfectly for travel. It is the must-have companion for the SilverFire Scout. This stove/pot combination could save your life in the field. Our simple modular nesting stove is the diameter of a CD and the profile is only 2 & 1/2" tall when collapsed and stowed in our nylon bag. The Scout TLUD is a leading compact gasifier stove design (vs bulkier Solo, BioLite, Bush Buddy, & Wood Gas stove options). While other nesting gasifiers maybe appear similar at first glance, only the Scout has a protective ash plate below the combustion chamber floor, to ensure safe operation and control of live embers. Ensure you are ordering the stove with our easy recognizable flame shaped ventilation holes. Nesting stoves with square or round ventilation holes do not incorporate our important safety ash plate design found below the combustion chamber. Our simple stove design does not use a fragile spring wire pot support system that can leave your stove inoperable in the field. We use a refractory stainless steel grate floor, not wire. Wire grate combustion chamber floors are fragile compared to our stainless steel plate floor. We have received reports from owners of stoves with wire grates that snapping and failing in the field when fuel is inserted into the combustion chambers or during cleaning. Fortunately, they have been able to replace their stove with our superior, simple, and more compact design with a solid combustion chamber floor. The SilverFire® Scout is designed for minimalist cookware. Large heavy cast iron cookware is not suitable for this stove. It is designed for backpack cookware and small pots. It is not suitable for small diameter cups or cookware with a diameter of less than 2.5" or 6.35 CM or less (most small footprint cookware Stanley cup and other micro diameter MSR type small diameter cookware is fine). Large, heavy cast iron cookware is also not suitable for this stove. It is designed for backpack cookware and small pots. Buyer's beware, only the SilverFire® Scout has a safety ash plate and flame shaped ventilation holes in our custom patented design. Our factory makes every attempt to catch sharp edges or burs left from production. In the event, there is an issue are more than happy to accommodate you. The thin gauge stainless steel is very easy to remove any sharp edges with a fine rasp, file, metal sanding pad, Emory cloth, or sandpaper. In the event a stove does not meet your expectations, please return it to us and we are happy to replace it or detail it for you. Clean burning gasification is provided by natural draft ventilation. The stove produces high heat for a twenty-minute burn with a single load of ordinary twigs. Longer durations are possible with more fuel or denser hardwoods. There are no moving parts, no electronics, and a zero post-manufacturing carbon footprint.

MSR Alpine Stowaway Pot, amazing design for the compact footprint of the SilverFire Scout Backpack/Bug Out Bag Stove. This rugged stainless steel pot is the perfect companion to carry your SilverFire Scout Stove. This MSR Alpine Stowaway 775 ML pot is the perfect footprint for any small pack bag, glove box, or fanny pack. The Folding pot handle locks in place and ensures your SilverFire Scout is safe. The Alpine Stowaway stainless steel pot is complete with a folding locking lid and time to boil is 5 minutes or less. It is the most durable pot in its class and weighs in at 13 oz / 365 gm.

You are only limited by your imagination. Here is an example of waffles on the Scout below. We found a salesman's 1910 Wagner Cast Iron Sample Wagner Iron. In the 1900's salesmen would carry this miniature sample into department stores to show the buyer the new model that year and take orders. We decided to give it a try. Since the diameter was small we use a piece of flat perforated stainless to support the cast iron waffle base. It worked fine!

We have had a few customers inquire about custom stove finish options. Cerakote, matte finishes, and camouflage finishes have all peaked interest. Heat resistant paint can quickly be applied per your preference.

Unlike other wood-burning stoves, the SilverFire Scout nests together inside the MSR Alpine Stowaway pot, and quickly assemble into a robust cooking platform. This pot combination could save your life in the field, or in your vehicle glove box, if used with the SilverFire Scout.

DIRECTIONS ON USE:

TO IGNITE FINE, DRY TINDER: Set tip of flint directly into tinder. Scrape firmly all the way to the end of flint rod. If tinder does not ignite right away, scrape flint consecutively 2 or 3 times. Its the last part of the flint that will ignite the tinder.
TO IGNITE DAMP TINDER: Shave magnesium (lighter rod) into a quarter sized pile. Place fine tinder on top of magnesium. Then scrape flint (darker rod) with a solid, firm scrape to ignite the material.

TIPS ON USE:

Place the tip of the fire starter firmly on the ground.
Hold the scraper at an angle to the rest of the fire starter. Slanted forward.
For best results, the flint bar should be touching or nearly touching tinder.
If the scraper is lost, a knife, broken glass, chipped rock or any hard sharp edge will work in its place.
Tinder includes moss, dead grass, pine needles, leaves, wood shavings, steel wool, cloth, paper, etc.
Shavings from the wooden handle make excellent fine and dry tinder.

Returned SilverFire products are subject to a 25% product restocking fee and all shipping costs are non-refundable. A tracking number is sent to your provided email entered at the time of order. The tracking number is generated at the end of each business day after the carrier scans the package (Monday through Friday). Please refer to the email for the tracking number. There is no ground service on weekends.

Please note many of our important stove and cookware options are found on our Accessories, H20 &LED, and oven links!

Always feel free to call with questions 10 AM - 4:00 PM Pacific Time Zone, Monday through Friday regarding our products.

Questions?

Write SilverFire Sales: sales@silverfire.usPacific Time Zone, 10 - 5:00 PM USA Domestic & Humanitarian Sales

SilverFire Warehouse: +001 541 222-9212 Pacific Time Zone 10 -5:00 PM

Reviews
---