Finex Cast Iron 1 Quart Saucepan
Price: $125.00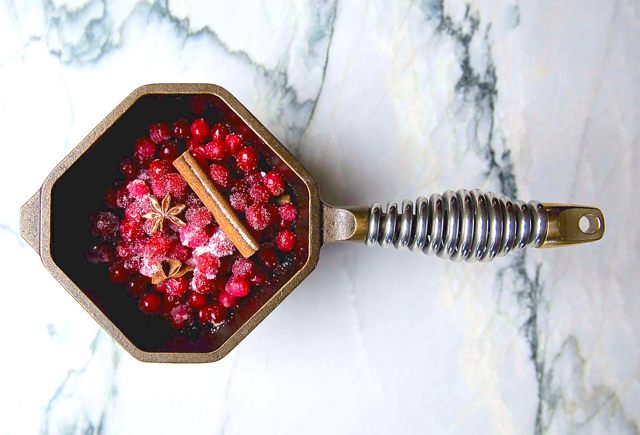 CAST IRON SAUCE POT
Prevents caramelizing and scorching of sweet secret sauces— it's a go-to for perfect reductions and glazes too. Beyond sauces, our cast iron sauce pot is excellent for baked beans, polenta or grits. Works great for baking delicious single-serve brownies, cakes and cornbread. Some even throw it in their wood-fired ovens for single-serve lasagna.
Size 12" x 6" x 4.25"
Cooking Surface 4"
Weight 5 lbs.
Cooking Methods Gas, Induction, Electric, Oven, Grill, Fire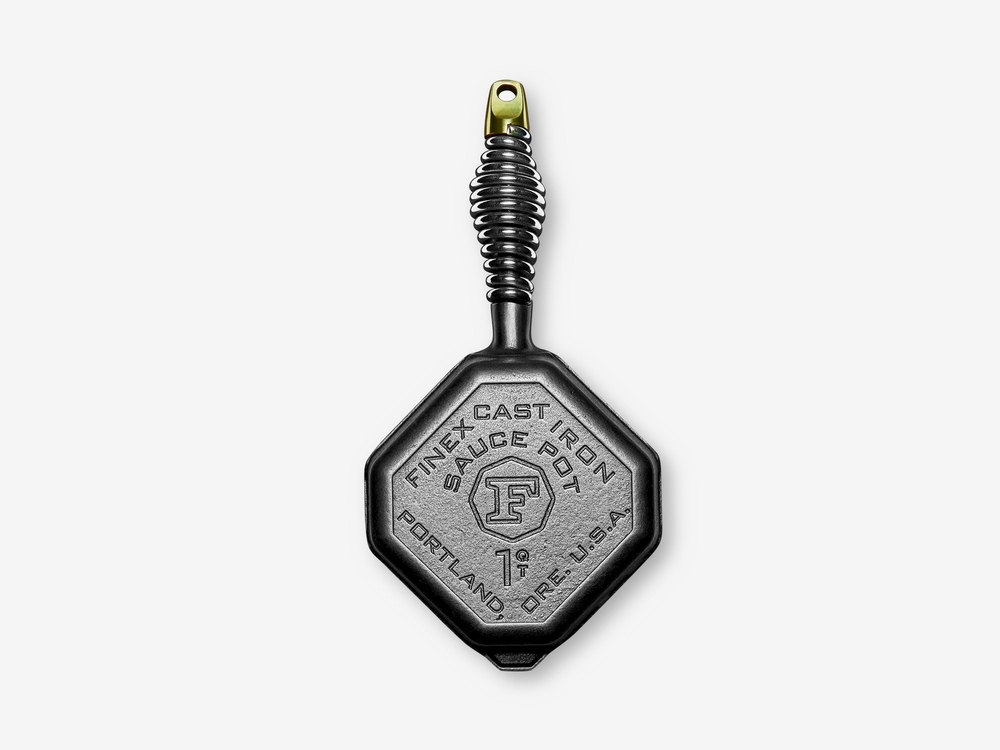 Quick Details:
Pre-seasoned with organic flaxseed oil—ready for use.
Thick-bottom design heats evenly and holds heat extremely well.
Speed cool stainless steel handle—no need for oven mitts when melting butter, or heating soup.
Use with gas, induction, electric or straight over the coals. Oven safe and grill ready.
Multi-angle design for perfect pours of sweet and savory sauces.
Handcrafted from the highest quality materials in the U.S.A.
Good Forever guarantee.
"Prevents caramelizing and scorching of sweet secret sauces – handier than a handle on a knife."
A wise old BBQ pit master once said "Nothing can't be improved with one of 4 things: BBQ sauce, melted butter, cheese or chocolate." He went on to clarify that beer doesn't count but his point was made. We think he'd fall hard for our thick bottomed 1 Quart Cast Iron Sauce Pot. So much of what makes a good sauce great is the sugar content and that same sugar can easily caramelize, scorch or separate if it gets overheated. Our cast iron sauce pot prevents that.
Beyond sauces, our cast iron sauce pot is perfect for delicious baked beans, polenta or grits. Some restaurants even use it to bake single-serve lasagna in their wood-fired ovens. Stable and tip resistant, each cast iron pot is made by hand from premium American cast iron, polished stainless steel and brass and then double hand seasoned with organic flax seed oil for a lifetime of use. Around here this pot has already proven it's worth heating countless soups, side dishes and makes the best S'mores dip we've ever dipped. A FINEX 1 Quart Sauce Pot is handier than a handle on a knife.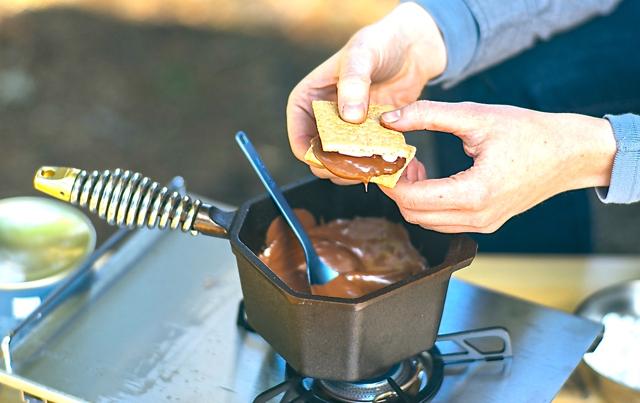 USE
and dry thoroughly prior to first use.
Pre-heat using medium-low heat for 5-10 minutes prior to each use.
In the beginning use a little more oil as you build up your seasoning.
Use caution with handles while on the grill, over the coals or in the oven—they get very hot.

CARE

Do not wash in dishwasher and do not soak for long periods.
Wash with hot water and use a stainless steel scrubber or chainmail to remove food material.
For tough cleaning, place a little water in the pan and boil for a few minutes before cleaning to loosen material. If necessary add a dab of soap.
After washing, throughly dry using a towel—or place on the stove and use a medium heat to completely dry.
Apply a light coat of vegetable oil after washing and drying to preserve seasoning and protect when storing.
Description

CAST IRON SAUCE POT

Prevents caramelizing and scorching of sweet secret sauces— it's a go-to for perfect reductions and glazes too. Beyond sauces, our cast iron sauce pot is excellent for baked beans, polenta or grits. Works great for baking delicious single-serve brownies, cakes and cornbread. Some even throw it in their wood-fired ovens for single-serve lasagna.

Size 12" x 6" x 4.25"
Cooking Surface 4"
Weight 5 lbs.
Cooking Methods Gas, Induction, Electric, Oven, Grill, Fire

Quick Details:

Pre-seasoned with organic flaxseed oil—ready for use.
Thick-bottom design heats evenly and holds heat extremely well.
Speed cool stainless steel handle—no need for oven mitts when melting butter, or heating soup.
Use with gas, induction, electric or straight over the coals. Oven safe and grill ready.
Multi-angle design for perfect pours of sweet and savory sauces.
Handcrafted from the highest quality materials in the U.S.A.
Good Forever guarantee.

"Prevents caramelizing and scorching of sweet secret sauces – handier than a handle on a knife."

A wise old BBQ pit master once said "Nothing can't be improved with one of 4 things: BBQ sauce, melted butter, cheese or chocolate." He went on to clarify that beer doesn't count but his point was made. We think he'd fall hard for our thick bottomed 1 Quart Cast Iron Sauce Pot. So much of what makes a good sauce great is the sugar content and that same sugar can easily caramelize, scorch or separate if it gets overheated. Our cast iron sauce pot prevents that.

Beyond sauces, our cast iron sauce pot is perfect for delicious baked beans, polenta or grits. Some restaurants even use it to bake single-serve lasagna in their wood-fired ovens. Stable and tip resistant, each cast iron pot is made by hand from premium American cast iron, polished stainless steel and brass and then double hand seasoned with organic flax seed oil for a lifetime of use. Around here this pot has already proven it's worth heating countless soups, side dishes and makes the best S'mores dip we've ever dipped. A FINEX 1 Quart Sauce Pot is handier than a handle on a knife.

USE
and dry thoroughly prior to first use.
Pre-heat using medium-low heat for 5-10 minutes prior to each use.
In the beginning use a little more oil as you build up your seasoning.
Use caution with handles while on the grill, over the coals or in the oven—they get very hot.

CARE

Do not wash in dishwasher and do not soak for long periods.
Wash with hot water and use a stainless steel scrubber or chainmail to remove food material.
For tough cleaning, place a little water in the pan and boil for a few minutes before cleaning to loosen material. If necessary add a dab of soap.
After washing, throughly dry using a towel—or place on the stove and use a medium heat to completely dry.
Apply a light coat of vegetable oil after washing and drying to preserve seasoning and protect when storing.

Reviews
---