Finex Cast Iron 12" Skillet with Lid
Price: $270.00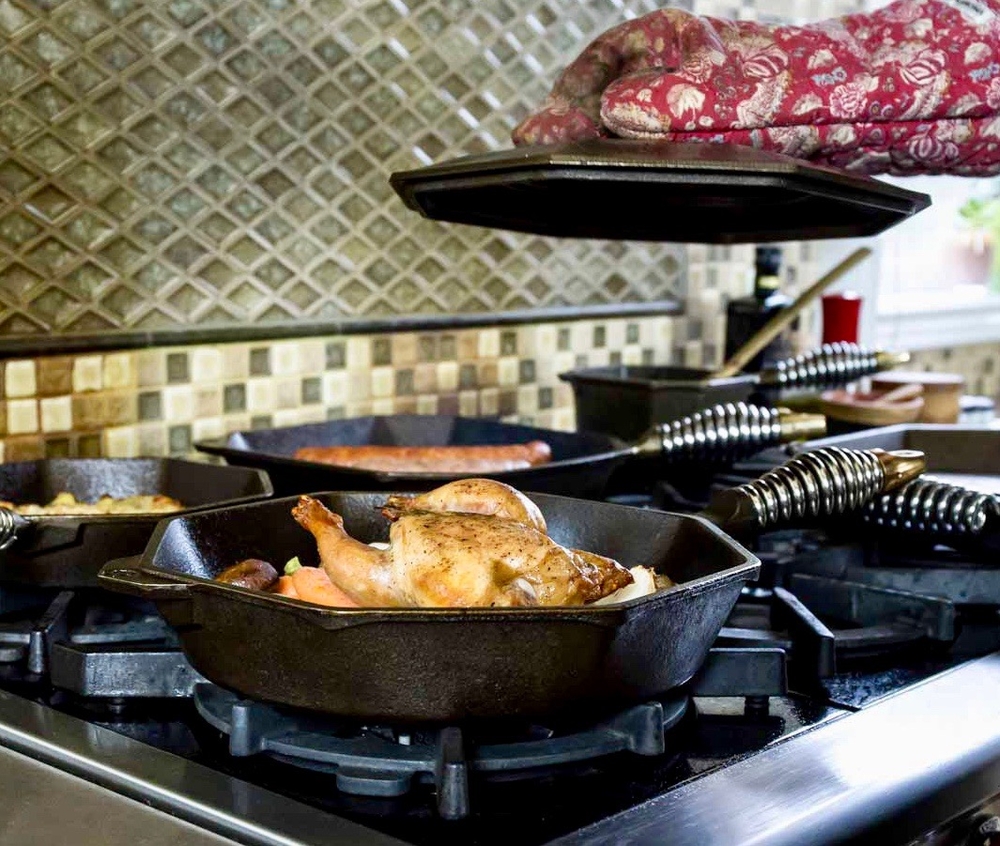 The most versatile pan you'll ever own. The FINEX cast iron skillet is polished smooth for perfect eggs every time. It's a searing machine for hearty steaks, chops and salmon. It's brilliant for baking perfect cornbread, pies, cakes and muffins. Introduce a lid and it's great for steaming, braising and simmering. From stovetop, to oven, to grill—even over the coals—the FINEX cast iron skillet is a trusted essential you'll pass down for generations.
12" SKILLET WITH LID

Size 19.5" x 12.5" x 4"
Cook Surface 9.75"
Weight 13 lbs.
Cooking Methods Gas, Induction, Electric, Oven, Grill, Fire
Quick Details:
Pre-seasoned with organic flaxseed oil—ready for use.
Polished, ultra-smooth surface gives you naturally non-stick performance.
Thick-walled design heats evenly and holds heat extremely well.
Speed cool stainless steel handle—no need for oven mitts when frying an egg on the stovetop.
Use with gas, induction, electric stoves or straight over the coals. Oven safe and grill ready.
Eight sides for perfect pours and greater cooking control—including a perfect flavor seal with the cast iron lid.
Handcrafted from the highest quality materials in the U.S.A.
Good Forever guarantee.
Like the best antique skillets, the FINEX cast iron skillet is polished for an ultra-smooth cooking surface that minimizes sticking and cleaning. Designed with a distinct geometric shape for easier pouring, you'll like that it means fewer spills and drips. The ergonomic stainless steel spring handle stays cool longer—and cools down faster. We've added a ribbed helper handle on the front lip that makes it easy to lift and transfer from stovetop to table. The finishing touch is a beautiful brass cap that makes it easy to hang the pan when you're done. At-home and professional chefs alike love cast iron for its superior heat retention. The FINEX cast iron skillet's generous size makes it perfect for searing big steaks, thick chops and substantial salmon fillets, while the skillet's extra deep walls contain hearty portions. Its thick base heats evenly and prevents hot spots, allowing the cast iron to retain heat even when cold ingredients are added. Its brilliant heat retention bakes perfect cornbread, cakes and muffins.
The FINEX Cast Iron Lid
Steam equals flavor so if you're serious about capturing the best tastes your food has to offer, it's worth investing in a matching seasoned cast iron lid to go with your skillet. Our cast iron lids seal the six pour spouts perfectly and allows you to create six steam vents too. Poaching salmon or keeping a sauce at a slow simmer is easy with our lids. For ideal moisture control when braising, we integrated self-basting rings into the design. With a lid, you can lower the heat of your burners while maintaining the desired temperature and also avoid potential splatters. Our oven-safe lids are topped with a hand-polished, American-made solid brass knob for easy lifting and placing.
As with all of our cookware, our skillet is made by hand from premium American cast iron, polished stainless steel and brass, and is carefully hand seasoned the old-fashioned way with natural organic flaxseed oil.
THE VERY BEST.
★★★★★ "So, I've had my new FINEX skillet for 3 weeks now. Honestly have to say, this is the VERY best pan/skillet I have EVER used - bar none!! The Maillard reaction this skillet gives any protein is insane! The flavor the skillet gives slow cooked pasta sauces, etc. is ridiculously good! There is just a flavor this skillet imparts that is amazing. If you love to cook, you MUST get one of these pans/skillets! It will be there best INVESTMENT you will ever make in your cooking. Thank you FINEX for making such an incredible product. I will be a customer for life! Oh, and I'm buying the grill this week" -Scott Nolan
WOW. THAT'S IT. JUST WOW.
★★★★★ It is not often that I find myself writing to a product company. When I do, it is usually because my product has just failed in some unexpected way, crushing my hopes that the product I purchased would be better...different...extraordinary. I went to my local restaurant supply store here in Oakland, CA on the recommendation of a friend of mine who is an executive chef here in San Francisco. I had been complaining to him that my cast iron cookware just wasn't performing...rough and sticky surfaces after 50+ uses despite my textbook curing and obsessive-compulsive level of care. My pans were fine for a thick cut of beef or pork. But for anything else these pans were failing. After ruining a beautiful piece of king salmon, I had enough. So at my friend's recommendation, I invested in a FINEX pan (the 12" skillet with lid) hoping something magic would happen...but also expecting the inevitable disappointment of an expensive purchase that doesn't live up to its billing. Plain and simple, after 4 weeks with the FINEX pan, it is not only the best kitchen tool I have ever purchased, but it may be the best product I have even purchased period! Straight out of the box, I gave it a real test with Dover sole. Surely this would end in disaster as even my best non-stick typically has trouble with such a delicate fish. To my amazement, when all was said and done, not a single morsel of seafood remained in the pan. Since then, I've cooked salmon, halibut, sea bass, rockfish, beef, pork, chicken, lamb, sauces, and even a soup and the results are the same. Not only is this pan better than any of my expensive non-stick cookware, I'm finding that I'm using this pan almost every night, and keeping the rest of my gear in the cabinet...this pan rarely leaves the stovetop! As I mentioned at the top of my letter, I rarely find a product worth writing about. Its even more rare that I find a product I want to tell everyone I know about! Your FINEX cast iron skillet is an incredible tool and has immediately become the most used pan in my kitchen. Thanks to you all for your product vision, design, and execution. I will be sure to spread the word here in the Bay Area and I wish you all the best of luck...looking forward to seeing the product line expand!" - Shawn Adamek
IT'S INCREDIBLE!!!
★★★★★ "I recently purchased the 12 inch skillet with top and it's INCREDIBLE!!! I was worried about eggs sticking to it but after a week keeping it clean and keeping the pan greased with butter it's awesome! This is the last pan I will need during my lifetime. What a piece of art! Thanks for making a great piece of Americana! You guys ROCK!!!" - Jason D.
E-SEASONED FOR COOKING
FINEX cast iron cookware comes pre-seasoned with organic flaxseed oil. When you first unbox your new cast iron cookware, give it a quick rinse with warm water and dry it completely. Use a little extra cooking oil the first few times you cook. Over time, your FINEX cast iron will continue to develop a natural seasoning, which will enhance the stick-resistant surface.
COOKING WITH CAST IRON.
For an even heating surface, pre-heat your cast iron pan before cooking. We recommend a medium-low heat for a few minutes. Cast iron may take a little longer to heat, but it holds on to heat longer, too.
Our pans truly are searing machines. The thick-wall design provides even heat distribution and retention for optimal cooking performance. It just requires a little patience. Heat it. Sear it. Savor it.
CLEANING CAST IRON:
STEP 1 - WASH
For easy cleaning, simply crape off food and rinse using use hot water.
For tougher cleaning jobs, use a stainless steel scotch-brite scrubber (or scrubber of choice) to remove the heavy stuff. Use a dab of soap if necessary. Never put your cast iron in the dishwasher or leave it to soak for long periods of time.
STEP 2 - DRY
Once you've washed your cast iron and rinsed it thoroughly, be sure to completely dry immediately. Do not "air dry." Use a towel to wipe it down, or, place your cast iron on the stove and heat over a medium-low heat to ensure it's completely dry.
Remember, iron loves to rust if left wet. We like to say, "We've never seen a dry cast iron skillet rust."
STEP 3 - OIL
Warm your cast iron on the stove using a medium-low heat. Then, apply a very thin layer of oil (any vegetable oil you like) and work thoroughly into the pan. Be sure to wipe off any excess. Let it cool and store for your next use.
Applying a little oil to your cast iron protects the natural seasoning you've worked hard to develop, and it also provides protection against moisture and corrosion when storing.
RE-SEASONING
CAST IRON
Cast iron is very durable and forgiving. Scorched, scratched, rusted pans? No problem. With a little elbow grease and some quality oil, you can completely return cast iron cookware to its perfect working condition.
Pre-heat your oven to 400-degrees. If your pan has rust, gently remove it using steel wool. Wash and dry your cast iron thoroughly. Once completely dry, apply a very thin layer of flaxseed oil to the entire surface of your cast iron pan—including the outside surface. Wipe off any excess oil, then place the pan in your pre-heated oven. Bake the pan for one hour at 400-degrees. You can repeat this process to build up your seasoning and maintain the pan for generations.
GOOD FOREVER.
Guaranteed Good Forever—and that includes your happiness. If you're not completely happy with your FINEX product we'll take it back, no questions asked.
Description

The most versatile pan you'll ever own. The FINEX cast iron skillet is polished smooth for perfect eggs every time. It's a searing machine for hearty steaks, chops and salmon. It's brilliant for baking perfect cornbread, pies, cakes and muffins. Introduce a lid and it's great for steaming, braising and simmering. From stovetop, to oven, to grill—even over the coals—the FINEX cast iron skillet is a trusted essential you'll pass down for generations.

12" SKILLET WITH LID

Size 19.5" x 12.5" x 4"
Cook Surface 9.75"
Weight 13 lbs.
Cooking Methods Gas, Induction, Electric, Oven, Grill, Fire

Quick Details:

Pre-seasoned with organic flaxseed oil—ready for use.
Polished, ultra-smooth surface gives you naturally non-stick performance.
Thick-walled design heats evenly and holds heat extremely well.
Speed cool stainless steel handle—no need for oven mitts when frying an egg on the stovetop.
Use with gas, induction, electric stoves or straight over the coals. Oven safe and grill ready.
Eight sides for perfect pours and greater cooking control—including a perfect flavor seal with the cast iron lid.
Handcrafted from the highest quality materials in the U.S.A.
Good Forever guarantee.

Like the best antique skillets, the FINEX cast iron skillet is polished for an ultra-smooth cooking surface that minimizes sticking and cleaning. Designed with a distinct geometric shape for easier pouring, you'll like that it means fewer spills and drips. The ergonomic stainless steel spring handle stays cool longer—and cools down faster. We've added a ribbed helper handle on the front lip that makes it easy to lift and transfer from stovetop to table. The finishing touch is a beautiful brass cap that makes it easy to hang the pan when you're done. At-home and professional chefs alike love cast iron for its superior heat retention. The FINEX cast iron skillet's generous size makes it perfect for searing big steaks, thick chops and substantial salmon fillets, while the skillet's extra deep walls contain hearty portions. Its thick base heats evenly and prevents hot spots, allowing the cast iron to retain heat even when cold ingredients are added. Its brilliant heat retention bakes perfect cornbread, cakes and muffins.

The FINEX Cast Iron Lid

Steam equals flavor so if you're serious about capturing the best tastes your food has to offer, it's worth investing in a matching seasoned cast iron lid to go with your skillet. Our cast iron lids seal the six pour spouts perfectly and allows you to create six steam vents too. Poaching salmon or keeping a sauce at a slow simmer is easy with our lids. For ideal moisture control when braising, we integrated self-basting rings into the design. With a lid, you can lower the heat of your burners while maintaining the desired temperature and also avoid potential splatters. Our oven-safe lids are topped with a hand-polished, American-made solid brass knob for easy lifting and placing.

As with all of our cookware, our skillet is made by hand from premium American cast iron, polished stainless steel and brass, and is carefully hand seasoned the old-fashioned way with natural organic flaxseed oil.

THE VERY BEST.

★★★★★ "So, I've had my new FINEX skillet for 3 weeks now. Honestly have to say, this is the VERY best pan/skillet I have EVER used - bar none!! The Maillard reaction this skillet gives any protein is insane! The flavor the skillet gives slow cooked pasta sauces, etc. is ridiculously good! There is just a flavor this skillet imparts that is amazing. If you love to cook, you MUST get one of these pans/skillets! It will be there best INVESTMENT you will ever make in your cooking. Thank you FINEX for making such an incredible product. I will be a customer for life! Oh, and I'm buying the grill this week" -Scott Nolan

WOW. THAT'S IT. JUST WOW.

★★★★★ It is not often that I find myself writing to a product company. When I do, it is usually because my product has just failed in some unexpected way, crushing my hopes that the product I purchased would be better...different...extraordinary. I went to my local restaurant supply store here in Oakland, CA on the recommendation of a friend of mine who is an executive chef here in San Francisco. I had been complaining to him that my cast iron cookware just wasn't performing...rough and sticky surfaces after 50+ uses despite my textbook curing and obsessive-compulsive level of care. My pans were fine for a thick cut of beef or pork. But for anything else these pans were failing. After ruining a beautiful piece of king salmon, I had enough. So at my friend's recommendation, I invested in a FINEX pan (the 12" skillet with lid) hoping something magic would happen...but also expecting the inevitable disappointment of an expensive purchase that doesn't live up to its billing. Plain and simple, after 4 weeks with the FINEX pan, it is not only the best kitchen tool I have ever purchased, but it may be the best product I have even purchased period! Straight out of the box, I gave it a real test with Dover sole. Surely this would end in disaster as even my best non-stick typically has trouble with such a delicate fish. To my amazement, when all was said and done, not a single morsel of seafood remained in the pan. Since then, I've cooked salmon, halibut, sea bass, rockfish, beef, pork, chicken, lamb, sauces, and even a soup and the results are the same. Not only is this pan better than any of my expensive non-stick cookware, I'm finding that I'm using this pan almost every night, and keeping the rest of my gear in the cabinet...this pan rarely leaves the stovetop! As I mentioned at the top of my letter, I rarely find a product worth writing about. Its even more rare that I find a product I want to tell everyone I know about! Your FINEX cast iron skillet is an incredible tool and has immediately become the most used pan in my kitchen. Thanks to you all for your product vision, design, and execution. I will be sure to spread the word here in the Bay Area and I wish you all the best of luck...looking forward to seeing the product line expand!" - Shawn Adamek

IT'S INCREDIBLE!!!

★★★★★ "I recently purchased the 12 inch skillet with top and it's INCREDIBLE!!! I was worried about eggs sticking to it but after a week keeping it clean and keeping the pan greased with butter it's awesome! This is the last pan I will need during my lifetime. What a piece of art! Thanks for making a great piece of Americana! You guys ROCK!!!" - Jason D.

E-SEASONED FOR COOKING

FINEX cast iron cookware comes pre-seasoned with organic flaxseed oil. When you first unbox your new cast iron cookware, give it a quick rinse with warm water and dry it completely. Use a little extra cooking oil the first few times you cook. Over time, your FINEX cast iron will continue to develop a natural seasoning, which will enhance the stick-resistant surface.

COOKING WITH CAST IRON.

For an even heating surface, pre-heat your cast iron pan before cooking. We recommend a medium-low heat for a few minutes. Cast iron may take a little longer to heat, but it holds on to heat longer, too.

Our pans truly are searing machines. The thick-wall design provides even heat distribution and retention for optimal cooking performance. It just requires a little patience. Heat it. Sear it. Savor it.

CLEANING CAST IRON:

STEP 1 - WASH

For easy cleaning, simply crape off food and rinse using use hot water.

For tougher cleaning jobs, use a stainless steel scotch-brite scrubber (or scrubber of choice) to remove the heavy stuff. Use a dab of soap if necessary. Never put your cast iron in the dishwasher or leave it to soak for long periods of time.

STEP 2 - DRY

Once you've washed your cast iron and rinsed it thoroughly, be sure to completely dry immediately. Do not "air dry." Use a towel to wipe it down, or, place your cast iron on the stove and heat over a medium-low heat to ensure it's completely dry.

Remember, iron loves to rust if left wet. We like to say, "We've never seen a dry cast iron skillet rust."

STEP 3 - OIL

Warm your cast iron on the stove using a medium-low heat. Then, apply a very thin layer of oil (any vegetable oil you like) and work thoroughly into the pan. Be sure to wipe off any excess. Let it cool and store for your next use.

Applying a little oil to your cast iron protects the natural seasoning you've worked hard to develop, and it also provides protection against moisture and corrosion when storing.

RE-SEASONING
CAST IRON

Cast iron is very durable and forgiving. Scorched, scratched, rusted pans? No problem. With a little elbow grease and some quality oil, you can completely return cast iron cookware to its perfect working condition.

Pre-heat your oven to 400-degrees. If your pan has rust, gently remove it using steel wool. Wash and dry your cast iron thoroughly. Once completely dry, apply a very thin layer of flaxseed oil to the entire surface of your cast iron pan—including the outside surface. Wipe off any excess oil, then place the pan in your pre-heated oven. Bake the pan for one hour at 400-degrees. You can repeat this process to build up your seasoning and maintain the pan for generations.

GOOD FOREVER.

Guaranteed Good Forever—and that includes your happiness. If you're not completely happy with your FINEX product we'll take it back, no questions asked.

Reviews
---