Finex Cast Iron 8" Skillet
Price: $125.00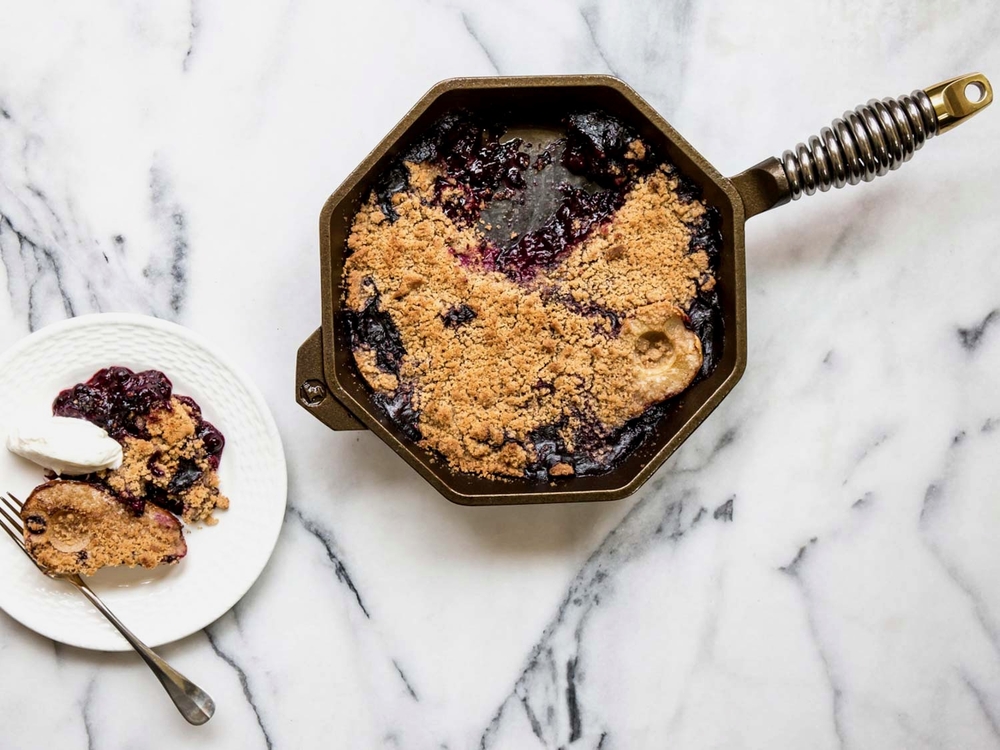 CAST IRON SKILLET
★★★★★
The most versatile pan you'll ever own. The FINEX cast iron skillet is polished smooth for perfect eggs every time. It's a searing machine for hearty steaks, chops and salmon. It's brilliant for baking perfect cornbread, pies, cakes and muffins. Introduce a lid and it's great for steaming, braising and simmering. From stovetop, to oven, to grill—even over the coals—the FINEX cast iron skillet is a trusted essential you'll pass down for generations.
8" SKILLET

Size 14.07" x 8" x 2.8"
Cooking Surface 6.75"
Weight 4.2 lbs.
Cooking Methods Gas, Induction, Electric, Oven, Grill, Fire
Quick Details:
Pre-seasoned with organic flaxseed oil—ready for use.
Polished, ultra-smooth surface gives you naturally non-stick performance.
Thick-walled design heats evenly and holds heat extremely well.
Speed cool stainless steel handle—no need for oven mitts when frying an egg on the stovetop.
Use with gas, induction, electric stoves or straight over the coals. Oven safe and grill ready.
Eight sides for perfect pours and greater cooking control—including a perfect flavor seal with the cast iron lid.
Handcrafted from the highest quality materials in the U.S.A.
Good Forever guarantee.
Like the best antique skillets, the FINEX cast iron skillet is polished for an ultra-smooth cooking surface that minimizes sticking and cleaning. Designed with a distinct geometric shape for easier pouring, you'll like that it means fewer spills and drips. The ergonomic stainless steel spring handle stays cool longer—and cools down faster. We've added a ribbed helper handle on the front lip that makes it easy to lift and transfer from stovetop to table. The finishing touch is a beautiful brass cap that makes it easy to hang the pan when you're done.
At-home and professional chefs alike love cast iron for its superior heat retention. The FINEX cast iron skillet's generous size makes it perfect for searing big steaks, thick chops and substantial salmon fillets, while the skillet's extra deep walls contain hearty portions. Its thick base heats evenly and prevents hot spots, allowing the cast iron to retain heat even when cold ingredients are added. Its brilliant heat retention bakes perfect cornbread, cakes and muffins.
USE

Wash and dry thoroughly prior to first use.
Pre-heat using medium-low heat for 5-10 minutes prior to each use.
In the beginning use a little more oil as you build up your seasoning.
Use caution with handles while on the grill, over the coals or in the oven—they get very hot.
CARE

Never place in the dishwasher and do not soak for long periods.
Wash with hot water and use a stainless steel scrubber or chainmail to remove food material.
For tough cleaning, place a little water in the pan and boil for a few minutes before cleaning to loosen material. If necessary, add a dab of soap.
After washing, throughly dry the pan using a towel—or place on stove and use a medium heat to completely dry.
Apply a light coat of vegetable oil after washing and drying to preserve seasoning and protect when storing.
Description

CAST IRON SKILLET

★★★★★

The most versatile pan you'll ever own. The FINEX cast iron skillet is polished smooth for perfect eggs every time. It's a searing machine for hearty steaks, chops and salmon. It's brilliant for baking perfect cornbread, pies, cakes and muffins. Introduce a lid and it's great for steaming, braising and simmering. From stovetop, to oven, to grill—even over the coals—the FINEX cast iron skillet is a trusted essential you'll pass down for generations.

8" SKILLET

Size 14.07" x 8" x 2.8"
Cooking Surface 6.75"
Weight 4.2 lbs.
Cooking Methods Gas, Induction, Electric, Oven, Grill, Fire

Quick Details:

Pre-seasoned with organic flaxseed oil—ready for use.
Polished, ultra-smooth surface gives you naturally non-stick performance.
Thick-walled design heats evenly and holds heat extremely well.
Speed cool stainless steel handle—no need for oven mitts when frying an egg on the stovetop.
Use with gas, induction, electric stoves or straight over the coals. Oven safe and grill ready.
Eight sides for perfect pours and greater cooking control—including a perfect flavor seal with the cast iron lid.
Handcrafted from the highest quality materials in the U.S.A.
Good Forever guarantee.

Like the best antique skillets, the FINEX cast iron skillet is polished for an ultra-smooth cooking surface that minimizes sticking and cleaning. Designed with a distinct geometric shape for easier pouring, you'll like that it means fewer spills and drips. The ergonomic stainless steel spring handle stays cool longer—and cools down faster. We've added a ribbed helper handle on the front lip that makes it easy to lift and transfer from stovetop to table. The finishing touch is a beautiful brass cap that makes it easy to hang the pan when you're done.

At-home and professional chefs alike love cast iron for its superior heat retention. The FINEX cast iron skillet's generous size makes it perfect for searing big steaks, thick chops and substantial salmon fillets, while the skillet's extra deep walls contain hearty portions. Its thick base heats evenly and prevents hot spots, allowing the cast iron to retain heat even when cold ingredients are added. Its brilliant heat retention bakes perfect cornbread, cakes and muffins.

USE

Wash and dry thoroughly prior to first use.
Pre-heat using medium-low heat for 5-10 minutes prior to each use.
In the beginning use a little more oil as you build up your seasoning.
Use caution with handles while on the grill, over the coals or in the oven—they get very hot.

CARE

Never place in the dishwasher and do not soak for long periods.
Wash with hot water and use a stainless steel scrubber or chainmail to remove food material.
For tough cleaning, place a little water in the pan and boil for a few minutes before cleaning to loosen material. If necessary, add a dab of soap.
After washing, throughly dry the pan using a towel—or place on stove and use a medium heat to completely dry.
Apply a light coat of vegetable oil after washing and drying to preserve seasoning and protect when storing.

Reviews
---