Mini Scout 2 Liter Dragon Pot Only!
Price: $72.95

Sale

$64.95
Scout Mini 2 Liter Dragon (Pot Only)!
Must have Scout accessory when cooking for 2 or more! Scout stove & accessories can store inside Mini Scout Dragon Pot for easy transportation. See listing above for entire kit.
Over twice the volume of our MSR Alpine Scout pot option (our solo user option). This list is for Mini 2 Liter Dragon Pot Only, shown with other items to view multiple field stowing capabilities. The pot alone is 20.4 0z (1 lb 4.4 oz / .578 Kg)
The SilverFire Stainless Steel Skirted Mini 2 Liter Dragon Pot is amazing for both wood fired stoves or your residential gas, butane, or propane cooktop. This may be the most efficient cook pot you have ever used! Our 2 liter (just under 1/2 gallon!) Dragon Pot is a must have Scout stove option to save fuel, and to reduce boiling times, fuel use, & emissions. As it would appear mounted on Scout Stove below, functioning as a Scout Stove windscreen, in addition to increasing heat transfer & efficiency.
Already own other stoves? Our Mini Dragon 2 liter pot is going to provide a wind skirt, increase heat transfer, reduce fuel use, and reduce boiling times with any stove with open flame that accepts our 4 & 7/8" wide inner diameter bottom (copy wood gas Scout stoves, BioLite Base Camp model only, Most Solo Models, Alcohol Stoves, Gas stoves, MSR, etc...). The Scout 2 liter Mini Dragon Pot is going to maximize most other trekking stoves available, reducing fuel costs, time to boil, and serve as a windscreen. No need to pack windscreen!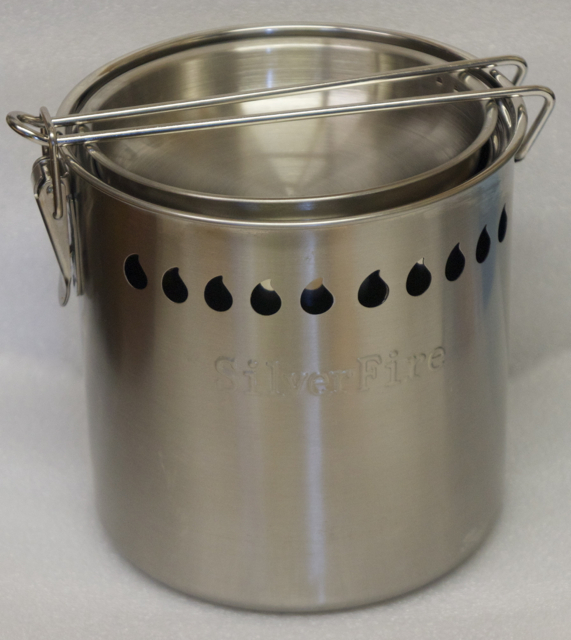 The Mini-Dragon Pot is 6 & 1/2" / 16.51 cm tall and 6 & 1/2" / 16.51 cm wide (not including locking handle bail or lid). The Mini Dragon Pot lid travels inverted with locking handle bail latched. The exterior pot base diameter (OD) is 6 & 1/4" / 15.875 cm and the ID is 4 & 7/8" / 12.38 cm (this is the important limiting diameter to check for compatibility using other biomass, gas, or multi-fuel stoves, to verify pot to specific stove model fit). The pot handle bail latched is 6 & 7/8" / 17.46 cm at tallest point. The handle bail is 6 & 5/8" / folded and secured across top of pot (width). The Mini Dragon Pot is 8 & 1/8" / 20.64 cm tall, when lid in place cooking.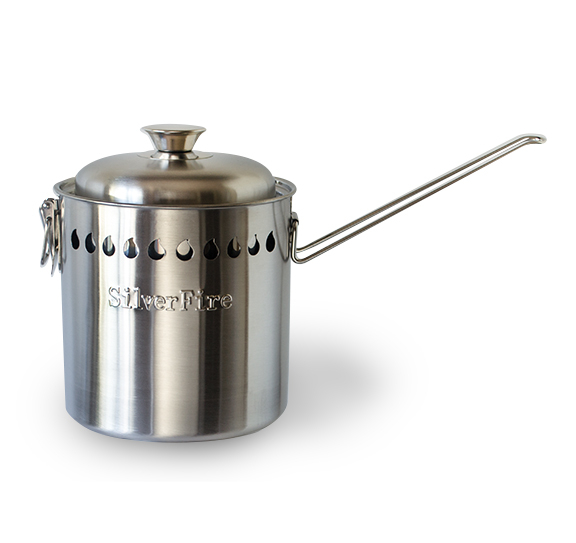 It will provide just under 2 liters of emergency drinking water , quickly boil large volumes of pasta or noodle water, prepare steamed foods, or provide an adequate volume of heated water to sanitize your cookware. This 2 liter skirted pot is a much more efficient option than a pot skirts, increasing heat transfer and due to the unique design serves as a wind skirt for the Scout Stove. It also increases safety, not allowing the pot to slide off stove when stirred. Shown below with optional Scout stove.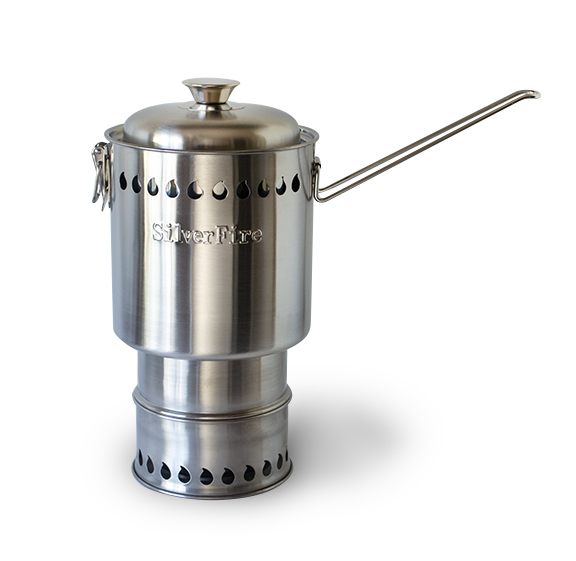 How it works: This specialized pot has a full skirt that protrudes below the bottom of the stove top or trivet and forces flames to lick the walls of the pot, in addition to the double clad stainless steel bottom. This skirted pot is capable of bringing water , soups, sauces, or stews to a boil incredibly fast by capturing additional heat, compared to a traditional pots which heat transfer is lost after hitting the bottom of the pot and deflected into the atmosphere for two in the field or at home. This means the bottom of the pot and the walls of the pot are working together, increasing heat transfer into the cooking vessel. The Mini Scout 2 liter Dragon pot captures and retains this heat, forcing the flames to lick the vertical walls of the pot, increasing heat transfer. The heat transfer is superior to pot skirts or traditional pots.
Customers often order our skirted pots for dedicated use with their residential gas, butane, & propane ranges to save both time, energy and expense while cooking, in addition for use with there outdoor biomass stove. Customers are excited by its ability to reduce energy costs, fuel use, heat in the kitchen in warm weather, and time to boil. Many exclaim our skirted pots are the most amazing piece of cookware for their indoor and outdoor kitchens!
It is the only portable, double clad pot bottom, brushed stainless steel, & full skirted pot on the planet. The double latch handle secures the lid and the bail also acts as a handle for easy in camp transporting. Our skirted double wall pot reduces cook time bringing water to a boil. This represents a 25% to 30% time reduction bringing pot to a boil. It also helps to reduce emissions, fuel use, and time spent cleaning sooty pot exteriors.
This pot design is significantly safer and more efficient than flat pots, pot skirts and wind screens. A full skirted pot is much more efficient than a pot skirt. Our fixed Dragon skirt protrudes below our Scout cook top, so the pot is firmly seated in place and cannot slide off stove, burning children, or the cook when stirred!
Special note: The Mini Dragon Pot is extra stingy on fuel requirements. This new design significantly reduces need to fill combustion chamber with large volumes of fuel. Only fill combustion chamber 1/2 to 2/3's full with twigs or biomass, and only 1/3 full if using pellets. Let flames get established for a few minutes until secondary gasification is present before adding pot. Placing pot on stove with too much fuel or prematurely, may extinguish fire!
The stainless steel pot bottom is constructed with two layers of quality stainless steel for extended shelf life, unlike other lower quality single clad recreational cook pots. . Best of all there is no dirty or sooty pot skirt to loose or waste time cleaning. Cooks also love fact the Dragon Pot skirt exterior is soot free, since soot forms under the skirt or on bottom of pot, reducing exterior pot cleaning chores when cooking with biomass. Our skirted pot is much faster boiling water for emergencies or cooking, than slow heating pasteurizers and numerous other water kettles we have tested. The robust Mini Scout Dragon pot accommodates numerous SilverFire accessory options, such as the Ultimate Scout Stove kits (including fire starter & utensils), as well as our large or small solar light options.
A tracking number is sent to your provided email entered at the time of order. The tracking number is generated at the end of each business day after carrier scans package (Monday through Friday). Please refer to email for tracking number. There is no ground service on weekends.
Please note many of our important stove and cookware options are found on our Accessories, H20 &LED, and oven links!
Always feel free to call with questions 10AM - 5:30PM Pacific Time Zone, Monday through Friday regarding our products. We are also usually in on Saturdays 10AM to 2PM, unless participating in a trade show or other business activity.
Description

Scout Mini 2 Liter Dragon (Pot Only)!

Must have Scout accessory when cooking for 2 or more! Scout stove & accessories can store inside Mini Scout Dragon Pot for easy transportation. See listing above for entire kit.

Over twice the volume of our MSR Alpine Scout pot option (our solo user option). This list is for Mini 2 Liter Dragon Pot Only, shown with other items to view multiple field stowing capabilities. The pot alone is 20.4 0z (1 lb 4.4 oz / .578 Kg)

The SilverFire Stainless Steel Skirted Mini 2 Liter Dragon Pot is amazing for both wood fired stoves or your residential gas, butane, or propane cooktop. This may be the most efficient cook pot you have ever used! Our 2 liter (just under 1/2 gallon!) Dragon Pot is a must have Scout stove option to save fuel, and to reduce boiling times, fuel use, & emissions. As it would appear mounted on Scout Stove below, functioning as a Scout Stove windscreen, in addition to increasing heat transfer & efficiency.

Already own other stoves? Our Mini Dragon 2 liter pot is going to provide a wind skirt, increase heat transfer, reduce fuel use, and reduce boiling times with any stove with open flame that accepts our 4 & 7/8" wide inner diameter bottom (copy wood gas Scout stoves, BioLite Base Camp model only, Most Solo Models, Alcohol Stoves, Gas stoves, MSR, etc...). The Scout 2 liter Mini Dragon Pot is going to maximize most other trekking stoves available, reducing fuel costs, time to boil, and serve as a windscreen. No need to pack windscreen!

The Mini-Dragon Pot is 6 & 1/2" / 16.51 cm tall and 6 & 1/2" / 16.51 cm wide (not including locking handle bail or lid). The Mini Dragon Pot lid travels inverted with locking handle bail latched. The exterior pot base diameter (OD) is 6 & 1/4" / 15.875 cm and the ID is 4 & 7/8" / 12.38 cm (this is the important limiting diameter to check for compatibility using other biomass, gas, or multi-fuel stoves, to verify pot to specific stove model fit). The pot handle bail latched is 6 & 7/8" / 17.46 cm at tallest point. The handle bail is 6 & 5/8" / folded and secured across top of pot (width). The Mini Dragon Pot is 8 & 1/8" / 20.64 cm tall, when lid in place cooking. It will provide just under 2 liters of emergency drinking water , quickly boil large volumes of pasta or noodle water, prepare steamed foods, or provide an adequate volume of heated water to sanitize your cookware. This 2 liter skirted pot is a much more efficient option than a pot skirts, increasing heat transfer and due to the unique design serves as a wind skirt for the Scout Stove. It also increases safety, not allowing the pot to slide off stove when stirred. Shown below with optional Scout stove.

How it works: This specialized pot has a full skirt that protrudes below the bottom of the stove top or trivet and forces flames to lick the walls of the pot, in addition to the double clad stainless steel bottom. This skirted pot is capable of bringing water , soups, sauces, or stews to a boil incredibly fast by capturing additional heat, compared to a traditional pots which heat transfer is lost after hitting the bottom of the pot and deflected into the atmosphere for two in the field or at home. This means the bottom of the pot and the walls of the pot are working together, increasing heat transfer into the cooking vessel. The Mini Scout 2 liter Dragon pot captures and retains this heat, forcing the flames to lick the vertical walls of the pot, increasing heat transfer. The heat transfer is superior to pot skirts or traditional pots.

Customers often order our skirted pots for dedicated use with their residential gas, butane, & propane ranges to save both time, energy and expense while cooking, in addition for use with there outdoor biomass stove. Customers are excited by its ability to reduce energy costs, fuel use, heat in the kitchen in warm weather, and time to boil. Many exclaim our skirted pots are the most amazing piece of cookware for their indoor and outdoor kitchens!

It is the only portable, double clad pot bottom, brushed stainless steel, & full skirted pot on the planet. The double latch handle secures the lid and the bail also acts as a handle for easy in camp transporting. Our skirted double wall pot reduces cook time bringing water to a boil. This represents a 25% to 30% time reduction bringing pot to a boil. It also helps to reduce emissions, fuel use, and time spent cleaning sooty pot exteriors.

This pot design is significantly safer and more efficient than flat pots, pot skirts and wind screens. A full skirted pot is much more efficient than a pot skirt. Our fixed Dragon skirt protrudes below our Scout cook top, so the pot is firmly seated in place and cannot slide off stove, burning children, or the cook when stirred!

Special note: The Mini Dragon Pot is extra stingy on fuel requirements. This new design significantly reduces need to fill combustion chamber with large volumes of fuel. Only fill combustion chamber 1/2 to 2/3's full with twigs or biomass, and only 1/3 full if using pellets. Let flames get established for a few minutes until secondary gasification is present before adding pot. Placing pot on stove with too much fuel or prematurely, may extinguish fire!

The stainless steel pot bottom is constructed with two layers of quality stainless steel for extended shelf life, unlike other lower quality single clad recreational cook pots. . Best of all there is no dirty or sooty pot skirt to loose or waste time cleaning. Cooks also love fact the Dragon Pot skirt exterior is soot free, since soot forms under the skirt or on bottom of pot, reducing exterior pot cleaning chores when cooking with biomass. Our skirted pot is much faster boiling water for emergencies or cooking, than slow heating pasteurizers and numerous other water kettles we have tested. The robust Mini Scout Dragon pot accommodates numerous SilverFire accessory options, such as the Ultimate Scout Stove kits (including fire starter & utensils), as well as our large or small solar light options.

A tracking number is sent to your provided email entered at the time of order. The tracking number is generated at the end of each business day after carrier scans package (Monday through Friday). Please refer to email for tracking number. There is no ground service on weekends.

Please note many of our important stove and cookware options are found on our Accessories, H20 &LED, and oven links!

Always feel free to call with questions 10AM - 5:30PM Pacific Time Zone, Monday through Friday regarding our products. We are also usually in on Saturdays 10AM to 2PM, unless participating in a trade show or other business activity.

Reviews
---