New
SilverFire Cooktop Dragon
Price: $479.95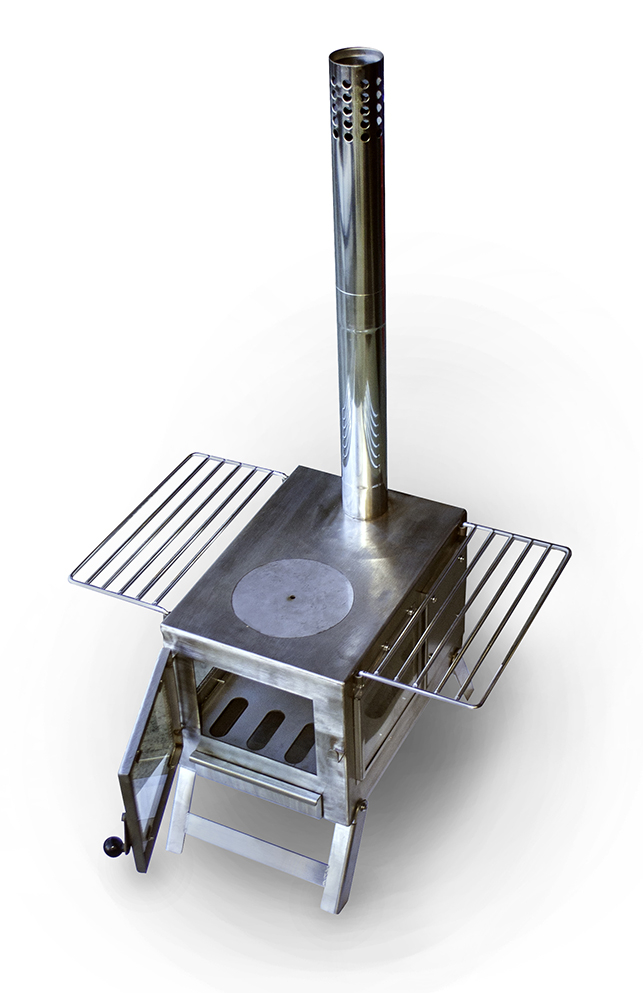 New 3rd Quarter 2019! Introducing The SilverFire Cooktop Tent Dragon!
This fantastic stove is designed for cooking and heating tents or other small spaces (12' x 12' or smaller) in a compact stove footprint. Add our SilverFire Dragon Kettle, Dutch ovens, waffle irons, crepe pans, woks, fry pans, grill pans, or other cookware you prefer directly on top of the stove. The cooktop can accept aftermarket ovens, pressure canners, gourmet grilling salt blocks or any other specialty cookware. You are limited only by your imagination by what type of cooking you can perform with this stove. The firebox features 3 sides to view the fire.
This stainless steel stove offers secondary combustion for an optimal clean burn and uses less fuel and produces low emissions with dry fuel. The secondary gasification takes place by introducing oxygen and air a second time through the 2 rear side panels of the firebox where the preheated gases are rising into the top of the firebox to mix with the fire's primary combustion gases. Primary ventilation is controlled by the ash drawer below the firebox grate. Simply slide the ash drawer open to start the fire or provide more air, or gradually slide it in again to retard primary air.
The ash drawer serves as the primary damper. We find pulling ash drawer out about 3/4 of the length of drawer first 10 minutes or so, then reduce it 1/2 way another 10 minutes, then finally reduce it so only an inch or so is open works best to keep soot forming on the glass. This stove provides steady-state secondary ventilation, there is no need for adjustment to ensure a clean burn. The stove weighs 30 lbs and has high visibility glass on 3 sides to view the interaction between primary & secondary combustion in the firebox.
The firebox is 9 & 1/4" wide X 9 & 3/4" deep, & 9 & 1/2" tall, including removable ash drawer.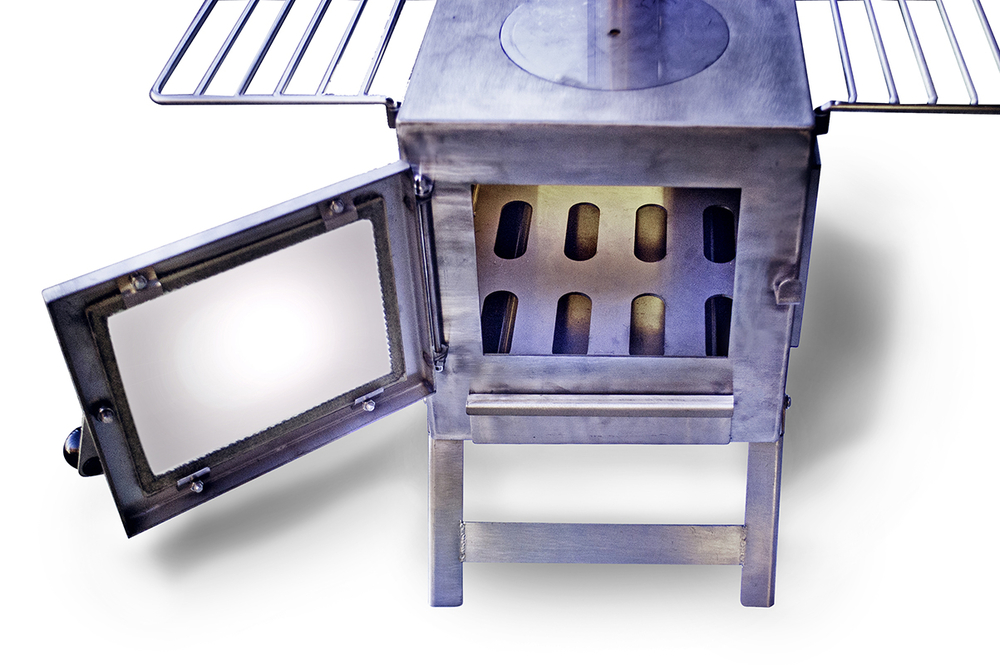 The overall dimensions with legs folded are 15" deep by 11" wide, x 11 & 3/4" tall. Add 4'' to height with legs in the extended support position (15 & 3/4" tall). The stove footprint set up is 18" long x 11" wide x 16" tall.
The stove utilizes 2 & 1/4" stove pipe and includes 8 straight (12 & 3/4" long) chimney sections, that store in the firebox for transport.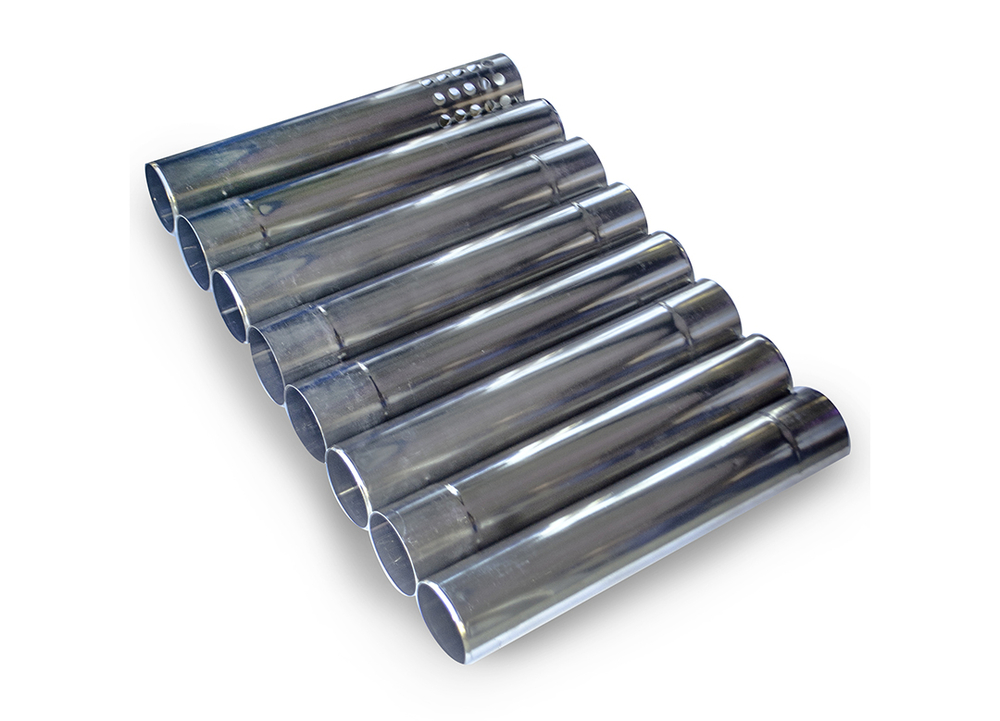 The final chimney section with spark arrestor cap.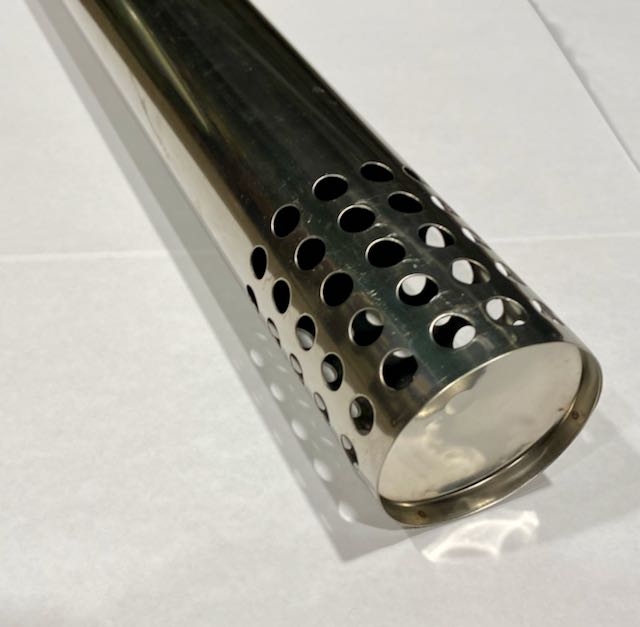 The stove is furnished with an ash drawer, cook plate removal handle (for high firepower wok cooking), and dual food prep/bun support racks.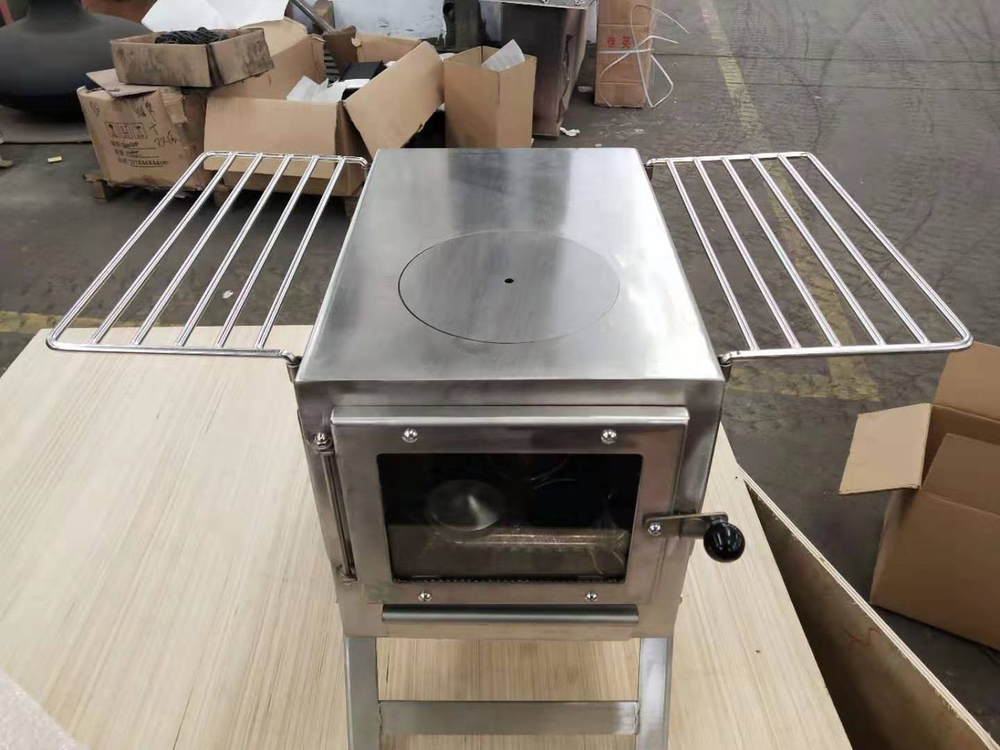 Interested in extending the duration of burn and saving more wood? See our Accessories link and review the optional FireMizer product under our SilverFire Accessories link. It is an ideal optional product offering for use in our stoves when desiring prolonged heat or for long-duration cooking.
Tips to Prevent Soot Build Up on Wood Stove Glass:
Thereís nothing quite like a beautiful wood stove fire during the colder seasons. Soot build-up on wood stove glass can decrease the visual appeal of a wood stove fire, and it can become rather laborious to have to constantly clean the glass every time you have a fire.
Here are some easy tips to prevent soot build-up on your wood stove glass. Cleaner glass will add greater ambiance to a room and allow you to enjoy more fires in your wood stove before having to clean the glass again.
Tips to Prevent Soot Build Up on Wood Stove Glass
Always burn well-seasoned wood in your wood stove. Burning wood that hasnít been well-seasoned can decrease the quality of your fire and cause it to be ďsmoky.Ē Smokier fires produce more soot build up on the glass.
Try burning harder woods like oak, cherry, or walnut, and avoid burning woods known for their higher sap content.
If your wood stove has a heat setting, try turning the heat controls up a few notches. Hotter fires will keep your glass cleaner.
Allow enough oxygen to vent into your wood stove. Many of the newer models are already built to help with the airflow. Check the chimney/vent to make sure itís clean and in a good position for airflow.
If youíre burning smaller fires, try adding some more wood to the woodstove. Smaller fires canít always produce enough heat inside the wood stove for the soot to burn off the glass.
Position burning matter closer to the front glass on the woodstove. This will put the heat source closer to the glass.
Enjoy Beautiful Fires from Your Wood Stove All Season Long
You canít completely prevent soot from accumulating on the glass, but these tips should help increase the time between cleanings. Soot build-up on wood stove glass is less of a problem for newer models than older models, but regardless of how old your wood stove is, you can still experience beautiful fires from your wood stove all season long.
Description

New 3rd Quarter 2019! Introducing The SilverFire Cooktop Tent Dragon!

This fantastic stove is designed for cooking and heating tents or other small spaces (12' x 12' or smaller) in a compact stove footprint. Add our SilverFire Dragon Kettle, Dutch ovens, waffle irons, crepe pans, woks, fry pans, grill pans, or other cookware you prefer directly on top of the stove. The cooktop can accept aftermarket ovens, pressure canners, gourmet grilling salt blocks or any other specialty cookware. You are limited only by your imagination by what type of cooking you can perform with this stove. The firebox features 3 sides to view the fire.

This stainless steel stove offers secondary combustion for an optimal clean burn and uses less fuel and produces low emissions with dry fuel. The secondary gasification takes place by introducing oxygen and air a second time through the 2 rear side panels of the firebox where the preheated gases are rising into the top of the firebox to mix with the fire's primary combustion gases. Primary ventilation is controlled by the ash drawer below the firebox grate. Simply slide the ash drawer open to start the fire or provide more air, or gradually slide it in again to retard primary air.

The ash drawer serves as the primary damper. We find pulling ash drawer out about 3/4 of the length of drawer first 10 minutes or so, then reduce it 1/2 way another 10 minutes, then finally reduce it so only an inch or so is open works best to keep soot forming on the glass. This stove provides steady-state secondary ventilation, there is no need for adjustment to ensure a clean burn. The stove weighs 30 lbs and has high visibility glass on 3 sides to view the interaction between primary & secondary combustion in the firebox.

The firebox is 9 & 1/4" wide X 9 & 3/4" deep, & 9 & 1/2" tall, including removable ash drawer.

The overall dimensions with legs folded are 15" deep by 11" wide, x 11 & 3/4" tall. Add 4'' to height with legs in the extended support position (15 & 3/4" tall). The stove footprint set up is 18" long x 11" wide x 16" tall.

The stove utilizes 2 & 1/4" stove pipe and includes 8 straight (12 & 3/4" long) chimney sections, that store in the firebox for transport.

The final chimney section with spark arrestor cap.

The stove is furnished with an ash drawer, cook plate removal handle (for high firepower wok cooking), and dual food prep/bun support racks.

Interested in extending the duration of burn and saving more wood? See our Accessories link and review the optional FireMizer product under our SilverFire Accessories link. It is an ideal optional product offering for use in our stoves when desiring prolonged heat or for long-duration cooking.

Tips to Prevent Soot Build Up on Wood Stove Glass:

Thereís nothing quite like a beautiful wood stove fire during the colder seasons. Soot build-up on wood stove glass can decrease the visual appeal of a wood stove fire, and it can become rather laborious to have to constantly clean the glass every time you have a fire.

Here are some easy tips to prevent soot build-up on your wood stove glass. Cleaner glass will add greater ambiance to a room and allow you to enjoy more fires in your wood stove before having to clean the glass again.

Tips to Prevent Soot Build Up on Wood Stove Glass

Always burn well-seasoned wood in your wood stove. Burning wood that hasnít been well-seasoned can decrease the quality of your fire and cause it to be ďsmoky.Ē Smokier fires produce more soot build up on the glass.
Try burning harder woods like oak, cherry, or walnut, and avoid burning woods known for their higher sap content.
If your wood stove has a heat setting, try turning the heat controls up a few notches. Hotter fires will keep your glass cleaner.
Allow enough oxygen to vent into your wood stove. Many of the newer models are already built to help with the airflow. Check the chimney/vent to make sure itís clean and in a good position for airflow.
If youíre burning smaller fires, try adding some more wood to the woodstove. Smaller fires canít always produce enough heat inside the wood stove for the soot to burn off the glass.
Position burning matter closer to the front glass on the woodstove. This will put the heat source closer to the glass.

Enjoy Beautiful Fires from Your Wood Stove All Season Long

You canít completely prevent soot from accumulating on the glass, but these tips should help increase the time between cleanings. Soot build-up on wood stove glass is less of a problem for newer models than older models, but regardless of how old your wood stove is, you can still experience beautiful fires from your wood stove all season long.

Reviews
---