TableTop Dragon
Price: $899.95
Discontinued
Tabletop Dragon.
The Tabletop Dragon is an unique combination cook stove with triple top burners, a small oven and ultra efficient firebox, in a compact stove footprint. Firebox features double wall hot flue gas construction. The stove cooktop cutouts feature massive cast iron fins to maximize and retain heat transfer and accommodates all sorts of different sized cookware. Brilliant design!
Primary and Secondary hot flu gas combustion means efficiently burned wood, smoke and exhaust, when using quality, dry fuel. Reduce your cooking and heating bills and live green by utilizing renewable fuels. Mini sized firebox and ash bin means easy maintenance. Maximum combustion burn times are going to vary typically from 3 to 8 hours, depending on load volume, species, moisture content, and density of fuel.
Maximum Heat Output: 51,000 BTU / HR / 15 KW.
Estimated heating capacity: 1,000 - 2,400 sq. ft.
Baking compartment: 11" wide x 16"deep x 6.25" tall.
Firebox: 5.5" wide x 13.5" deep x 6" tall.
Recommended Fuel Length: 12" Maximum
Build your own tile, mosaic, stone, metal, or concrete ergonomic support base for the Dragon Tabletop Stove. Only limited by your imagination to create your own personal cooking / art masterpiece!
The firebox maximizes minimal fuel and retains heat efficiently with unique stove fins, that maximize heat transfer. Hot flue gases pass behind and around replaceable cast iron firebox components, insuring long stove life. Removable ash bin sits below firebox for easy clean out of fine ash.
Stove Overall Dimensions:
25" wide x 23" deep x 12 & 5/8" tall
350 lbs
Pallet shipping by LTL Freight delivery quote required.
Intended for cook stove support base for ergonomic preferred height
Combustion Process Diagram: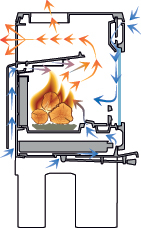 Secondary hot flu gas combust at top of firebox, maintain efficient rolling flames and keep firebox door glass clean. This secondary combustion ensures efficient, clean burning performance.
Primary ventilation dampener allows easy wood burning ignition and the secondary airflow dampener above controls comfort.
The goal of a well designed clean burning cook stove is to burn cleanly as possible, reducing emissions and fuel use. The secondary combustion above the flame is also known as gasification. All SilverFire stoves provide both primary and secondary combustion, to maximize combustion efficiency and protect the environment.
Description

Discontinued

Tabletop Dragon.

The Tabletop Dragon is an unique combination cook stove with triple top burners, a small oven and ultra efficient firebox, in a compact stove footprint. Firebox features double wall hot flue gas construction. The stove cooktop cutouts feature massive cast iron fins to maximize and retain heat transfer and accommodates all sorts of different sized cookware. Brilliant design!

Primary and Secondary hot flu gas combustion means efficiently burned wood, smoke and exhaust, when using quality, dry fuel. Reduce your cooking and heating bills and live green by utilizing renewable fuels. Mini sized firebox and ash bin means easy maintenance. Maximum combustion burn times are going to vary typically from 3 to 8 hours, depending on load volume, species, moisture content, and density of fuel.

Maximum Heat Output: 51,000 BTU / HR / 15 KW.

Estimated heating capacity: 1,000 - 2,400 sq. ft.

Baking compartment: 11" wide x 16"deep x 6.25" tall.

Firebox: 5.5" wide x 13.5" deep x 6" tall.

Recommended Fuel Length: 12" Maximum

Build your own tile, mosaic, stone, metal, or concrete ergonomic support base for the Dragon Tabletop Stove. Only limited by your imagination to create your own personal cooking / art masterpiece!

The firebox maximizes minimal fuel and retains heat efficiently with unique stove fins, that maximize heat transfer. Hot flue gases pass behind and around replaceable cast iron firebox components, insuring long stove life. Removable ash bin sits below firebox for easy clean out of fine ash.

Stove Overall Dimensions:

25" wide x 23" deep x 12 & 5/8" tall

350 lbs

Pallet shipping by LTL Freight delivery quote required.

Intended for cook stove support base for ergonomic preferred height

Combustion Process Diagram:

Secondary hot flu gas combust at top of firebox, maintain efficient rolling flames and keep firebox door glass clean. This secondary combustion ensures efficient, clean burning performance.

Primary ventilation dampener allows easy wood burning ignition and the secondary airflow dampener above controls comfort.

The goal of a well designed clean burning cook stove is to burn cleanly as possible, reducing emissions and fuel use. The secondary combustion above the flame is also known as gasification. All SilverFire stoves provide both primary and secondary combustion, to maximize combustion efficiency and protect the environment.

Reviews
---