Tiny House Dragon
Price: $499.95
Tiny House Dragon Stove! This small footprint stove is a clean burning secondary gasification cook and heat stove. It has both independent primary and secondary ventilation dampner controls to insure efficient combustion and duration of burn. This stove is cost effective and ideal for tiny homes, and other small structures that want a sustainable, clean burning firebox design. It features a a large glass viewing door and a functional cooktop in an elegant, small footprint.
This beauty has a cast iron door and a 3 gauge thick heavy duty cooktop (1/4"). The cooktop features a 6 & 7/8" round cooktop cutout for frying, boiling, woking for high firepower cooking, or after a wonderful bed of embers is established, use cook at low firepower. The robust firebox measures 12" wide x 8 &1/4" deep x 10" in height. The Tiny House stove utilizes 4" standard chimney pipe and emissions vent out directly through the back of stove.
Many of our customers are DIY and self-reliant minded. We see all types of chimney installations and adaptations. We don't make specific recommendations.
This is what the 4" stock looks like at our local hardware True Value hardware store.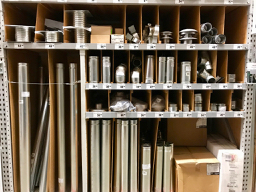 We have seen folks use gas duct vent pipe, chimney liner, self-fabricated chimneys & fittings, in addition to standard pellet and wood stove chimney pipe. A quick search of 4" pellet stove pipe will show you several sources such as:
Ameri-Tec: http://www.ameri-vent.com/
Selkirk: https://www.amazon.com/s/?ie=UTF8&keywords=selkirk+4+inch+pellet+stove+pipe&tag=mh0b-20&index=aps&hvadid=77996657666300&hvqmt=b&hvbmt=bb&hvdev=c&ref=pd_sl_8uxicej2bd_b
Here are DuraVent Pipe & Fitting nomeclature useful for installations and having local hardware stores or stove shops to order in.
DuraVent 4" Pellet Vent Pipe
Product # Size Description Details
DPV 4PVP-12 4" x 12" Pipe Straight
DPV 4PVP-12A 4" x 12" Pipe Adjustable
DPV 4PVP-24 4" x 24" Pipe Straight
DPV 4PVP-36 4" x 36" Pipe Straight
DPV 4PVP-60 4" x 60" Pipe Straight
DPV 4PVP-60F 4" x 60" Pipe Flexible
DuraVent 4" Pellet Vent Fittings
Product # Size Description Details
DPV 4PVP-AD 4" Pipe Adaptor Straight
DPV 4PVP-VC 4" Roof Cap Vertical
DPV 4PVP-FS 4" Ceiling FS Spacer 1" Clearance
DPV 4PVP-E45 4" Elbow 45 Degree
DPV 4PVP-E90 4" Elbow 90 Degree
DPV 4PVP-F6 4" Roof Flashing Adjustable
DPV 4PVP-SC 4" Tapered Storm Collar Flat
DPV 4PVP-T 4" Tee w/ Cap
DPV 4PVP-WSA 4" Wall Strap Adjustable
DPV 4PVP-WT 4" Wall Thimble 1" Clearance
Unfortunately, both larger bulky wood & pellet stoves are too hot for smaller structures and typically offer no cooking surface. Additionally, the expense is often unreasonable. Bottom line most pellet or wood stoves that offer secondary gasification and re-burn at the top of the firebox with clean combustion are expensive an not viable for use in a small footprint structures, marine, or with manufactured home use.
Smaller micro gasifier heating stoves we have tested offered no adequate cooktop surface and required fuel to be fed into the firebox every 2 hours or less, that negatively impact sleep cycles. All the micro gasifiers we have tested were actually designed for marine use, with raised wall installation. This design means your floor is area cold, due to lack of thermal radiation (heat rises!). The many of the micro stoves currently offered are over twice the price of our Tiny House Dragon and have no meaningful cooktop.
Other small space, cylinder shaped stoves marketed for tiny homes we have tested have no high firepower and low firepower cook top control, nor have an adequate cooktop surface. Some are over 10 times the price of our Tiny House Dragon and have less firebox viewing area to enjoy the wonderful secondary burn as seen with our efficient cook & heat stove.
There was nothing on the market between to address cooking and heating both, that offered clean burning secondary combustion in a small footprint. That is till now!
The Tiny House SilverFire Dragon Stove is perfect for smaller spaces! The clean burn is mesmerizing, with 2 rows of dancing secondary combustion at the top rear of firebox through the large 8 &1/2" x 9" viewing glass.
The 95 lb of thermal mass, means adequate heat on cold winter nights. We have found the Tiny House stove is capable of heating up to 750 square feet comfortably. Of course space heating is variable in regard to insulation R values, season and wood fuel type. The Tiny House Dragon can produce burn times exceeding 5 hours when seasoned dry hardwood is used.
The Tiny House Stove is 15 & 3/4" wide x 13 & 1/2" deep x 19 & 3/4" tall. Flat overall cooktop surface id 15 & 3/4" wide x 11 & 5/8" deep. Our cooktop area is significantly lager than other small space stoves we have reviewed.
All our our SilverFire stoves can be top lit or bottom lit. We find top lighting the stove is most efficient, cleaner and easier than bottom lighting our stoves. The fuel pile can burn downward like a candle and it is easier to light in this fashion. Simply take stove fuel (small logs, kindling, etc...), and place in combustion chamber with smaller tinder on top. Top light tinder, its that easy.
Some folks prefer to take a little pellet gel, alcohol gel and squirt in small amounts to establish the flame. Others prefer tack cloth, impregnated cotton balls, char cloth and other fire starters. What ever you are comfortable with is fine. Lots of fire starters and techniques out there.
We occasionally are questioned about coal, in addition to biomass for fuel. Coal burns very hot and the stove was not designed for coal. Although coal could be lit and place in stove, it has the potential to fatigue the stove metals and potentially shorten stove life. Coal is higher in volatiles, pollution, and CO. We do not recommend coal or charcoal in stoves to insure as long a stove life as possible.
Note: All stoves burn cleaner with dry fuel. Any stove with a chimney is designed to vent emissions outdoors. Our chimney stoves are designed for use with dry fuel, fuel with increased moisture content produces smoke and results in inefficient combustion and increased soot formation. Our small portable biomass stoves without chimneys are designed for dry biomass, however still function, though less efficiently using wet fuel. Burning fuel wet fuel is irresponsible and should be avoided if possible.
Helpful stove glass cleaning links:
https://www.wikihow.com/Clean-Fireplace-or-Woodsto...
https://www.goodhousekeeping.com/home/cleaning/tips/a21354/soot-glass-cleaning-sep06/This stove alone weighs 95 lb and with crate banded to pallet is approximately 120 shipping lb, requiring LTL freight truck transportation by lift gate. Please contact us for a specific freight quote to your doorstep on this item. This item due to weight varies in price, per location. Average discounted shipping price for palletized heavy stove as truck freight is around the $200+ range.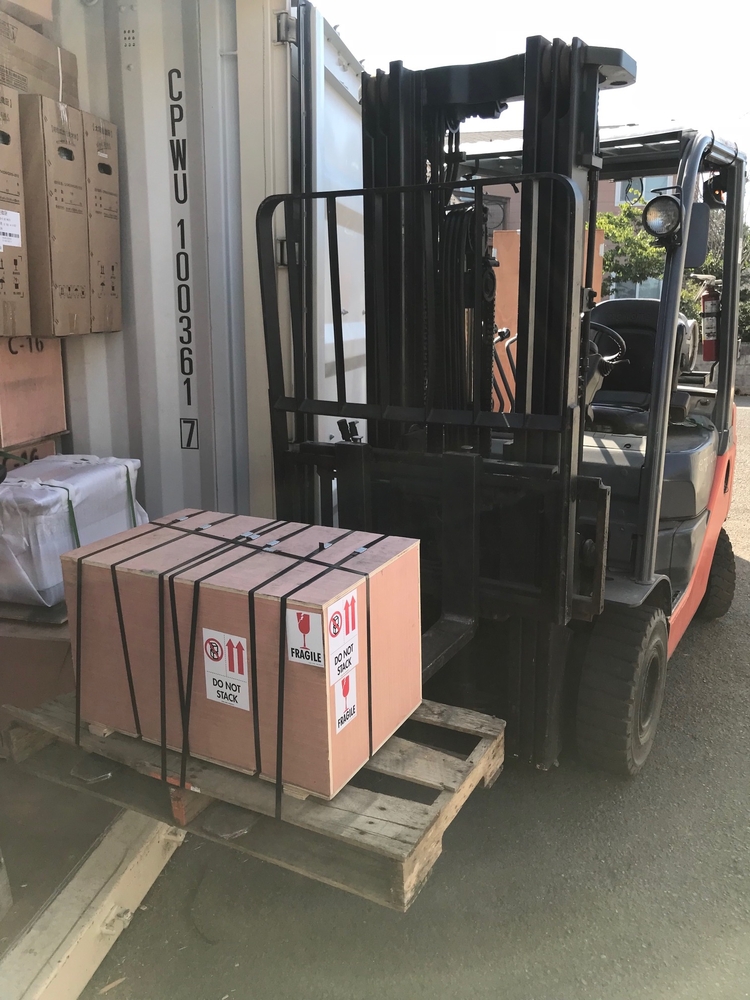 Description

Tiny House Dragon Stove! This small footprint stove is a clean burning secondary gasification cook and heat stove. It has both independent primary and secondary ventilation dampner controls to insure efficient combustion and duration of burn. This stove is cost effective and ideal for tiny homes, and other small structures that want a sustainable, clean burning firebox design. It features a a large glass viewing door and a functional cooktop in an elegant, small footprint.

This beauty has a cast iron door and a 3 gauge thick heavy duty cooktop (1/4"). The cooktop features a 6 & 7/8" round cooktop cutout for frying, boiling, woking for high firepower cooking, or after a wonderful bed of embers is established, use cook at low firepower. The robust firebox measures 12" wide x 8 &1/4" deep x 10" in height. The Tiny House stove utilizes 4" standard chimney pipe and emissions vent out directly through the back of stove.

Many of our customers are DIY and self-reliant minded. We see all types of chimney installations and adaptations. We don't make specific recommendations.

This is what the 4" stock looks like at our local hardware True Value hardware store.

We have seen folks use gas duct vent pipe, chimney liner, self-fabricated chimneys & fittings, in addition to standard pellet and wood stove chimney pipe. A quick search of 4" pellet stove pipe will show you several sources such as:

Ameri-Tec: http://www.ameri-vent.com/

Selkirk: https://www.amazon.com/s/?ie=UTF8&keywords=selkirk+4+inch+pellet+stove+pipe&tag=mh0b-20&index=aps&hvadid=77996657666300&hvqmt=b&hvbmt=bb&hvdev=c&ref=pd_sl_8uxicej2bd_b

Here are DuraVent Pipe & Fitting nomeclature useful for installations and having local hardware stores or stove shops to order in.

DuraVent 4" Pellet Vent Pipe

Product # Size Description Details

DPV 4PVP-12 4" x 12" Pipe Straight

DPV 4PVP-12A 4" x 12" Pipe Adjustable

DPV 4PVP-24 4" x 24" Pipe Straight

DPV 4PVP-36 4" x 36" Pipe Straight

DPV 4PVP-60 4" x 60" Pipe Straight

DPV 4PVP-60F 4" x 60" Pipe Flexible

DuraVent 4" Pellet Vent Fittings

Product # Size Description Details

DPV 4PVP-AD 4" Pipe Adaptor Straight

DPV 4PVP-VC 4" Roof Cap Vertical

DPV 4PVP-FS 4" Ceiling FS Spacer 1" Clearance

DPV 4PVP-E45 4" Elbow 45 Degree

DPV 4PVP-E90 4" Elbow 90 Degree

DPV 4PVP-F6 4" Roof Flashing Adjustable

DPV 4PVP-SC 4" Tapered Storm Collar Flat

DPV 4PVP-T 4" Tee w/ Cap

DPV 4PVP-WSA 4" Wall Strap Adjustable

DPV 4PVP-WT 4" Wall Thimble 1" Clearance

Unfortunately, both larger bulky wood & pellet stoves are too hot for smaller structures and typically offer no cooking surface. Additionally, the expense is often unreasonable. Bottom line most pellet or wood stoves that offer secondary gasification and re-burn at the top of the firebox with clean combustion are expensive an not viable for use in a small footprint structures, marine, or with manufactured home use.

Smaller micro gasifier heating stoves we have tested offered no adequate cooktop surface and required fuel to be fed into the firebox every 2 hours or less, that negatively impact sleep cycles. All the micro gasifiers we have tested were actually designed for marine use, with raised wall installation. This design means your floor is area cold, due to lack of thermal radiation (heat rises!). The many of the micro stoves currently offered are over twice the price of our Tiny House Dragon and have no meaningful cooktop.

Other small space, cylinder shaped stoves marketed for tiny homes we have tested have no high firepower and low firepower cook top control, nor have an adequate cooktop surface. Some are over 10 times the price of our Tiny House Dragon and have less firebox viewing area to enjoy the wonderful secondary burn as seen with our efficient cook & heat stove.

There was nothing on the market between to address cooking and heating both, that offered clean burning secondary combustion in a small footprint. That is till now!

The Tiny House SilverFire Dragon Stove is perfect for smaller spaces! The clean burn is mesmerizing, with 2 rows of dancing secondary combustion at the top rear of firebox through the large 8 &1/2" x 9" viewing glass.

The 95 lb of thermal mass, means adequate heat on cold winter nights. We have found the Tiny House stove is capable of heating up to 750 square feet comfortably. Of course space heating is variable in regard to insulation R values, season and wood fuel type. The Tiny House Dragon can produce burn times exceeding 5 hours when seasoned dry hardwood is used.

The Tiny House Stove is 15 & 3/4" wide x 13 & 1/2" deep x 19 & 3/4" tall. Flat overall cooktop surface id 15 & 3/4" wide x 11 & 5/8" deep. Our cooktop area is significantly lager than other small space stoves we have reviewed.

All our our SilverFire stoves can be top lit or bottom lit. We find top lighting the stove is most efficient, cleaner and easier than bottom lighting our stoves. The fuel pile can burn downward like a candle and it is easier to light in this fashion. Simply take stove fuel (small logs, kindling, etc...), and place in combustion chamber with smaller tinder on top. Top light tinder, its that easy.

Some folks prefer to take a little pellet gel, alcohol gel and squirt in small amounts to establish the flame. Others prefer tack cloth, impregnated cotton balls, char cloth and other fire starters. What ever you are comfortable with is fine. Lots of fire starters and techniques out there.

We occasionally are questioned about coal, in addition to biomass for fuel. Coal burns very hot and the stove was not designed for coal. Although coal could be lit and place in stove, it has the potential to fatigue the stove metals and potentially shorten stove life. Coal is higher in volatiles, pollution, and CO. We do not recommend coal or charcoal in stoves to insure as long a stove life as possible.

Note: All stoves burn cleaner with dry fuel. Any stove with a chimney is designed to vent emissions outdoors. Our chimney stoves are designed for use with dry fuel, fuel with increased moisture content produces smoke and results in inefficient combustion and increased soot formation. Our small portable biomass stoves without chimneys are designed for dry biomass, however still function, though less efficiently using wet fuel. Burning fuel wet fuel is irresponsible and should be avoided if possible.

Helpful stove glass cleaning links:

https://www.wikihow.com/Clean-Fireplace-or-Woodsto...

https://www.goodhousekeeping.com/home/cleaning/tips/a21354/soot-glass-cleaning-sep06/This stove alone weighs 95 lb and with crate banded to pallet is approximately 120 shipping lb, requiring LTL freight truck transportation by lift gate. Please contact us for a specific freight quote to your doorstep on this item. This item due to weight varies in price, per location. Average discounted shipping price for palletized heavy stove as truck freight is around the $200+ range.

Reviews
---