Wood Fired Timber Grill
Price: $899.95
Product Description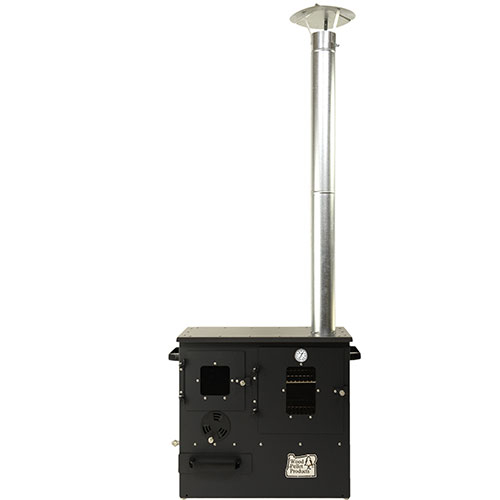 Live like a pioneer with WPP's portable wood burning cookstove. The Utility of this device gives you the freedom to feel at home anywhere you roam. Using only cord wood, sticks, pinecones, anything nature provides as fuel, the Timber Grill Cookstove keeps you warm and fed. Three main components make up the cookstove: The Cooktop, fireplace, and oven. With the combination of three products into one, the Timber Grill is a space saver. This lightweight device(70 lbs) has a stowaway for the stove pipe, making it compact and easy to move. Cooking a complete meal and gathering around a smoke free fire, makes the Timber Grill part of the camp. Easy to use, the Timber Grill Cookstove is a campfire in a box. All you do is feed it fuel. Temperature adjustment comes from the damper dial on the front of the stove, giving you complete control of both oven and cooktop temperatures. The Max oven temperature reaches 550 degrees F. With A BTU output of 35K, it's easy to stay warm next to the Timber Grill too.
Note: All stoves burn cleaner with dry fuel. Any stove with a chimney is designed to vent emissions outdoors. Our chimney stoves are designed for use with dry fuel, fuel with increased moisture content produces smoke and results in inefficient combustion and increased soot formation. Our small portable biomass stoves without chimneys are designed for dry biomass, however still function, though less efficiently using wet fuel. Burning fuel wet fuel is irresponsible and should be avoided if possible.
Interested in extending the duration of burn and saving wood? See our Accessories link and review our optional FireMizer, ideal for use in our stoves when providing heat or for long-duration cooking.
-Can accept Pellet hopper assembly to transform into the gravity fed wood pellet cookstove.
-Can fit 2 8x4x10" pieces of cord wood.
-Includes 2 pieces 4" galvanized stove pipe and one rain cap, a shutoff key, two 13×11" grills, and a wood burning firegrate.
Featured Components
Cooktop – With 252 Sq. inches of cooking area, the cooktop is really the funnest part of the gravity grill. Who doesn't like breakfast off the griddle in the great outdoors!
Oven – Includes two 13"x11" grills for a total cooking area of 286 Sq. inches. With Oven temperatures ranging from 100 to 550 degrees F., cooking possibilities are truly limitless.
Firebox – 35k BTU output keeps you warm and cooks your food all at the same time.
Deluxe Firepot – The downward flow of pellets is crucial to the ash content elimination and the continual dropping of new fuel. Two combustion areas create a highly efficient burn. A pull out rod allows for easy ash clean up.
Damper Dial – Controls the temperature of the heater by adjusting the amount airflow. Reach the highest temperatures with the damper dial fully close
Optional Folding Legs (shown with pellet hopper, that is not included) $75.00
Shipping Weight 87 lb in protective carton, shipping cost varies per location. LTL freight truck shipping.
Description

Product Description

Live like a pioneer with WPP's portable wood burning cookstove. The Utility of this device gives you the freedom to feel at home anywhere you roam. Using only cord wood, sticks, pinecones, anything nature provides as fuel, the Timber Grill Cookstove keeps you warm and fed. Three main components make up the cookstove: The Cooktop, fireplace, and oven. With the combination of three products into one, the Timber Grill is a space saver. This lightweight device(70 lbs) has a stowaway for the stove pipe, making it compact and easy to move. Cooking a complete meal and gathering around a smoke free fire, makes the Timber Grill part of the camp. Easy to use, the Timber Grill Cookstove is a campfire in a box. All you do is feed it fuel. Temperature adjustment comes from the damper dial on the front of the stove, giving you complete control of both oven and cooktop temperatures. The Max oven temperature reaches 550 degrees F. With A BTU output of 35K, it's easy to stay warm next to the Timber Grill too.

Note: All stoves burn cleaner with dry fuel. Any stove with a chimney is designed to vent emissions outdoors. Our chimney stoves are designed for use with dry fuel, fuel with increased moisture content produces smoke and results in inefficient combustion and increased soot formation. Our small portable biomass stoves without chimneys are designed for dry biomass, however still function, though less efficiently using wet fuel. Burning fuel wet fuel is irresponsible and should be avoided if possible.

Interested in extending the duration of burn and saving wood? See our Accessories link and review our optional FireMizer, ideal for use in our stoves when providing heat or for long-duration cooking.

-Can accept Pellet hopper assembly to transform into the gravity fed wood pellet cookstove.

-Can fit 2 8x4x10" pieces of cord wood.

-Includes 2 pieces 4" galvanized stove pipe and one rain cap, a shutoff key, two 13×11" grills, and a wood burning firegrate.

Featured Components

Cooktop – With 252 Sq. inches of cooking area, the cooktop is really the funnest part of the gravity grill. Who doesn't like breakfast off the griddle in the great outdoors!

Oven – Includes two 13"x11" grills for a total cooking area of 286 Sq. inches. With Oven temperatures ranging from 100 to 550 degrees F., cooking possibilities are truly limitless.

Firebox – 35k BTU output keeps you warm and cooks your food all at the same time.
Deluxe Firepot – The downward flow of pellets is crucial to the ash content elimination and the continual dropping of new fuel. Two combustion areas create a highly efficient burn. A pull out rod allows for easy ash clean up.

Damper Dial – Controls the temperature of the heater by adjusting the amount airflow. Reach the highest temperatures with the damper dial fully close
Optional Folding Legs (shown with pellet hopper, that is not included) $75.00
Shipping Weight 87 lb in protective carton, shipping cost varies per location. LTL freight truck shipping.

Reviews
---