Hunter Stove
Price: $239.95
SilverFire Hunter Stove! Make sure you check our chimney links for larger chimney stove options! Interested in extending the duration of burn and saving wood? See our Accessories link and review our optional FireMizer, ideal for use in our stoves when providing heat or for long-duration cooking.
Can be purchased with added accessories (bag, pot, pot and steam basket, wok, stone grill, stainless steel grill, salt stone...look at pictures for reference or under the tab "Accessories"). If purchasing bag, bags can be found under "Stove Bags" tab (Black, Navy, or Charcoal Gray, ).
SilverFire® Hunter purchase includes four chimney sections and standard elbow (as shown in picture) to accommodate our Dragon Pot or 12"" wide SS Wok. Chimney sections collapse on themselves and fit inside combustion chamber for storage.
The SilverFire® Hunter, is a lightweight, portable natural draft chimney stove designed for both indoor & outdoor use! The Hunter is a top lit updraft gasifier (TLUD), powered by twigs, yard scrub, or any flammable biomass (why buy fuel?). TLUD's stoves utilize a batch fed combustion chamber. It is simple to operate. Just top light it like a candle, no continuous feeding required. Vent the chimney outdoors to eliminate all household emissions. Insert vertical positioned fuel into the combustion chamber; next place a little tinder on top and light! To fine tune your flame adjust the ventilation door at the bottom of the stove. That's all there is to it! The portable SilverFire®Hunter model opens up a new frontier in biomass clean cook stoves. You now have the capacity to eliminate all household emissions!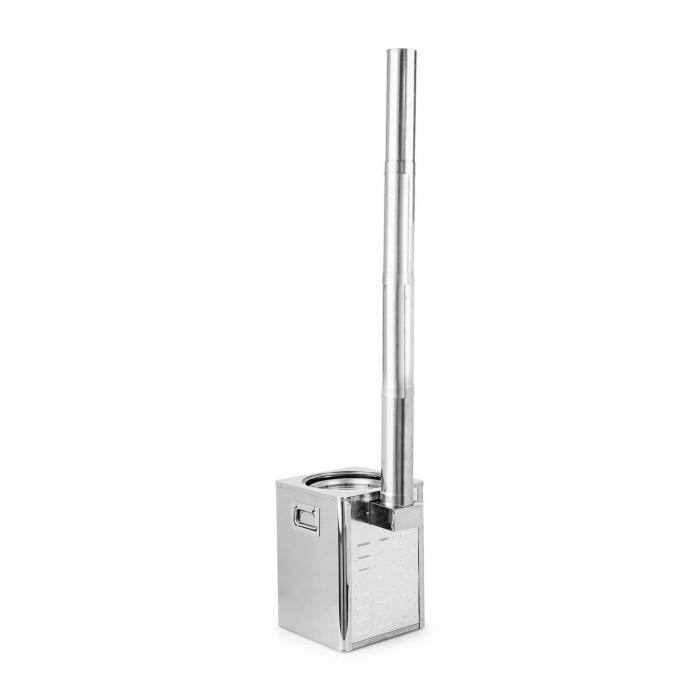 SilverFire Portable Stove Options: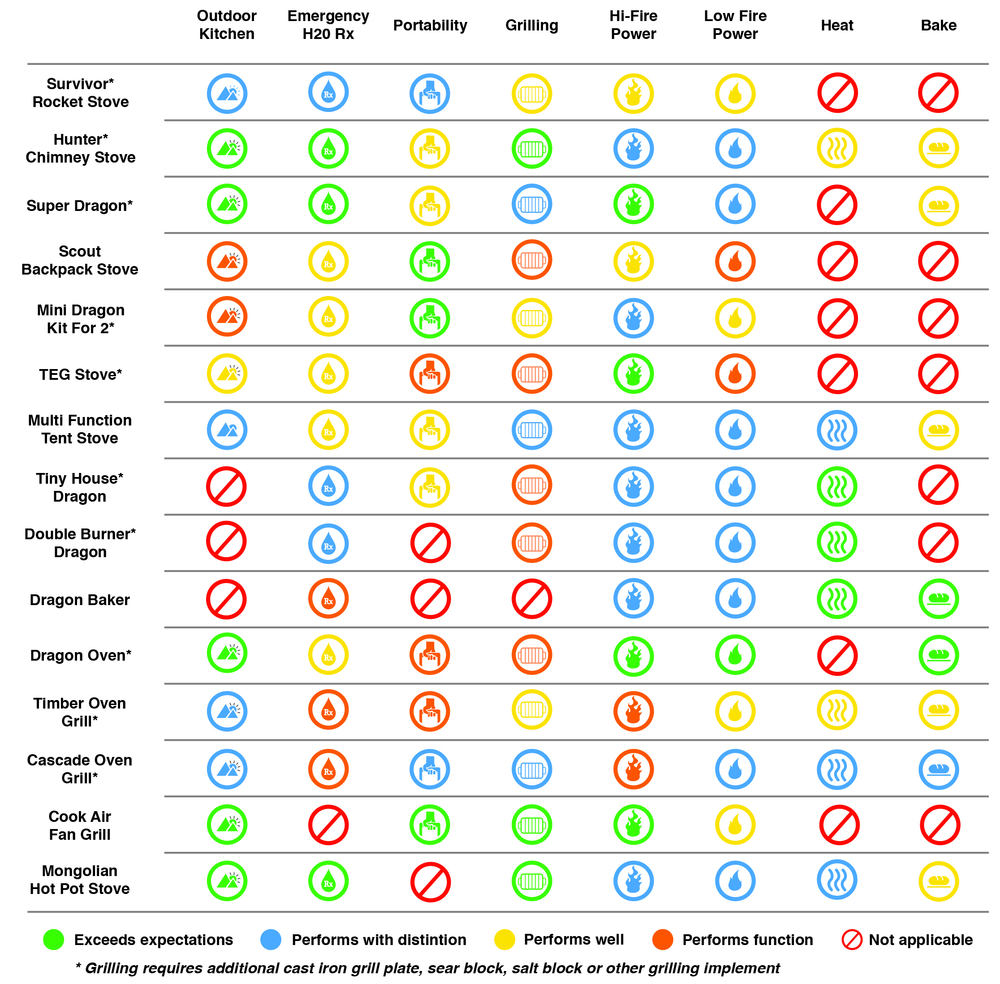 Our Hunter maybe the most important emergency or disaster stove to own, since you cannot plan when a disaster may strike. Outdoor Rocket & TLUD stoves without chimneys are fun and convenient to use in warm weather, different scenario in a real disaster, or in poor weather. Many of our customers want two burners and the Hunter Chimney stove used with the Survivor Rocket stove our a favorite outdoor kitchen cooking combination. Dishes requiring more oversight may be cooked on the rocket stove, while large water bathes and viscous dishes like chili's & stews may be left unattended on the Hunter Chimney stove during low firepower operations. The option to cook inside is very important, and eliminate all household emissions to protect your family's health is critical. It may not be safe to go outdoors and the ability to cook indoors is important. The ability to cook indoors under shelter is a key advantage over stoves without chimneys. Most rocket stoves & TLUDs sold do not have chimneys and are designed for outdoor use only. TLUD designs are faster cooking and cleaner burning than rocket stoves. Our portable cook stoves are insulated with light weight insulation is primarily designed for cooking. By adding thermal mass to the Hunter Chimney stove (cast iron plate, salt block, or pot of water), it is possible to heat a small space.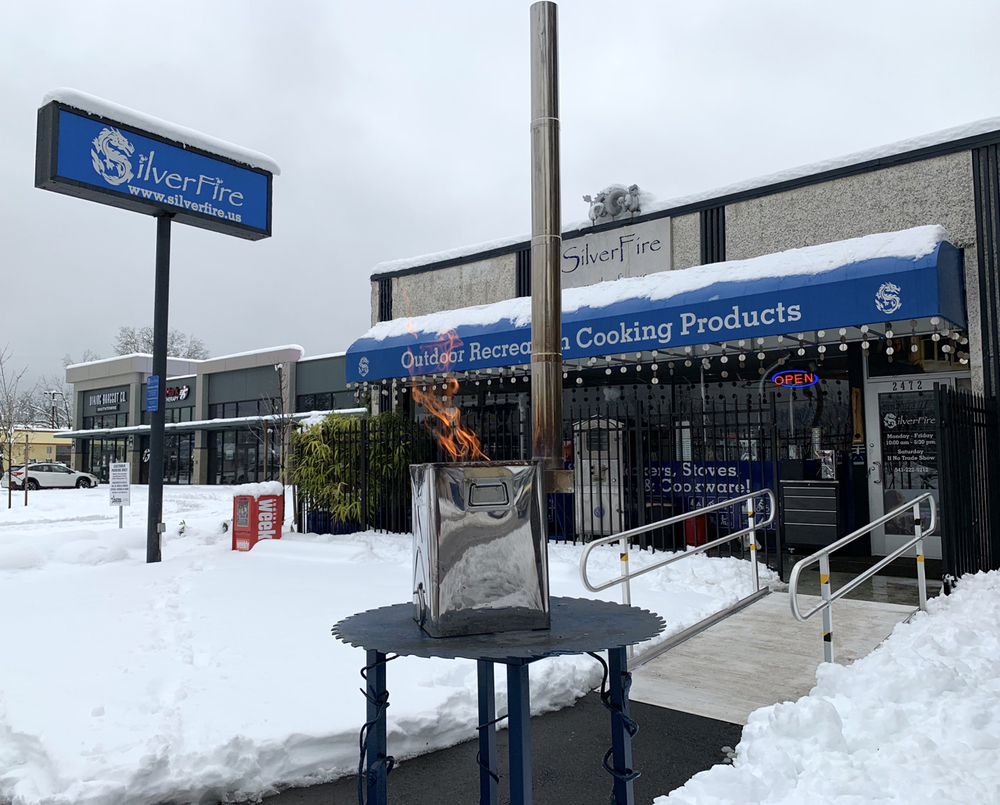 The Hunter is easy to light, easily adjusted, lightweight, and cooks very rapidly. Thin tight packed fuel produces a very rapid boil. It has the ability to boil 2 gallons of water faster than the largest burner on your gas or electric cooktop. In the event you want to slow the cooking process down (e.g. slow cooking with cast iron) add thicker, dense fuel into the combustion chamber. Dense material takes longer to burn, ideal for slow cooking. Combustion in the Hunter produces very little smoke or soot, if using dry fuel. The beauty of the Hunter is that the first 20 - 40 minutes of cooking is high fire power (boiling operations, browning meat, etc...), then for the next two hours a wonderful diminishing, simmering heat is present (low fire power cooking). The stove is dialed in for maximum cooking performance. At any time, you can also just add more fuel and primary air to stoke the stove back up to high fire power cooking too! Just add fuel and open the ventilation door a couple of fingers to add primary air is all that is required. This stove is very intuitive and straight forward to operate. At the end of cooking, invert the stove to dump out the small amount of fine ash residue from the bottom of the chamber. The Chimney is divided into 4 small sections to accommodate handling this lightweight, easy to mange stove (14 lbs). It is approximately half the weight of most rocket stoves on the market, due to the quality lightweight insulation, stainless steel construction, compared to other manufacturers using mild steel and cheap clay for insulation.
The combustion chamber is large and wider than our rocket stove, once embers are established, a great grilling stove with grill plates, Himalayan salt blocks, and other gourmet cookware. There even is a a smoker (Ziv's) that is compatible with the Hunter for smoking. The cooking flexibility of the Hunter is endless.
TLUD technology has been around for over 100 years. Primary air passes through your fuel as it combusts in the combustion chamber and becomes carbon monoxide gas. The carbon monoxide gas is then burned and mixed with the preheated secondary air, above the fire. The secondary air combustion appearance is like a gas stove and is know as a Chinese burner. The end result of your biomass fuel is to produce minimal amounts of ash, soot, and bio-char, which is required to be removed from the stove after cooking for maximum stove performance.
Best of all unlike a rocket stove, the Hunter does not require continuous side feeding of fuel into the stove (as required with rocket stoves), or monitoring while cooking (since it is a top lit batch stove burning downwards like a candle for prolonged burning durations). This means you ares free to prepare other dishes or culinary tasks. The Hunter may also be used indoors if venting all emissions outdoors through the chimney. The 3" chimney consists of an elbow piece that inserts into the back of the stove, and four individual stacking sections. Each chimney section is numbered. Most hardware stores carry standard off the shelf 3" chimney pipe & elbows to configure your specific installation requirements. Double walled, insulated chimney pipe not required. Refer to chimney installation recommendations for specific tent stove application. Keep hot chimney away from nylon or other low melting point fabrics.
Find Hunter Stove options under the SilverFire: Accessories link! By customer request, cast iron insert plate and handle and extended chimney elbow to accommodate massive cookware are available!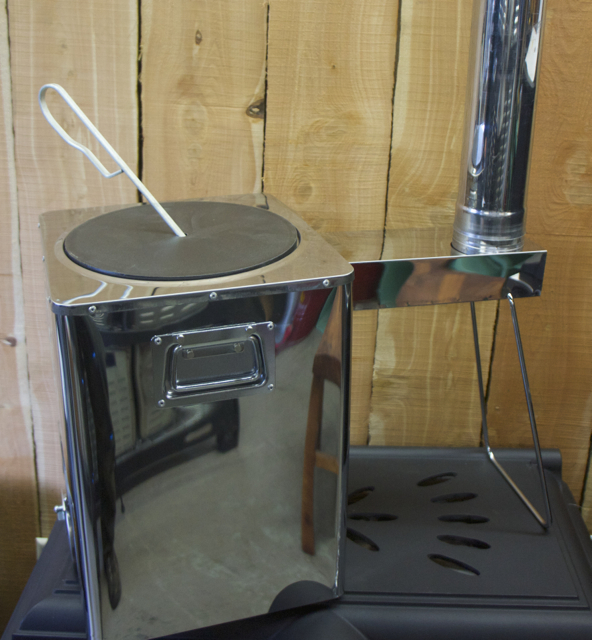 Special Note: All wood & biomass stoves create soot on the bottom of cookware. It is important to clean the bottom of your pots or after time the buildup of soot can impede heat transfer into the pot. There are many industrial cleaners such as Krud Kutter that are effective removing soot from the bottom of cookware with a paper towel, prior to washing. Tough soot buildup may also require a scouring pad and cleaner before washing cookware. Porcelain over steel and stainless cookware is easier to clean than cast iron, regular steel and aluminum cookware. Cast iron cookware dissipates heat effectively, though and the absorption of iron into the food is a benefit to those with low iron blood levels.
The founder of StoveTec® rocket stoves created the SilverFire® organization to bring you the state of the art in an indoor or outdoor biomass chimney stove, as well as many other advanced designs after working with inferior StoveTec / EcoZoom products. The SilverFire® quality clean cook stove organization represents significant advances in clean combustion technology, performance and durability.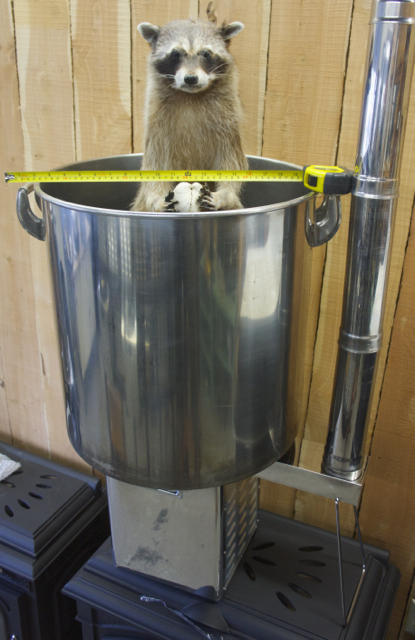 Extended chimney option shown above to accommodate exceptionally large cookware (shown with 24" diameter stock pot).
Hunter Specifications:
Cooking Fire Power: ≥ 1.5 KW
Thermal Efficiency: ≥ 35% (StoveTec/EcoZoom 30%)
Emissions Concentration (smoke): ≤ 25mg / m3
SO2 ≤ 20mg / m3
NOx: ≤ 120mg / m3
CO: ≤ 0.1%
A tracking number is sent to your provided email entered at the time of order. The tracking number is generated at the end of each business day after carrier scans package (Monday through Friday). Please refer to email for tracking number. There is no ground service on weekends.
Please note many of our important stove and cookware options are found on our Accessories, Oven, and other links!
Always feel free to call with questions 10AM - 5:30PM Pacific Time Zone, Monday through Friday regarding our products. We are also usually in on Saturdays 10AM to 2PM, unless participating in a trade show or other business activity. We have an optional Hunter stove bag listed under our Accessories listens, along with a stainless steel grille, stone grille, salt block grille, & Dragon Pot. Our Oregon made Hunter Stove Bag is a fantastic survival bag! You can count on this multi-function bag in emergencies, for recreation, or just to protect your stove. It is also a combo cooler or thermal cooker with a middle layer of insulation on bottom, sides, and top! It also will protect your stove. The exterior ballistic shell is padded & rugged! This custom bag was specially designed for the SilverFire® Hunter stove!
The custom insulation is designed both for for cooking food as a thermal cooker / hay basket*, or you can choose to fill it with ice and use it as a cooler! It can be used as an emergency water vessel to carry water, or use it as a protective storage bag. We designed other stove bags and there is no other products like these available anywhere.
See all the options available for this stove under ACCESSORIES!
Features
- Outer Shell: Rugged Nylon/Polyester
- Middle Layer: Landau Insulated Padding
- Internal Layer: Water Resistant Vinyl
- Single Fuel / Fire Lighter Pocket
- Heavy Duty Zippers
- 1"/ 2.5 cm Heavy-Duty Nylon Web Cargo Handles
- All Reinforced Seams with Heavy Duty Stitching
* Thermal cooking is an efficient way to cook using insulation or hay. After pot brought to temperature it can be inserted into a bed of hay inside the insulated bag for several hours.
Now available!
Please call for shipping quote to Alaska, Hawaii, & Puerto Rico for additional FedEx or USPS shipping fee total. Please call or write for all International shipping quotes.
Returned SilverFire products subject to 25% product restocking fee and all shipping costs are non-refundable.
Stove Weight: 14.5 lbs
Stove Dimensions: 12" square x 16" tall / 30.5 cm x 40.6 cm tall
Double boxed shipping carton: 22 lbs
Shipping Box Dimensions: 16" square x 19" tall / 35.6 cm x 45.7 cm
Returned SilverFire products subject to 25% product restocking fee and all shipping costs are non-refundable.
Combustion Diagram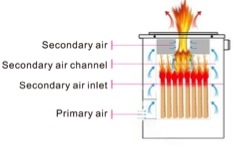 Primary Air – Air that enters the stove at the base of the fire bed to ignite and burn the fuel.
Secondary Air – Preheated air that passes through channels or pathways to be burned a second time at the top of the firebox, above the primary combustion flames.
The goal of a well designed clean burning cook stove is to burn cleanly as possible, reducing emissions and fuel use. The secondary combustion above the flame is also known as gasification. All SilverFire stoves provide both primary and secondary combustion, to maximize combustion efficiency and protect the environment.
Gourmet Off-Grid Smoking, yes possible on the Hunter! This smoker box is available on Amazon, it flatpacks in a little plastic briefcase. It is called Ziv's Portable Smoker. It has the right geometry with hardwood flavored smoking pellets or chips for gourmet smoking. We recommend using the Hunter cast iron plate insert option or waiting for low firepower phase cooking with the Hunter to prevent warping the smoker box. Fantastic gourmet smoking with a handful of fuel! Box ideal size place on top of Hunter as the heat source!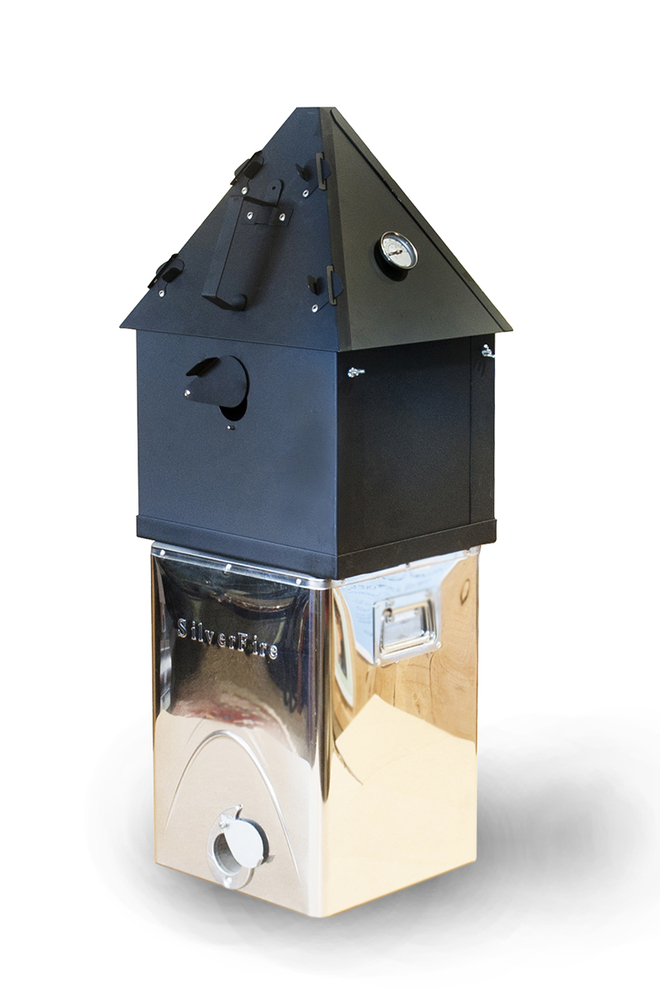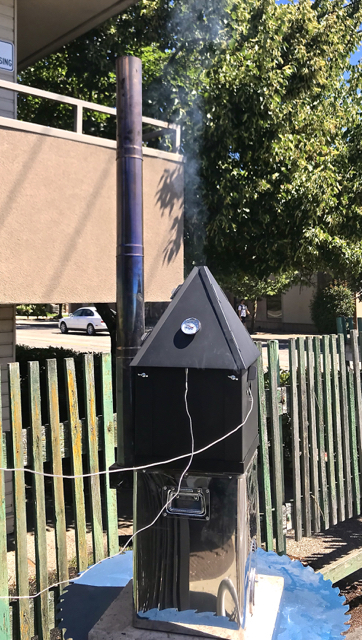 Too much fun! Off-grid smoking!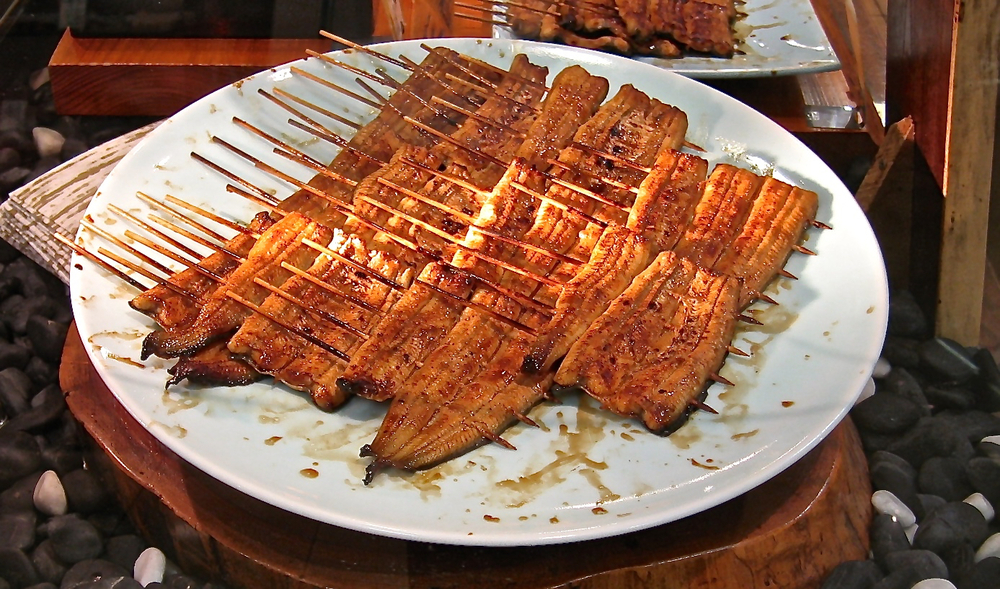 Yummy!
Questions?
Call or write SilverFire Sales: (541) 222-9212 / sales@silverfire.us Pacific Time Zone, 10 - 5:00 PM
Description

SilverFire Hunter Stove! Make sure you check our chimney links for larger chimney stove options! Interested in extending the duration of burn and saving wood? See our Accessories link and review our optional FireMizer, ideal for use in our stoves when providing heat or for long-duration cooking.

Can be purchased with added accessories (bag, pot, pot and steam basket, wok, stone grill, stainless steel grill, salt stone...look at pictures for reference or under the tab "Accessories"). If purchasing bag, bags can be found under "Stove Bags" tab (Black, Navy, or Charcoal Gray, ).

SilverFire® Hunter purchase includes four chimney sections and standard elbow (as shown in picture) to accommodate our Dragon Pot or 12"" wide SS Wok. Chimney sections collapse on themselves and fit inside combustion chamber for storage.

The SilverFire® Hunter, is a lightweight, portable natural draft chimney stove designed for both indoor & outdoor use! The Hunter is a top lit updraft gasifier (TLUD), powered by twigs, yard scrub, or any flammable biomass (why buy fuel?). TLUD's stoves utilize a batch fed combustion chamber. It is simple to operate. Just top light it like a candle, no continuous feeding required. Vent the chimney outdoors to eliminate all household emissions. Insert vertical positioned fuel into the combustion chamber; next place a little tinder on top and light! To fine tune your flame adjust the ventilation door at the bottom of the stove. That's all there is to it! The portable SilverFire®Hunter model opens up a new frontier in biomass clean cook stoves. You now have the capacity to eliminate all household emissions!

SilverFire Portable Stove Options:

Our Hunter maybe the most important emergency or disaster stove to own, since you cannot plan when a disaster may strike. Outdoor Rocket & TLUD stoves without chimneys are fun and convenient to use in warm weather, different scenario in a real disaster, or in poor weather. Many of our customers want two burners and the Hunter Chimney stove used with the Survivor Rocket stove our a favorite outdoor kitchen cooking combination. Dishes requiring more oversight may be cooked on the rocket stove, while large water bathes and viscous dishes like chili's & stews may be left unattended on the Hunter Chimney stove during low firepower operations. The option to cook inside is very important, and eliminate all household emissions to protect your family's health is critical. It may not be safe to go outdoors and the ability to cook indoors is important. The ability to cook indoors under shelter is a key advantage over stoves without chimneys. Most rocket stoves & TLUDs sold do not have chimneys and are designed for outdoor use only. TLUD designs are faster cooking and cleaner burning than rocket stoves. Our portable cook stoves are insulated with light weight insulation is primarily designed for cooking. By adding thermal mass to the Hunter Chimney stove (cast iron plate, salt block, or pot of water), it is possible to heat a small space.

The Hunter is easy to light, easily adjusted, lightweight, and cooks very rapidly. Thin tight packed fuel produces a very rapid boil. It has the ability to boil 2 gallons of water faster than the largest burner on your gas or electric cooktop. In the event you want to slow the cooking process down (e.g. slow cooking with cast iron) add thicker, dense fuel into the combustion chamber. Dense material takes longer to burn, ideal for slow cooking. Combustion in the Hunter produces very little smoke or soot, if using dry fuel. The beauty of the Hunter is that the first 20 - 40 minutes of cooking is high fire power (boiling operations, browning meat, etc...), then for the next two hours a wonderful diminishing, simmering heat is present (low fire power cooking). The stove is dialed in for maximum cooking performance. At any time, you can also just add more fuel and primary air to stoke the stove back up to high fire power cooking too! Just add fuel and open the ventilation door a couple of fingers to add primary air is all that is required. This stove is very intuitive and straight forward to operate. At the end of cooking, invert the stove to dump out the small amount of fine ash residue from the bottom of the chamber. The Chimney is divided into 4 small sections to accommodate handling this lightweight, easy to mange stove (14 lbs). It is approximately half the weight of most rocket stoves on the market, due to the quality lightweight insulation, stainless steel construction, compared to other manufacturers using mild steel and cheap clay for insulation.

The combustion chamber is large and wider than our rocket stove, once embers are established, a great grilling stove with grill plates, Himalayan salt blocks, and other gourmet cookware. There even is a a smoker (Ziv's) that is compatible with the Hunter for smoking. The cooking flexibility of the Hunter is endless.

TLUD technology has been around for over 100 years. Primary air passes through your fuel as it combusts in the combustion chamber and becomes carbon monoxide gas. The carbon monoxide gas is then burned and mixed with the preheated secondary air, above the fire. The secondary air combustion appearance is like a gas stove and is know as a Chinese burner. The end result of your biomass fuel is to produce minimal amounts of ash, soot, and bio-char, which is required to be removed from the stove after cooking for maximum stove performance.

Best of all unlike a rocket stove, the Hunter does not require continuous side feeding of fuel into the stove (as required with rocket stoves), or monitoring while cooking (since it is a top lit batch stove burning downwards like a candle for prolonged burning durations). This means you ares free to prepare other dishes or culinary tasks. The Hunter may also be used indoors if venting all emissions outdoors through the chimney. The 3" chimney consists of an elbow piece that inserts into the back of the stove, and four individual stacking sections. Each chimney section is numbered. Most hardware stores carry standard off the shelf 3" chimney pipe & elbows to configure your specific installation requirements. Double walled, insulated chimney pipe not required. Refer to chimney installation recommendations for specific tent stove application. Keep hot chimney away from nylon or other low melting point fabrics.

Find Hunter Stove options under the SilverFire: Accessories link! By customer request, cast iron insert plate and handle and extended chimney elbow to accommodate massive cookware are available!


Special Note: All wood & biomass stoves create soot on the bottom of cookware. It is important to clean the bottom of your pots or after time the buildup of soot can impede heat transfer into the pot. There are many industrial cleaners such as Krud Kutter that are effective removing soot from the bottom of cookware with a paper towel, prior to washing. Tough soot buildup may also require a scouring pad and cleaner before washing cookware. Porcelain over steel and stainless cookware is easier to clean than cast iron, regular steel and aluminum cookware. Cast iron cookware dissipates heat effectively, though and the absorption of iron into the food is a benefit to those with low iron blood levels.

The founder of StoveTec® rocket stoves created the SilverFire® organization to bring you the state of the art in an indoor or outdoor biomass chimney stove, as well as many other advanced designs after working with inferior StoveTec / EcoZoom products. The SilverFire® quality clean cook stove organization represents significant advances in clean combustion technology, performance and durability.

Extended chimney option shown above to accommodate exceptionally large cookware (shown with 24" diameter stock pot).

Hunter Specifications:

Cooking Fire Power: ≥ 1.5 KW

Thermal Efficiency: ≥ 35% (StoveTec/EcoZoom 30%)

Emissions Concentration (smoke): ≤ 25mg / m3

SO2 ≤ 20mg / m3

NOx: ≤ 120mg / m3

CO: ≤ 0.1%

A tracking number is sent to your provided email entered at the time of order. The tracking number is generated at the end of each business day after carrier scans package (Monday through Friday). Please refer to email for tracking number. There is no ground service on weekends.

Please note many of our important stove and cookware options are found on our Accessories, Oven, and other links!

Always feel free to call with questions 10AM - 5:30PM Pacific Time Zone, Monday through Friday regarding our products. We are also usually in on Saturdays 10AM to 2PM, unless participating in a trade show or other business activity. We have an optional Hunter stove bag listed under our Accessories listens, along with a stainless steel grille, stone grille, salt block grille, & Dragon Pot. Our Oregon made Hunter Stove Bag is a fantastic survival bag! You can count on this multi-function bag in emergencies, for recreation, or just to protect your stove. It is also a combo cooler or thermal cooker with a middle layer of insulation on bottom, sides, and top! It also will protect your stove. The exterior ballistic shell is padded & rugged! This custom bag was specially designed for the SilverFire® Hunter stove!

The custom insulation is designed both for for cooking food as a thermal cooker / hay basket*, or you can choose to fill it with ice and use it as a cooler! It can be used as an emergency water vessel to carry water, or use it as a protective storage bag. We designed other stove bags and there is no other products like these available anywhere.

See all the options available for this stove under ACCESSORIES!

Features

- Outer Shell: Rugged Nylon/Polyester

- Middle Layer: Landau Insulated Padding

- Internal Layer: Water Resistant Vinyl

- Single Fuel / Fire Lighter Pocket

- Heavy Duty Zippers

- 1"/ 2.5 cm Heavy-Duty Nylon Web Cargo Handles

- All Reinforced Seams with Heavy Duty Stitching

* Thermal cooking is an efficient way to cook using insulation or hay. After pot brought to temperature it can be inserted into a bed of hay inside the insulated bag for several hours.

Now available!

Please call for shipping quote to Alaska, Hawaii, & Puerto Rico for additional FedEx or USPS shipping fee total. Please call or write for all International shipping quotes.

Returned SilverFire products subject to 25% product restocking fee and all shipping costs are non-refundable.

Stove Weight: 14.5 lbs

Stove Dimensions: 12" square x 16" tall / 30.5 cm x 40.6 cm tall

Double boxed shipping carton: 22 lbs

Shipping Box Dimensions: 16" square x 19" tall / 35.6 cm x 45.7 cm

Returned SilverFire products subject to 25% product restocking fee and all shipping costs are non-refundable.

Combustion Diagram

Primary Air – Air that enters the stove at the base of the fire bed to ignite and burn the fuel.

Secondary Air – Preheated air that passes through channels or pathways to be burned a second time at the top of the firebox, above the primary combustion flames.

The goal of a well designed clean burning cook stove is to burn cleanly as possible, reducing emissions and fuel use. The secondary combustion above the flame is also known as gasification. All SilverFire stoves provide both primary and secondary combustion, to maximize combustion efficiency and protect the environment.

Gourmet Off-Grid Smoking, yes possible on the Hunter! This smoker box is available on Amazon, it flatpacks in a little plastic briefcase. It is called Ziv's Portable Smoker. It has the right geometry with hardwood flavored smoking pellets or chips for gourmet smoking. We recommend using the Hunter cast iron plate insert option or waiting for low firepower phase cooking with the Hunter to prevent warping the smoker box. Fantastic gourmet smoking with a handful of fuel! Box ideal size place on top of Hunter as the heat source!

Too much fun! Off-grid smoking!

Yummy!

Questions?

Call or write SilverFire Sales: (541) 222-9212 / sales@silverfire.us Pacific Time Zone, 10 - 5:00 PM

Reviews
---