304 Stainless Steel Scout Stove
Price: $69.95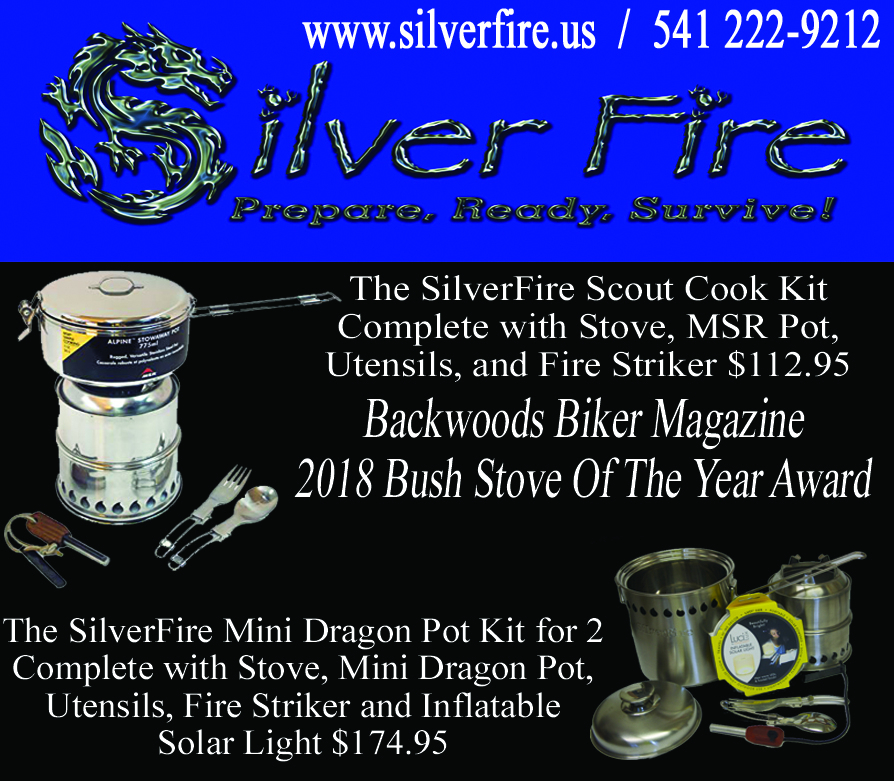 Brushed 304 Stainless Steel (SS) SilverFire Gasifier Stove! 5 Pot Support Scout Stove!
Can be purchased with stove only or extra accessories (with pot, fire starter, and/or collapsible utensil options). The stove alone is 5 & 1/8" wide, 2 & 3/4" tall collapsed.
We also sell an economy priced 201 SS Scout, with or without accessories. 304 SS Scout is a higher quality and comes in brushed stainless steel finish vs. the 201 SS Scout is a polished finish.
Everything fits in the pot (stove, fire starter, and utensils) as a full kit. Look at the pictures for reference. The Scout Stove includes a black nylon bag with drawstring.
To Order: Select Add to Cart and proceed to Cart to checkout on top right of page. You never have to create an account to buy from SilverFire!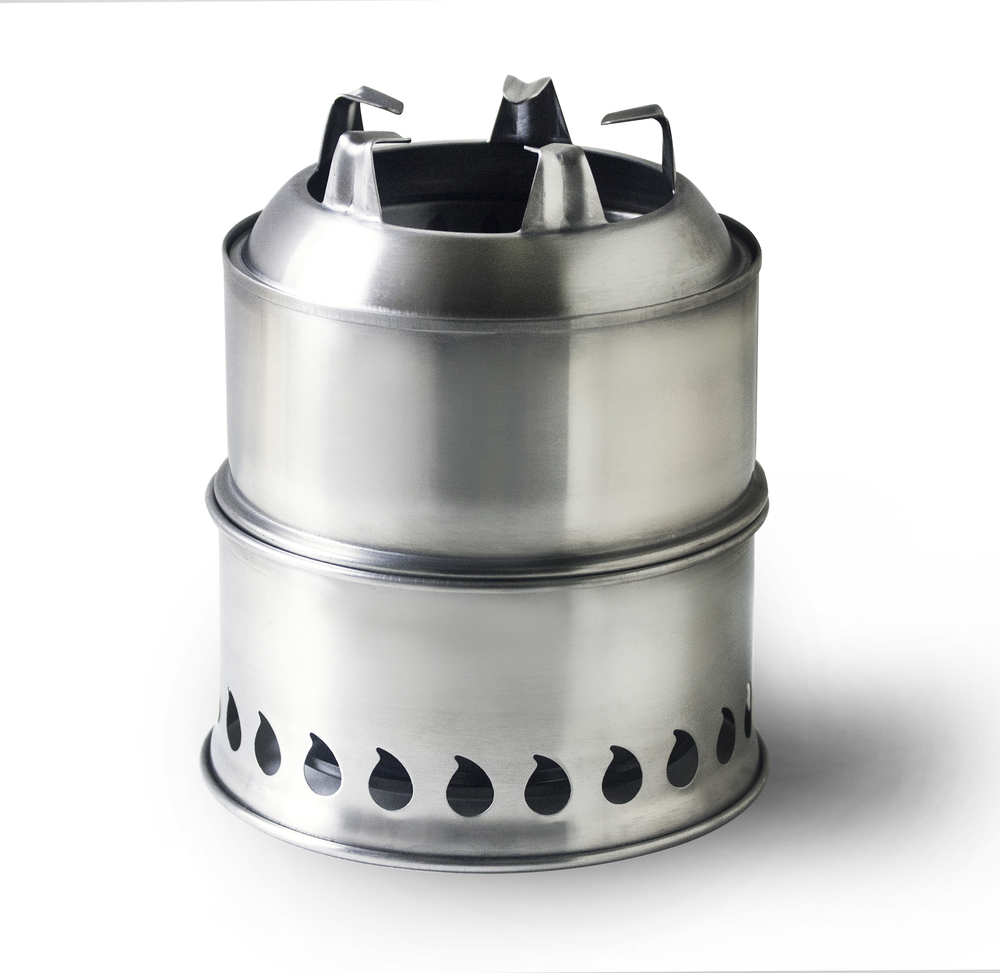 New improved pot support design to increase stability, accommodate smaller pots and eliminate hinged pot supports!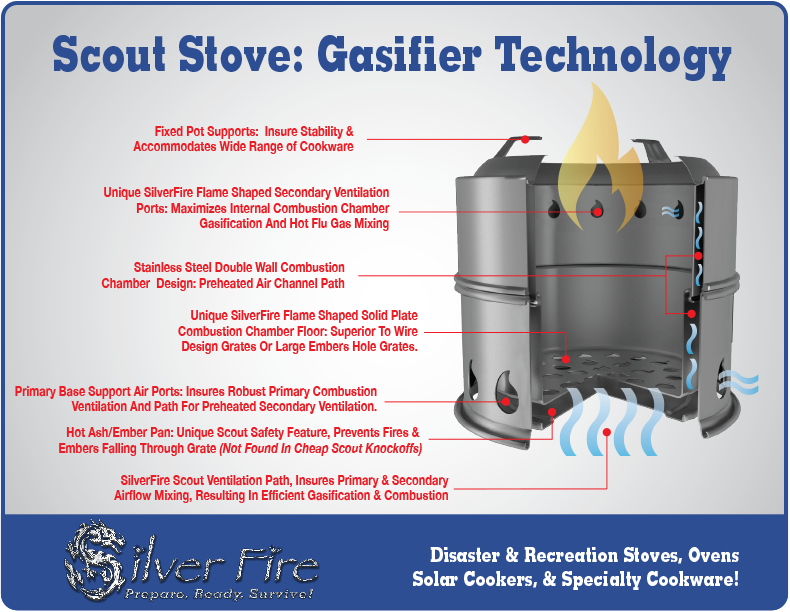 The SilverFire® Scout is a lightweight wood fired gasifier stove, that operates on just on twigs or flammable biomass. It is an ultra compact gasifier design intended for minimalist backpacking or bug out application. It is designed to be used with small solo sized pots down to 2.5" in diameter or other larger backpack trekking cookware. The recommended weight for the Scout is approximately 3 lb / 1.5 Kg small pots. This translates to small cookware designed to heat a quart or liter of water. This stove is not designed for large family cookware, such as our Dragon Pot. Consider one of our larger portable stove models for family sized meals. Please see stove accessories for the MSR Alpine Stowaway pot or fire starter combo kit option offered for sale on our website. The backpack shown in photo is for combo stove kit size reference and is not included in the sale. The Scout Stove includes a black nylon bag with drawstring.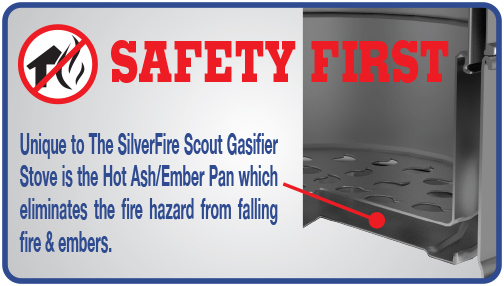 Baking a Chicken with the SilverFire Scout!
Minimum Fuel, Maximum Taste! Scout filled with wood pellets to maximize the duration of burn time for baking. This oven is a prototype built by Tyson Traeger of Wood pellet products here in Oregon with a surplus fire box from his Lil Timber patio heater.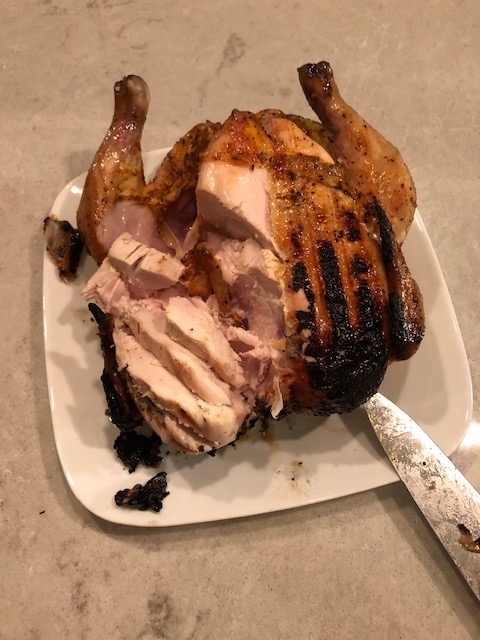 Dual Scouts Burning with Wood at Night!
Warning: Buyer's beware, only the SilverFire® Scout has a safety ash / hot ember plate attached below the combustion chamber and flame shaped ventilation holes in our custom patented design. The Internet displays numerous cheap Scout knockoffs, that do not include our ash plate design, which is a huge safety liability and may result in igniting a fire outside the stove! These knockoff stoves are easily identified by round or square shaped ventilation holes, and do not exhibit our SilverFire flame shape motif!
Finally the perfect TLUD* compact stove for backpacking or bug out bags. This all stainless steel stove's state-of the art design blends practical technology, durable materials, safety, and ease of use. This listing is for the SilverFire Scout stove only. All cookware is shown to educate consumer on size and compact nesting design of the SilverFire Scout backpack / bug out bag stove. Please go to our Stove Accessories page to view the MSR Alpine Stowaway pot we offer for the SilverFire Scout. The compact Scout design nests in the MSR pot perfectly for travel. It is the must have companion for the SilverFire Scout. This stove could save your life in the field. Our simple modular nesting stove is the diameter of a CD and the profile is only 2 & 1/2" tall when collapsed and stowed in our nylon bag. The Scout TLUD is a leading compact gasifier stove design (vs bulkier Solo, BioLite, Bush Buddy, & Wood Gas stove options). While other nesting gasifiers maybe appear similar at first glance, only the Scout has a protective ash plate below the combustion chamber floor, to insure safe operation and control of live embers. Insure you are ordering the stove with our easy recognizable flame shaped ventilation holes. Nesting stoves with square or round ventilation holes do not incorporate our important safety ash plate design found below the combustion chamber. Our simple stove design does not use fragile spring wire pot support system that can leave your stove inoperable in the field. We use a refractory stainless steel grate floor, not simple refractory wire. Wire grate combustion chamber floors are fragile compared to our stainless steel plate floor. We have no thin wire in our design that can snap or break.
We our receiving reports from owners of stoves with wire grates that snapping and failing in the field when fuel is inserted into the combustion chambers or during cleaning. Fortunately they have been able to replace their stove with our superior, simple, and more compact design. Our economy Scout is great, but those who want to maximize stability and prefer a higher quality 304 SS may prefer this option.
You are only limited by your imagination. Here is an example of waffles on the Economy Scout below. We found a salesman's 1910 Wagner Cast Iron Sample Wagner Iron. In the 1900's salesmen would carry this miniature sample into department stores to show the buyer the new model that year and take orders. We decided to give it a try. Since the diameter was small we use a piece of flat perforated stainless to support the cast iron waffle base. It worked great!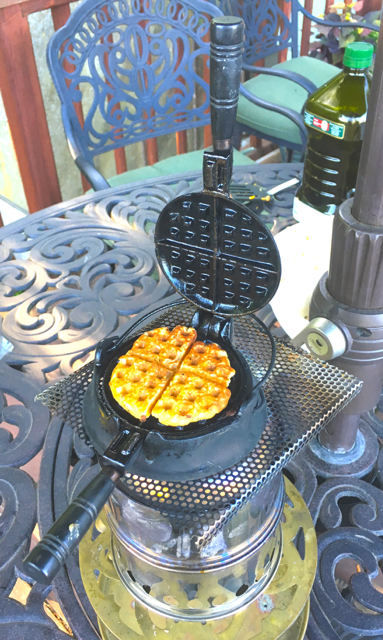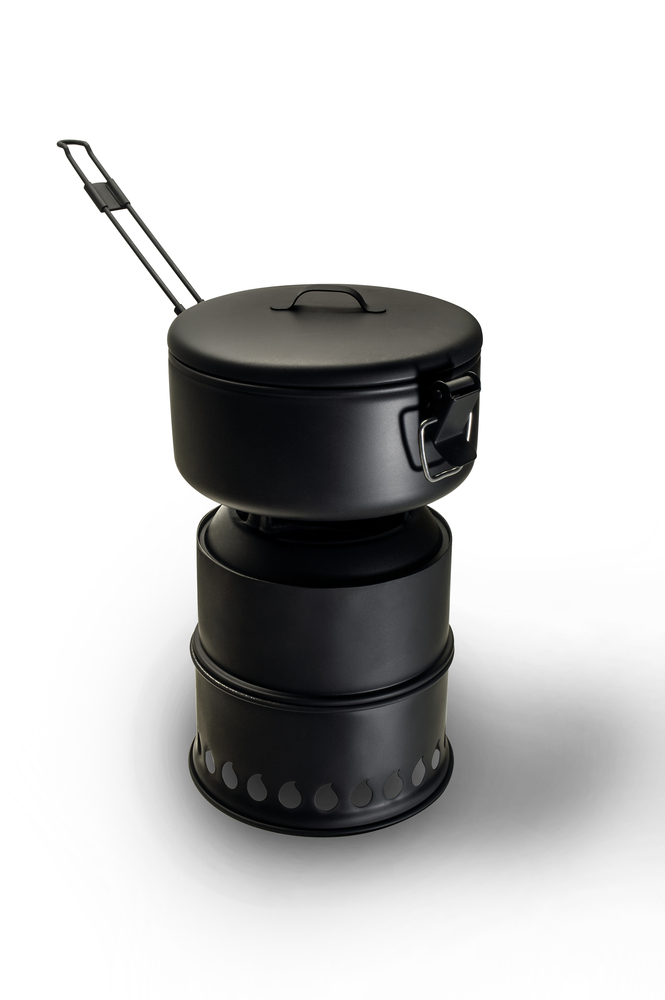 The SilverFire® Scout is designed for minimalist cookware (lightweight, medium diameter backpack type pots & pans). It is not suitable for small diameter cups or cookware with a diameter of less than 2.5" or 6.35 CM or less (most small footprint cookware Stanley cup and other micro diameter MSR type small diameter cookware is fine). Large, heavy cast iron cookware is also not suitable for this stove. It is designed for backpack cookware and small pots. Typical time to boil for a liter of water is about 5 minutes using a lidded pot. The combustion chamber filled with loose packed twigs has a 20 to 30 minute burn time, tightly packed hardwood 45 minutes to more. Pellets burn for very extended time periods, up to 2 hours!
Our factory makes every attempt to catch sharp edges or burs left from production. In the event there is an issue are more than happy to accommodate you. The thin gauge stainless steel is very easy to remove any sharp edges with a fine rasp, file, metal sanding pad, emery cloth, or sandpaper. In the event a stove does not meet your expectations, please return it to us and we are happy to replace it or detail it for you.
Clean burning gasification is provided by natural draft ventilation. The stove produces high heat for a twenty-minute burn with a single load of ordinary twigs. Longer durations are possible with more fuel or denser hardwoods. There are no moving parts, no electronics, and a zero post-manufacturing carbon footprint.
SilverFire® Scout Specifications: Stove Height Assembled: 6 & 3/4 inches tall Diameter: 5 & 1/4 Inches Collapsed: 5 & 1/4" wide, 2 & 3/4" tall.

Weight: 12 Oz Construction: All stainless steel Combustion Design: TLUD *TLUD (Top Lit Up Draft) stoves are the latest product of extensive laboratory research. Also known as Wood Gasification Stoves, a well-tuned TLUD efficiently mixes hot flue gases with primary and secondary preheated air, resulting in clean combustion. You will be amazed by both the lack of smoke, and the small amount of fine ash left in the ash plate, below the combustion chamber. *In the interest of weight, the SilverFire® Scout is a non-insulated type stove. For a stove that remains cooler on the outside when in use, please see our other fine products. *After combustion, the stove remains hot and may contain live embers. Handle with care and bury biochar (ashes & embers) appropriately. *While twigs and flammable biomass can be found in most outdoor locations, SilverFire encourages the highest sensitivity to the environment. Gathering twigs in the wild may not be appropriate, especially at alpine elevations. Warning: The SilverFire® Scout is designed for outdoor use only. All wood and biomass burning stoves produce harmful emissions including carbon monoxide. Do not use in tents or locations that are not well ventilated. Returned SilverFire products are subject to a 25% product restocking fee and all shipping costs are non-refundable. The SilverFire® Scout offers quantity discounts for Scout Troops (Brownies & Cubs too!). Quantity lots of 24, 48, 96 units. Please contact us for information about volume orders.
SilverFire® Scout volume orders are processed on our warehouse terminals or by single Troop payments, not in our shopping cart. Will Call orders are available for pickup at our warehouse, otherwise, FedEx shipping charges are applicable.
Please call our warehouse at (541) 222-9212 Pacific Time Zone from 10AM to 5PM Monday through Fridays for Specialized Troop Processing.
Questions?
A tracking number is sent to your provided email entered at the time of order. The tracking number is generated at the end of each business day after the carrier scans the package (Monday through Friday). Please refer to the email for a tracking number. There is no ground service on weekends.
Please note many of our important stove and cookware options are found on other tabs on our website, for example - Accessories and Ovens!
SilverFire Scout Operation Intro Video:
Returned SilverFire products are subject to 25% product restocking fee and all shipping costs are non-refundable. A tracking number is sent to your provided email entered at the time of order. The tracking number is generated at the end of each business day after the carrier scans the package (Monday through Friday). Please refer to the email for a tracking number. There is no ground service on weekends.
Always feel free to call with questions 10AM - 5:30PM Pacific Time Zone, Monday through Friday regarding our products. We are also usually in on Saturdays 10AM to 2PM, unless participating in a trade show or other business activity.Questions?
Write SilverFire Sales: sales@silverfire.us Pacific Time Zone, 10 - 5:00 PM USA Domestic & Humanitarian Sales 541 222-9212
Description

Brushed 304 Stainless Steel (SS) SilverFire Gasifier Stove! 5 Pot Support Scout Stove!

Can be purchased with stove only or extra accessories (with pot, fire starter, and/or collapsible utensil options). The stove alone is 5 & 1/8" wide, 2 & 3/4" tall collapsed.







We also sell an economy priced 201 SS Scout, with or without accessories. 304 SS Scout is a higher quality and comes in brushed stainless steel finish vs. the 201 SS Scout is a polished finish.

Everything fits in the pot (stove, fire starter, and utensils) as a full kit. Look at the pictures for reference. The Scout Stove includes a black nylon bag with drawstring.

To Order: Select Add to Cart and proceed to Cart to checkout on top right of page. You never have to create an account to buy from SilverFire!

New improved pot support design to increase stability, accommodate smaller pots and eliminate hinged pot supports!

The SilverFire® Scout is a lightweight wood fired gasifier stove, that operates on just on twigs or flammable biomass. It is an ultra compact gasifier design intended for minimalist backpacking or bug out application. It is designed to be used with small solo sized pots down to 2.5" in diameter or other larger backpack trekking cookware. The recommended weight for the Scout is approximately 3 lb / 1.5 Kg small pots. This translates to small cookware designed to heat a quart or liter of water. This stove is not designed for large family cookware, such as our Dragon Pot. Consider one of our larger portable stove models for family sized meals. Please see stove accessories for the MSR Alpine Stowaway pot or fire starter combo kit option offered for sale on our website. The backpack shown in photo is for combo stove kit size reference and is not included in the sale. The Scout Stove includes a black nylon bag with drawstring.

Baking a Chicken with the SilverFire Scout!

Minimum Fuel, Maximum Taste! Scout filled with wood pellets to maximize the duration of burn time for baking. This oven is a prototype built by Tyson Traeger of Wood pellet products here in Oregon with a surplus fire box from his Lil Timber patio heater.

Dual Scouts Burning with Wood at Night!




Warning: Buyer's beware, only the SilverFire® Scout has a safety ash / hot ember plate attached below the combustion chamber and flame shaped ventilation holes in our custom patented design. The Internet displays numerous cheap Scout knockoffs, that do not include our ash plate design, which is a huge safety liability and may result in igniting a fire outside the stove! These knockoff stoves are easily identified by round or square shaped ventilation holes, and do not exhibit our SilverFire flame shape motif!

Finally the perfect TLUD* compact stove for backpacking or bug out bags. This all stainless steel stove's state-of the art design blends practical technology, durable materials, safety, and ease of use. This listing is for the SilverFire Scout stove only. All cookware is shown to educate consumer on size and compact nesting design of the SilverFire Scout backpack / bug out bag stove. Please go to our Stove Accessories page to view the MSR Alpine Stowaway pot we offer for the SilverFire Scout. The compact Scout design nests in the MSR pot perfectly for travel. It is the must have companion for the SilverFire Scout. This stove could save your life in the field. Our simple modular nesting stove is the diameter of a CD and the profile is only 2 & 1/2" tall when collapsed and stowed in our nylon bag. The Scout TLUD is a leading compact gasifier stove design (vs bulkier Solo, BioLite, Bush Buddy, & Wood Gas stove options). While other nesting gasifiers maybe appear similar at first glance, only the Scout has a protective ash plate below the combustion chamber floor, to insure safe operation and control of live embers. Insure you are ordering the stove with our easy recognizable flame shaped ventilation holes. Nesting stoves with square or round ventilation holes do not incorporate our important safety ash plate design found below the combustion chamber. Our simple stove design does not use fragile spring wire pot support system that can leave your stove inoperable in the field. We use a refractory stainless steel grate floor, not simple refractory wire. Wire grate combustion chamber floors are fragile compared to our stainless steel plate floor. We have no thin wire in our design that can snap or break.

We our receiving reports from owners of stoves with wire grates that snapping and failing in the field when fuel is inserted into the combustion chambers or during cleaning. Fortunately they have been able to replace their stove with our superior, simple, and more compact design. Our economy Scout is great, but those who want to maximize stability and prefer a higher quality 304 SS may prefer this option.

You are only limited by your imagination. Here is an example of waffles on the Economy Scout below. We found a salesman's 1910 Wagner Cast Iron Sample Wagner Iron. In the 1900's salesmen would carry this miniature sample into department stores to show the buyer the new model that year and take orders. We decided to give it a try. Since the diameter was small we use a piece of flat perforated stainless to support the cast iron waffle base. It worked great!

The SilverFire® Scout is designed for minimalist cookware (lightweight, medium diameter backpack type pots & pans). It is not suitable for small diameter cups or cookware with a diameter of less than 2.5" or 6.35 CM or less (most small footprint cookware Stanley cup and other micro diameter MSR type small diameter cookware is fine). Large, heavy cast iron cookware is also not suitable for this stove. It is designed for backpack cookware and small pots. Typical time to boil for a liter of water is about 5 minutes using a lidded pot. The combustion chamber filled with loose packed twigs has a 20 to 30 minute burn time, tightly packed hardwood 45 minutes to more. Pellets burn for very extended time periods, up to 2 hours!

Our factory makes every attempt to catch sharp edges or burs left from production. In the event there is an issue are more than happy to accommodate you. The thin gauge stainless steel is very easy to remove any sharp edges with a fine rasp, file, metal sanding pad, emery cloth, or sandpaper. In the event a stove does not meet your expectations, please return it to us and we are happy to replace it or detail it for you.

Clean burning gasification is provided by natural draft ventilation. The stove produces high heat for a twenty-minute burn with a single load of ordinary twigs. Longer durations are possible with more fuel or denser hardwoods. There are no moving parts, no electronics, and a zero post-manufacturing carbon footprint.

SilverFire® Scout Specifications: Stove Height Assembled: 6 & 3/4 inches tall Diameter: 5 & 1/4 Inches Collapsed: 5 & 1/4" wide, 2 & 3/4" tall.


Weight: 12 Oz Construction: All stainless steel Combustion Design: TLUD *TLUD (Top Lit Up Draft) stoves are the latest product of extensive laboratory research. Also known as Wood Gasification Stoves, a well-tuned TLUD efficiently mixes hot flue gases with primary and secondary preheated air, resulting in clean combustion. You will be amazed by both the lack of smoke, and the small amount of fine ash left in the ash plate, below the combustion chamber. *In the interest of weight, the SilverFire® Scout is a non-insulated type stove. For a stove that remains cooler on the outside when in use, please see our other fine products. *After combustion, the stove remains hot and may contain live embers. Handle with care and bury biochar (ashes & embers) appropriately. *While twigs and flammable biomass can be found in most outdoor locations, SilverFire encourages the highest sensitivity to the environment. Gathering twigs in the wild may not be appropriate, especially at alpine elevations. Warning: The SilverFire® Scout is designed for outdoor use only. All wood and biomass burning stoves produce harmful emissions including carbon monoxide. Do not use in tents or locations that are not well ventilated. Returned SilverFire products are subject to a 25% product restocking fee and all shipping costs are non-refundable. The SilverFire® Scout offers quantity discounts for Scout Troops (Brownies & Cubs too!). Quantity lots of 24, 48, 96 units. Please contact us for information about volume orders.

SilverFire® Scout volume orders are processed on our warehouse terminals or by single Troop payments, not in our shopping cart. Will Call orders are available for pickup at our warehouse, otherwise, FedEx shipping charges are applicable.

Please call our warehouse at (541) 222-9212 Pacific Time Zone from 10AM to 5PM Monday through Fridays for Specialized Troop Processing.

Questions?

A tracking number is sent to your provided email entered at the time of order. The tracking number is generated at the end of each business day after the carrier scans the package (Monday through Friday). Please refer to the email for a tracking number. There is no ground service on weekends.

Please note many of our important stove and cookware options are found on other tabs on our website, for example - Accessories and Ovens!

SilverFire Scout Operation Intro Video:

Returned SilverFire products are subject to 25% product restocking fee and all shipping costs are non-refundable. A tracking number is sent to your provided email entered at the time of order. The tracking number is generated at the end of each business day after the carrier scans the package (Monday through Friday). Please refer to the email for a tracking number. There is no ground service on weekends.

Always feel free to call with questions 10AM - 5:30PM Pacific Time Zone, Monday through Friday regarding our products. We are also usually in on Saturdays 10AM to 2PM, unless participating in a trade show or other business activity.Questions?

Write SilverFire Sales: sales@silverfire.us Pacific Time Zone, 10 - 5:00 PM USA Domestic & Humanitarian Sales 541 222-9212

Reviews
---