ARB Elements SS Fridge Freezer
Price: $1,444.00
ARB SS ELEMENTS FRIDGE FREEZER
ARB 'Elements' fridge freezer is constructed of stainless steel and offers a fully weatherproof exterior. While designed to withstand 365 days a year mounted in the bed of a pick-up, the new 63 quart / 60 liter Elements fridge freezer is just as suitable in the back of an SUV, in the kitchen of the camper or on the stern of your boat.
In addition to its rugged stainless steel and weatherproof exterior, this off-road, fishing and camping portable fridge freezer features a gas strut assisted lid, which means you no longer need to hold the lid open as you search the fridge. Wandering hands will be kept at bay with the introduction of a programmable electronic 4-digit pin lock, ensuring temperatures are not changed, drinks are not swiped and power is not switched.
THE ULTIMATE OFF-ROADER'S FRIDGE… REINVENTED
Packed with the features an ARB fridge freezer is renowned for, and re-engineered to survive exposed out in the elements, our latest fridge freezer is packed with unique features that not only protect and secure, but also make accessing your food and drinks even easier.
ARB's 'No Holds Barred' approach saw our engineers include features previously left on the cutting room floor. Features formerly only dreamt about!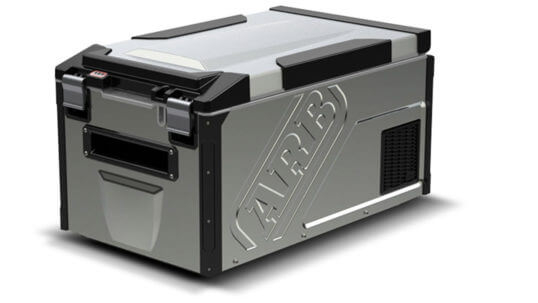 STAINLESS STEEL EXTERIOR
With a body and hinges chiseled from stainless steel, anodized aluminum latches, UV resistant trim and clever, protected placement of electrical connections, the new ARB Elements Fridge Freezer is capable of withstanding anything Mother Nature can throw at it.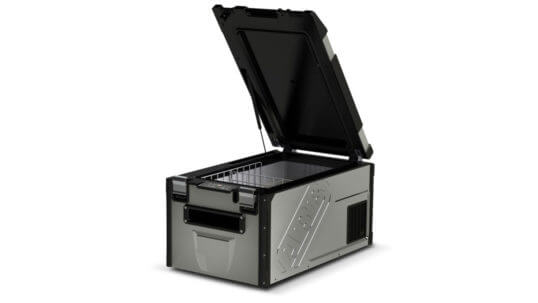 GAS/SPRING STRUT
Whether it be holding the lid with one hand, jamming it against the headliner or resting it against your head, we've become accustomed to compromise when attempting to hold the lid of our fridges open. We solved it before with our removable lid, but the new weatherproof fridge takes things a step further, with the introduction of our innovative new strut that holds the lid open in any position (from closed to upright), making it easier to grab the drinks on your next shout.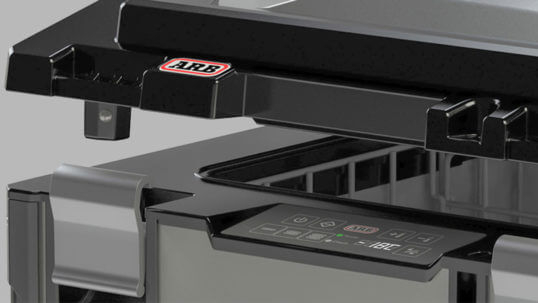 TOUCHPAD CONTROLS
Temperature control, low voltage cut-out, and security. All at the touch of a button. The Elements fridge's user-friendly touchpad control panel allows full functionality with the lid open but securely prevents unwanted adjustment or access with its unique user-selected locking code.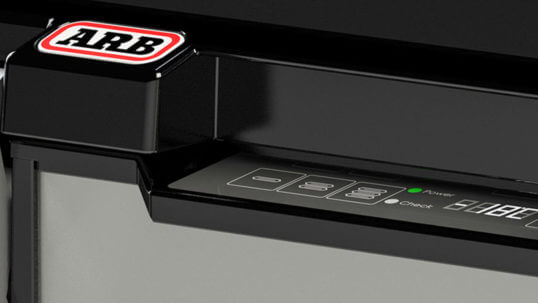 SECURITY
Whether it's the contents, or the fridge itself, mounting it in the back of a pick-up or setting it up around the campsite means you need security, and the ARB Elements fridge has plenty. To stop your beers wandering around the campsite, a unique magnetic lock, activated by the touchpad control panel, prevents unauthorized access or tampering with temperature settings. For additional security, a padlock recess is built into the exterior and an optional bolt down mounting kit makes the fridge a permanent fixture in the back of your vehicle.
ARB USA | Elements Weatherproof Fridge Freezer - ARB USA
MSRP: $1444.00
SPECIFICATIONS
Capacity: 63 Qt / 60 Liter
Cooling Capacity: 50°F to 0°F / +10°C to -18°C
External: 17.1" (H) x 19.3" (w) x 32.3" (D) / 440mm (H) x 490mm (w) x 820mm (D)
Fruit & Dairy Bin: 5.7″ (H) x 14.0″ (W) x 6.1″ (D) / 144mm x 355mm x 156mm
Main Compartment: 13.1" (H) x 14.0" (W) x 18.8" (D) / 332mm x 355mm x 477mm
Weight: 70lbs / 31.8kg
Power: Built-in 12/24V DC and 100-240V AC Power Integrated Battery Protection System.
Description

ARB SS ELEMENTS FRIDGE FREEZER

ARB 'Elements' fridge freezer is constructed of stainless steel and offers a fully weatherproof exterior. While designed to withstand 365 days a year mounted in the bed of a pick-up, the new 63 quart / 60 liter Elements fridge freezer is just as suitable in the back of an SUV, in the kitchen of the camper or on the stern of your boat.

In addition to its rugged stainless steel and weatherproof exterior, this off-road, fishing and camping portable fridge freezer features a gas strut assisted lid, which means you no longer need to hold the lid open as you search the fridge. Wandering hands will be kept at bay with the introduction of a programmable electronic 4-digit pin lock, ensuring temperatures are not changed, drinks are not swiped and power is not switched.

THE ULTIMATE OFF-ROADER'S FRIDGE… REINVENTED

Packed with the features an ARB fridge freezer is renowned for, and re-engineered to survive exposed out in the elements, our latest fridge freezer is packed with unique features that not only protect and secure, but also make accessing your food and drinks even easier.

ARB's 'No Holds Barred' approach saw our engineers include features previously left on the cutting room floor. Features formerly only dreamt about!

STAINLESS STEEL EXTERIOR

With a body and hinges chiseled from stainless steel, anodized aluminum latches, UV resistant trim and clever, protected placement of electrical connections, the new ARB Elements Fridge Freezer is capable of withstanding anything Mother Nature can throw at it.

GAS/SPRING STRUT

Whether it be holding the lid with one hand, jamming it against the headliner or resting it against your head, we've become accustomed to compromise when attempting to hold the lid of our fridges open. We solved it before with our removable lid, but the new weatherproof fridge takes things a step further, with the introduction of our innovative new strut that holds the lid open in any position (from closed to upright), making it easier to grab the drinks on your next shout.

TOUCHPAD CONTROLS

Temperature control, low voltage cut-out, and security. All at the touch of a button. The Elements fridge's user-friendly touchpad control panel allows full functionality with the lid open but securely prevents unwanted adjustment or access with its unique user-selected locking code.

SECURITY

Whether it's the contents, or the fridge itself, mounting it in the back of a pick-up or setting it up around the campsite means you need security, and the ARB Elements fridge has plenty. To stop your beers wandering around the campsite, a unique magnetic lock, activated by the touchpad control panel, prevents unauthorized access or tampering with temperature settings. For additional security, a padlock recess is built into the exterior and an optional bolt down mounting kit makes the fridge a permanent fixture in the back of your vehicle.

ARB USA | Elements Weatherproof Fridge Freezer - ARB USA

MSRP: $1444.00

SPECIFICATIONS

Capacity: 63 Qt / 60 Liter

Cooling Capacity: 50°F to 0°F / +10°C to -18°C

External: 17.1" (H) x 19.3" (w) x 32.3" (D) / 440mm (H) x 490mm (w) x 820mm (D)

Fruit & Dairy Bin: 5.7″ (H) x 14.0″ (W) x 6.1″ (D) / 144mm x 355mm x 156mm

Main Compartment: 13.1" (H) x 14.0" (W) x 18.8" (D) / 332mm x 355mm x 477mm

Weight: 70lbs / 31.8kg

Power: Built-in 12/24V DC and 100-240V AC Power Integrated Battery Protection System.

Reviews
---