Double Burner Dragon
Price: $999.95

Sale

$799.95
The Double Burner Dragon! Out of stock.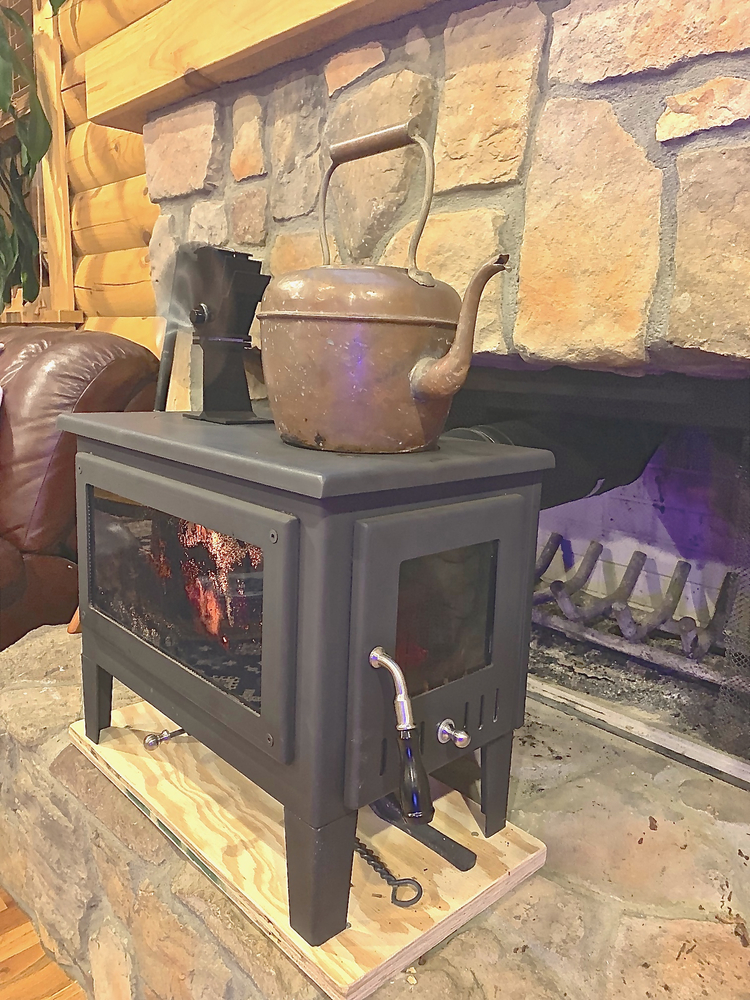 The Double Burner Cooktop Dragon! The Double Burner Cooktop Dragon has a wide glass viewing section in the front and on the firebox door! The secondary gasification is clean burning and exquisite! It offers a modernistic Frank Loyd Wright look, featuring a dual burner cooktop with a refractory brick lined rear and left sidewall. Preheated oxygen and air are introduced by manipulating the secondary gasification damper located at the center of the stove, directly under the firebox. Simply pull the stainless steel damper knob towards you to open and retard for longer duration burns. The primary damper is located on the firebox door. This stove can radiate heat or cook for very prolonged periods. When dampened correctly
Great job! This customer has lots of quality hardwood on his property, but an inefficient fireplace and a costly heat pump to operate heating his home. He knew there had to be a better option, prefers heating with wood, and wanted to save money too. After numerous expensive wood stove bids and research, this customer found SilverFire and purchased both the Double Burner Dragon and the Tiny House Dragon. He is really pleased and was able to retrofit his existing chimney into an efficient full house heating option with the Double Burner Dragon.
Here is his final hearth installation into the existing fireplace by a happy SC customer. Note humidifying teapot and eco fan to disperse heat for their specific requirement. Please send your SilverFire photos of your installation!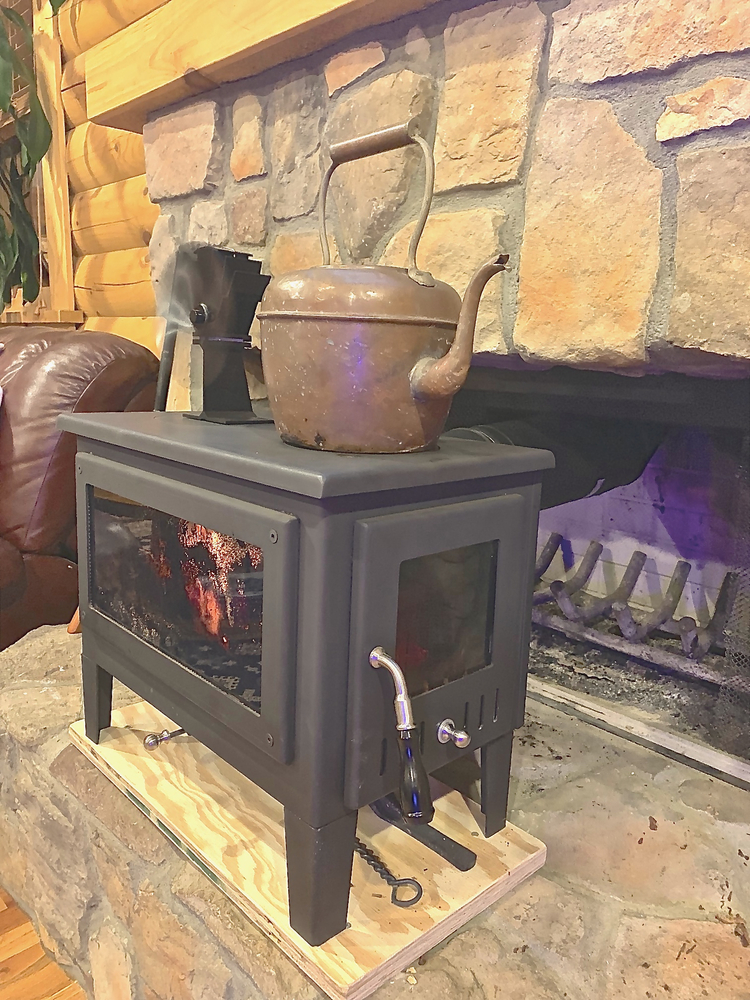 Interested in extending the duration of burn and saving wood? See our Accessories link and review our optional FireMizer, ideal for use in our stoves when providing heat or for long-duration cooking.
The customer used a 4" adaptor at stove collar to 6" straight pipe to 90-degree elbow inserted and transitioned with a 6" to 8" into an existing chimney. This South Carolina customer has access to seasoned quality Chestnut Oak and claims he is heating up to 1,800 square feet with stove fully loaded and when chocked down has had burn times as long as 6 hours. This customer also purchased our Tiny House Dragon stove and we are looking forward to posting his Tiny House Dragon installation in an adjacent smaller dwelling.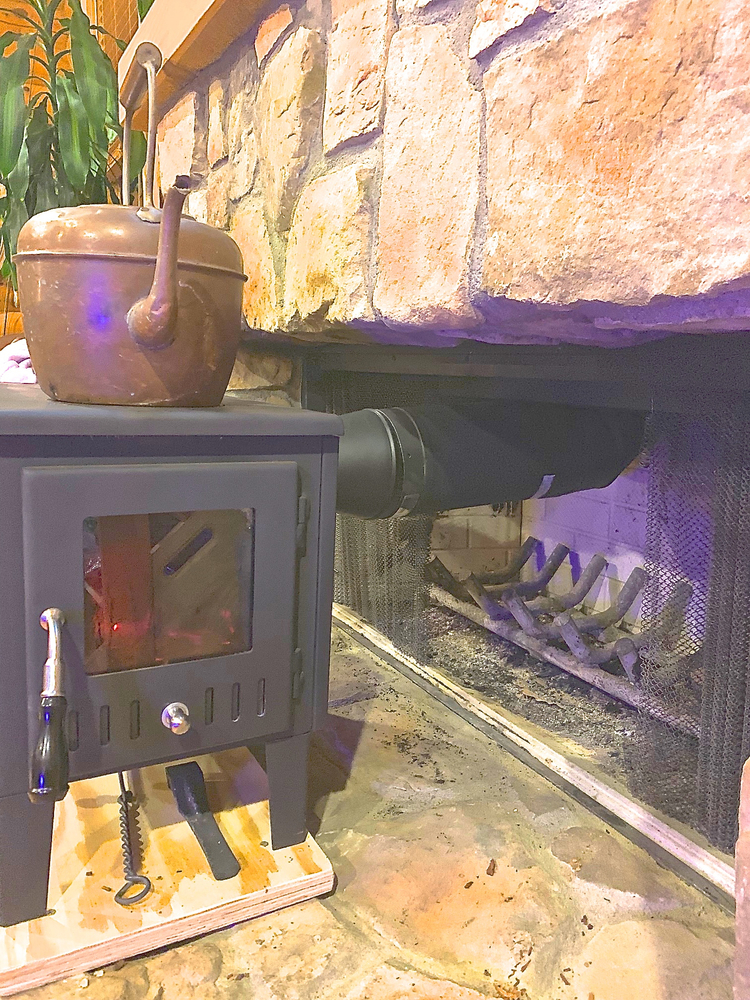 We rate this small footprint stove can heat up to 1,000 square feet or more and excepts up to 16" long dimensional firewood and should burn up to 5 hours. Results may be variable depending on fuel quality, species, moisture content, insulation values, and other variables. This stove is designed for seasoned, dry firewood. This stove has a primary ventilation damper on the firebox door and a secondary damper beneath front of the stove. The stove features 2 removable cooktop inserts (6 & 3/8" OD).
Product Name: Double Burner Dragon Review
Submitters Name: Jim Capp
Headline: Double burner dragon
Product Rating: 5.0
Review Text: Happy, happy, happy! After struggling for 2 yrs. with a higher-priced stove that had a smaller firebox and could not give off into my house 1/4 of the heat that the double burner dragon does I have only superlatives to describe this stove. Processing firewood for this stove is so much easier- I would say 10 times easier. I would say that the claim made for this stove's ability to heat up to 800 sq. ft. is not an exaggeration. I live 10 miles South of Boston, Ma. and I think I could heat my house of approximately 1,200 sq. ft. all winter long with this little stove. I did not expect this kind of performance when I ordered it.
Thanks, Jim, thrilled you are pleased!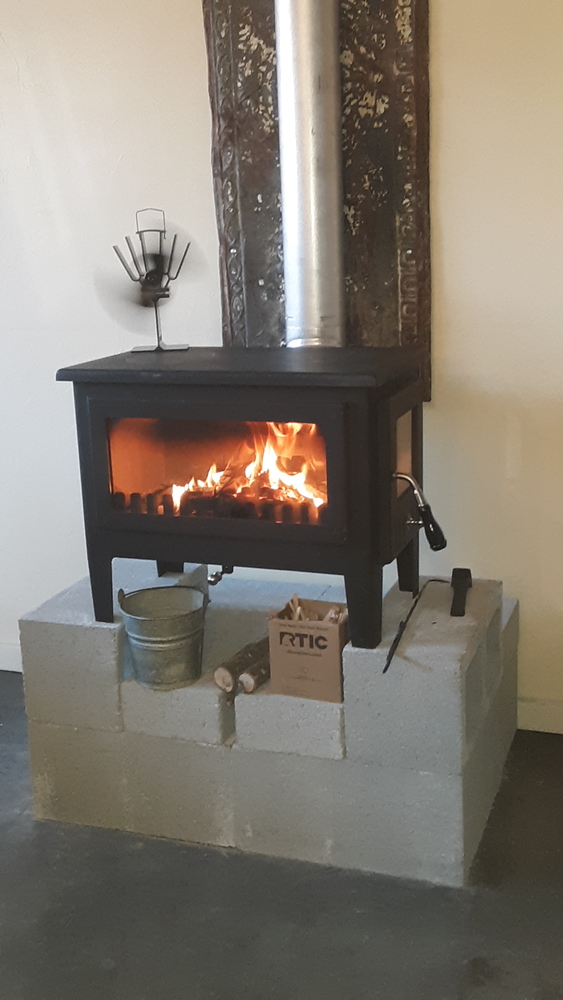 Here is another great install, although temporary. Great use of cinder blocks for stove base and ergonomic placement of stove at cooking height. I really like the artistic fire-resistant ceramic chimney wall protective backsplash.
Hi Todd. We love our Silverfire Double Burner stove. It does all we expected. We have a temporary installation. But will have a metal stand fabricated later. Thank you for offering such high-quality well-designed products. Basecamp RCB in the Ozarks Also, will call you for another order. Thanks, Randy.
The stove is 21.5" wide x 12.5" deep x 17.5" tall (not including the top rear 4" protruding chimney adaptor). Many of our customers are DIY and self-reliant minded. We see all types of chimney installations and adaptations. We don't make specific recommendations.
This is what the 4" stock looks like at our local hardware True Value hardware store.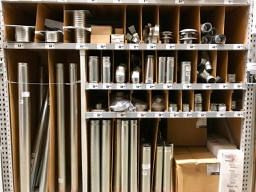 We have seen folks use gas duct vent pipe, chimney liner, self-fabricated chimneys & fittings, in addition to standard pellet and wood stove chimney pipe. A quick search of 4" pellet stove pipe will show you several sources such as:
Ameri-Tec: http://www.ameri-vent.com/
Selkirk: https://www.amazon.com/s/?ie=UTF8&keywords=selkirk+4+inch+pellet+stove+pipe&tag=mh0b-20&index=aps&hvadid=77996657666300&hvqmt=b&hvbmt=bb&hvdev=c&ref=pd_sl_8uxicej2bd_b
DuraVent: https://www.amazon.com/s/ref=nb_sb_ss_i_1_33?url=search-alias%3Daps&field-keywords=duravent+4+inch+pellet+stove+pipe&rh=i%3Aaps%2Ck%3Aduravent+4+inch+pellet+stove+pipe
Here are DuraVent Pipe & Fitting nomenclature useful for installations and having local hardware stores or stove shops to order in.
DuraVent 4" Pellet Vent Pipe
Product # Size Description Details
DPV 4PVP-12 4" x 12" Pipe Straight
DPV 4PVP-12A 4" x 12" Pipe Adjustable
DPV 4PVP-24 4" x 24" Pipe Straight
DPV 4PVP-36 4" x 36" Pipe Straight
DPV 4PVP-60 4" x 60" Pipe Straight
DPV 4PVP-60F 4" x 60" Pipe Flexible
DuraVent 4" Pellet Vent Fittings
Product # Size Description Details
DPV 4PVP-AD 4" Pipe Adaptor Straight
DPV 4PVP-VC 4" Roof Cap Vertical
DPV 4PVP-FS 4" Ceiling FS Spacer 1" Clearance
DPV 4PVP-E45 4" Elbow 45 Degree
DPV 4PVP-E90 4" Elbow 90 Degree
DPV 4PVP-F6 4" Roof Flashing Adjustable
DPV 4PVP-SC 4" Tapered Storm Collar Flat
DPV 4PVP-T 4" Tee w/ Cap
DPV 4PVP-WSA 4" Wall Strap Adjustable
DPV 4PVP-WT 4" Wall Thimble 1" Clearance
Fireside: https://www.amazon.com/s/ref=nb_sb_noss?url=search-alias%3Daps&field-keywords=Fireside+chimney+supply+4%22+pipe&rh=i%3Aaps%2Ck%3AFireside+chimney+supply+4%22+pipe
The stove is 102 lbs. (approximately 46kg). The firebox is 9" wide x 17.5" deep x 8" tall.
Tips to Prevent Soot Build Up on Wood Stove Glass:
There's nothing quite like a beautiful wood stove fire during the colder seasons. Soot build-up on wood stove glass can decrease the visual appeal of a wood stove fire, and it can become rather laborious to have to constantly clean the glass every time you have a fire.
Here are some easy tips to prevent soot build-up on your wood stove glass. Cleaner glass will add greater ambiance to a room and allow you to enjoy more fires in your wood stove before having to clean the glass again.
Tips to Prevent Soot Build Up on Wood Stove Glass
Always burn well-seasoned wood in your wood stove. Burning wood that hasn't been well-seasoned can decrease the quality of your fire and cause it to be "smoky." Smokier fires produce more soot on the glass.
Try burning harder woods like oak, cherry, or walnut, and avoid burning woods known for their higher sap content.
If your wood stove has a heat setting, try turning the heat controls up a few notches. Hotter fires will keep your glass cleaner.
Allow enough oxygen to vent into your wood stove. Many of the newer models are already built to help with the airflow. Check the chimney/vent to make sure it's clean and in a good position for airflow.
If you're burning smaller fires, try adding some more wood to the woodstove. Smaller fires can't always produce enough heat inside the wood stove for the soot to burn off the glass.
Position burning matter closer to the front glass on the woodstove. This will put the heat source closer to the glass.
Enjoy Beautiful Fires from Your Wood Stove All Season Long
You can't completely prevent soot from accumulating on the glass, but these tips should help increase the time between cleanings. Soot build-up on wood stove glass is less of a problem for newer models than older models, but regardless of how old your wood stove is, you can still experience beautiful fires from your wood stove all season long.Helpful stove glass cleaning links:
https://www.wikihow.com/Clean-Fireplace-or-Woodsto...
https://www.goodhousekeeping.com/home/cleaning/tips/a21354/soot-glass-cleaning-sep06/
This item is delivered by a freight truck banded to a pallet. Call or write for LTL lift gate freight quote, shipping varies per location. This stove weighs approximately 135 shipping lb in a protective plywood case, requiring LTL freight truck transportation by liftgate. Please contact us for a specific freight quote to your doorstep on this item. This item due to weight varies in price, per location. Average discounted shipping price for this palletized stove with a liftgate and residential surcharge averages around the $300+ range in the USA. Driving to the nearest FedEx Service Center for self-pickup is another option, it reduces bill by approximately $100 or more.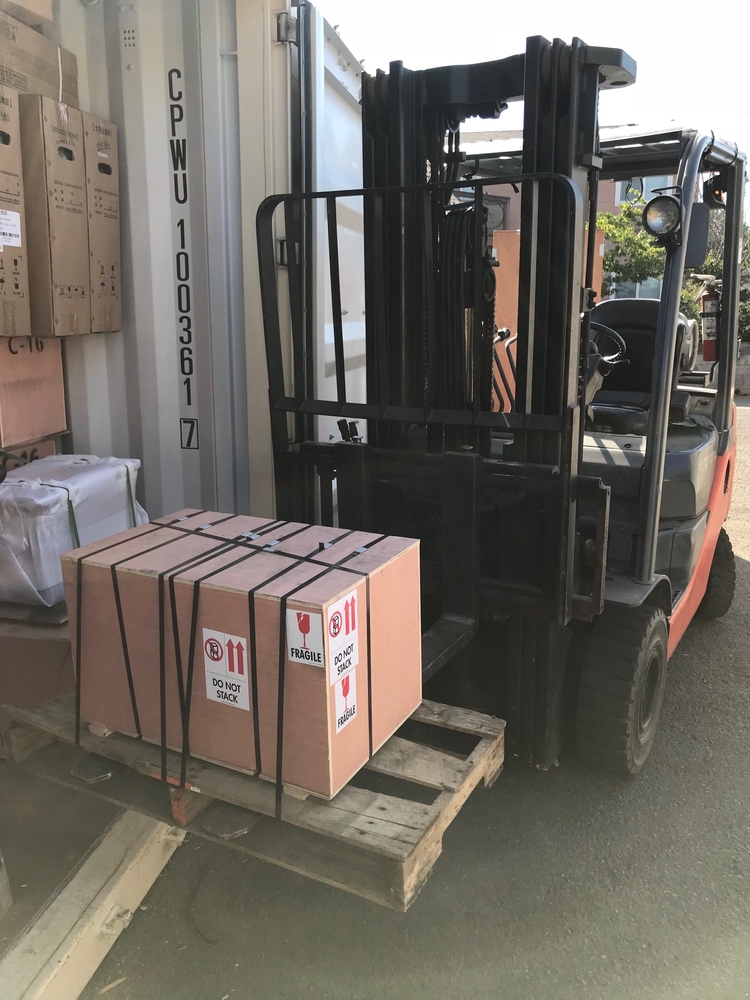 Description

The Double Burner Dragon! Out of stock.

The Double Burner Cooktop Dragon! The Double Burner Cooktop Dragon has a wide glass viewing section in the front and on the firebox door! The secondary gasification is clean burning and exquisite! It offers a modernistic Frank Loyd Wright look, featuring a dual burner cooktop with a refractory brick lined rear and left sidewall. Preheated oxygen and air are introduced by manipulating the secondary gasification damper located at the center of the stove, directly under the firebox. Simply pull the stainless steel damper knob towards you to open and retard for longer duration burns. The primary damper is located on the firebox door. This stove can radiate heat or cook for very prolonged periods. When dampened correctly

Great job! This customer has lots of quality hardwood on his property, but an inefficient fireplace and a costly heat pump to operate heating his home. He knew there had to be a better option, prefers heating with wood, and wanted to save money too. After numerous expensive wood stove bids and research, this customer found SilverFire and purchased both the Double Burner Dragon and the Tiny House Dragon. He is really pleased and was able to retrofit his existing chimney into an efficient full house heating option with the Double Burner Dragon.

Here is his final hearth installation into the existing fireplace by a happy SC customer. Note humidifying teapot and eco fan to disperse heat for their specific requirement. Please send your SilverFire photos of your installation!

Interested in extending the duration of burn and saving wood? See our Accessories link and review our optional FireMizer, ideal for use in our stoves when providing heat or for long-duration cooking.

The customer used a 4" adaptor at stove collar to 6" straight pipe to 90-degree elbow inserted and transitioned with a 6" to 8" into an existing chimney. This South Carolina customer has access to seasoned quality Chestnut Oak and claims he is heating up to 1,800 square feet with stove fully loaded and when chocked down has had burn times as long as 6 hours. This customer also purchased our Tiny House Dragon stove and we are looking forward to posting his Tiny House Dragon installation in an adjacent smaller dwelling.

We rate this small footprint stove can heat up to 1,000 square feet or more and excepts up to 16" long dimensional firewood and should burn up to 5 hours. Results may be variable depending on fuel quality, species, moisture content, insulation values, and other variables. This stove is designed for seasoned, dry firewood. This stove has a primary ventilation damper on the firebox door and a secondary damper beneath front of the stove. The stove features 2 removable cooktop inserts (6 & 3/8" OD).

Product Name: Double Burner Dragon Review
Submitters Name: Jim Capp
Headline: Double burner dragon
Product Rating: 5.0

Review Text: Happy, happy, happy! After struggling for 2 yrs. with a higher-priced stove that had a smaller firebox and could not give off into my house 1/4 of the heat that the double burner dragon does I have only superlatives to describe this stove. Processing firewood for this stove is so much easier- I would say 10 times easier. I would say that the claim made for this stove's ability to heat up to 800 sq. ft. is not an exaggeration. I live 10 miles South of Boston, Ma. and I think I could heat my house of approximately 1,200 sq. ft. all winter long with this little stove. I did not expect this kind of performance when I ordered it.

Thanks, Jim, thrilled you are pleased!

Here is another great install, although temporary. Great use of cinder blocks for stove base and ergonomic placement of stove at cooking height. I really like the artistic fire-resistant ceramic chimney wall protective backsplash.

Hi Todd. We love our Silverfire Double Burner stove. It does all we expected. We have a temporary installation. But will have a metal stand fabricated later. Thank you for offering such high-quality well-designed products. Basecamp RCB in the Ozarks Also, will call you for another order. Thanks, Randy.

The stove is 21.5" wide x 12.5" deep x 17.5" tall (not including the top rear 4" protruding chimney adaptor). Many of our customers are DIY and self-reliant minded. We see all types of chimney installations and adaptations. We don't make specific recommendations.

This is what the 4" stock looks like at our local hardware True Value hardware store.

We have seen folks use gas duct vent pipe, chimney liner, self-fabricated chimneys & fittings, in addition to standard pellet and wood stove chimney pipe. A quick search of 4" pellet stove pipe will show you several sources such as:

Ameri-Tec: http://www.ameri-vent.com/

Selkirk: https://www.amazon.com/s/?ie=UTF8&keywords=selkirk+4+inch+pellet+stove+pipe&tag=mh0b-20&index=aps&hvadid=77996657666300&hvqmt=b&hvbmt=bb&hvdev=c&ref=pd_sl_8uxicej2bd_b

DuraVent: https://www.amazon.com/s/ref=nb_sb_ss_i_1_33?url=search-alias%3Daps&field-keywords=duravent+4+inch+pellet+stove+pipe&rh=i%3Aaps%2Ck%3Aduravent+4+inch+pellet+stove+pipe

Here are DuraVent Pipe & Fitting nomenclature useful for installations and having local hardware stores or stove shops to order in.

DuraVent 4" Pellet Vent Pipe

Product # Size Description Details

DPV 4PVP-12 4" x 12" Pipe Straight

DPV 4PVP-12A 4" x 12" Pipe Adjustable

DPV 4PVP-24 4" x 24" Pipe Straight

DPV 4PVP-36 4" x 36" Pipe Straight

DPV 4PVP-60 4" x 60" Pipe Straight

DPV 4PVP-60F 4" x 60" Pipe Flexible

DuraVent 4" Pellet Vent Fittings

Product # Size Description Details

DPV 4PVP-AD 4" Pipe Adaptor Straight

DPV 4PVP-VC 4" Roof Cap Vertical

DPV 4PVP-FS 4" Ceiling FS Spacer 1" Clearance

DPV 4PVP-E45 4" Elbow 45 Degree

DPV 4PVP-E90 4" Elbow 90 Degree

DPV 4PVP-F6 4" Roof Flashing Adjustable

DPV 4PVP-SC 4" Tapered Storm Collar Flat

DPV 4PVP-T 4" Tee w/ Cap

DPV 4PVP-WSA 4" Wall Strap Adjustable

DPV 4PVP-WT 4" Wall Thimble 1" Clearance

Fireside: https://www.amazon.com/s/ref=nb_sb_noss?url=search-alias%3Daps&field-keywords=Fireside+chimney+supply+4%22+pipe&rh=i%3Aaps%2Ck%3AFireside+chimney+supply+4%22+pipe

The stove is 102 lbs. (approximately 46kg). The firebox is 9" wide x 17.5" deep x 8" tall.

Tips to Prevent Soot Build Up on Wood Stove Glass:

There's nothing quite like a beautiful wood stove fire during the colder seasons. Soot build-up on wood stove glass can decrease the visual appeal of a wood stove fire, and it can become rather laborious to have to constantly clean the glass every time you have a fire.

Here are some easy tips to prevent soot build-up on your wood stove glass. Cleaner glass will add greater ambiance to a room and allow you to enjoy more fires in your wood stove before having to clean the glass again.

Tips to Prevent Soot Build Up on Wood Stove Glass

Always burn well-seasoned wood in your wood stove. Burning wood that hasn't been well-seasoned can decrease the quality of your fire and cause it to be "smoky." Smokier fires produce more soot on the glass.
Try burning harder woods like oak, cherry, or walnut, and avoid burning woods known for their higher sap content.
If your wood stove has a heat setting, try turning the heat controls up a few notches. Hotter fires will keep your glass cleaner.
Allow enough oxygen to vent into your wood stove. Many of the newer models are already built to help with the airflow. Check the chimney/vent to make sure it's clean and in a good position for airflow.
If you're burning smaller fires, try adding some more wood to the woodstove. Smaller fires can't always produce enough heat inside the wood stove for the soot to burn off the glass.
Position burning matter closer to the front glass on the woodstove. This will put the heat source closer to the glass.

Enjoy Beautiful Fires from Your Wood Stove All Season Long

You can't completely prevent soot from accumulating on the glass, but these tips should help increase the time between cleanings. Soot build-up on wood stove glass is less of a problem for newer models than older models, but regardless of how old your wood stove is, you can still experience beautiful fires from your wood stove all season long.Helpful stove glass cleaning links:

https://www.wikihow.com/Clean-Fireplace-or-Woodsto...

https://www.goodhousekeeping.com/home/cleaning/tips/a21354/soot-glass-cleaning-sep06/

This item is delivered by a freight truck banded to a pallet. Call or write for LTL lift gate freight quote, shipping varies per location. This stove weighs approximately 135 shipping lb in a protective plywood case, requiring LTL freight truck transportation by liftgate. Please contact us for a specific freight quote to your doorstep on this item. This item due to weight varies in price, per location. Average discounted shipping price for this palletized stove with a liftgate and residential surcharge averages around the $300+ range in the USA. Driving to the nearest FedEx Service Center for self-pickup is another option, it reduces bill by approximately $100 or more.

Reviews
---