Super Dragon Fan Stove
Price: $249.95
Introducing the SilverFire® Super Dragon, turbo charged fan stove designed for outdoor use and well ventilated spaces!
Introducing the SilverFire® Super Dragon, turbo charged fan stove designed for outdoor use and well ventilated spaces!
SilverFire Super Dragon Fan Stove!
We have very few of these stoves left. Most stove models we offer are natural draft. Due to the high cost of tariffs on our small veteran-owned business, this stove will not be continued in the future and the few models we have available are "as is" blemished stoves with small dents, cosmetic scratches, and dings.
This stove can be purchased with added accessories (bag, pot, pot and steam basket, wok, stone grill, stainless steel grill, salt stone...look at pictures for reference or under the tab "Accessories"). If purchasing bag, bags can be found under "Stove Bags" tab (Black, Blue, Gray, Green, or Multi Camo).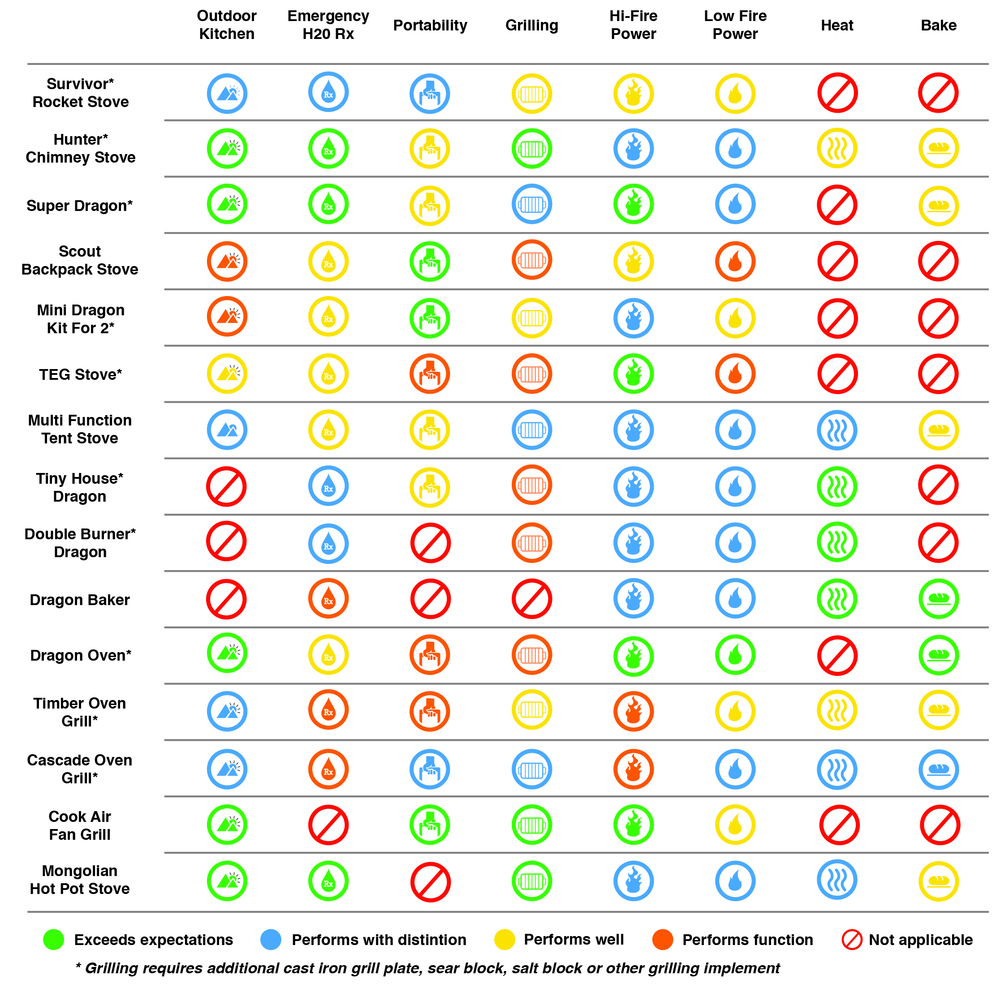 To Order: Select Add to Cart and proceed to Cart to checkout on top right of page. You never have to create an account to buy from SilverFire!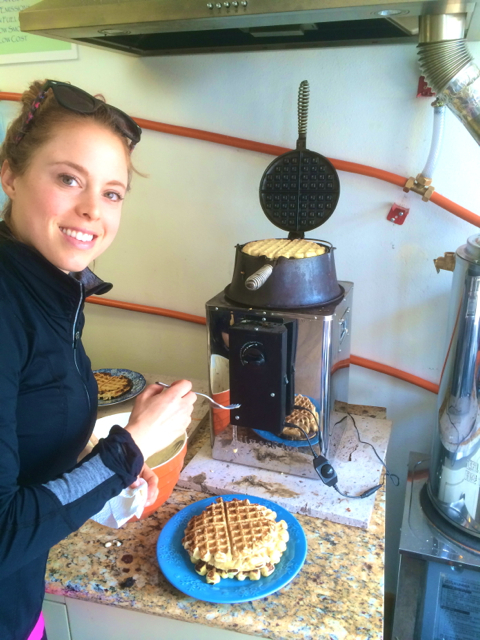 The SilverFire®Super Dragon with Pulse Width Modulater Fan Speed Control, a turbo charged fan stove designed for outdoor use and well ventilated spaces! This forced air fan stove is a Chef's dream stove! This is a high performing fan stove. It is much faster than the large LPG or electrical burner on your cooktop. Lets face it, sometimes we all are in a hurry. In this scenario, this is the stove for you. The Super Dragon is a top lit updraft gasifier (TLUD) powered by twigs, yard scrub, or any flammable biomass (why buy fuel?). TLUD's stoves feature a batch fed combustion chamber. It is simple to operate. Insert vertical positioned fuel into the combustion chamber; next place a little tinder on top and light! To fine tune your flame adjust the primary & secondary air control knob on the stove. The knob controls secondary and primary air flow through mechanical orifices, designed in the fan housing. No electronic parts to fail, except possibly the commonly available and durable 12V (0.48A) blower fan (one year warranty on fan). Super Dragon's operate somewhat like a LPG gas stoves.
That's all there is to it! Easy, powerful, fast and clean! The portable SilverFire®Super Dragon model opens up a new frontier in biomass clean cook stoves for real cooking performance. You now have the capacity for high performance cooking with a biomass fan stove! A 110-volt AC adaptor comes with every stove, a concentrator ring, and a cast iron trivet with pot supports. This stove is designed for large volume pots, not a small pot of water or cooking a packet of ramen, as with most small, novelty fan stoves.
In addition to gourmet recreation cooking, the Super Dragon will be an important ally in emergencies or disaster. In addition to the AV/DC option, the small fan easily runs off any 12 volt DC battery pack or small portable solar panel. The Super Dragon is much faster cooking and cleaner burning than any commercial rocket stove or natural draft TLUD. Time to boil with 5 liters of water is much faster than your home gas or electric range. Large crab pots are a small task for the Super Dragon.
The Super Dragon is easy to light, easily adjusted, lightweight, and cooks very rapidly. Thin tight packed fuel produces a very rapid boil. In the event you want to slow the cooking process down (e.g. slow cooking with cast iron) add thicker, dense fuel into the combustion chamber. Dense material takes longer to burn, ideal for slow cooking on the charcoal ember selection setting. Combustion in the Super Dragon produces minimal emissions, if using dry fuel. The only residue left is minute fine ash, due to the efficient combustion. We also have an optional pulse width modulator for extremely finite fan control. This is the preferred option where absolute temperature control is required. Boiling wort, canning, or exact replication (thin crepes) is required. In addition to the pulse width modulator, we also have a 12 Volt cigarette lighter cord (13 foot cord) for vehicles or 12 volt portable battery packs.
The Super Dragon Fan Speed Pulse Width Modulator is included with the Super Dragon stove for intricate control for canning, and low power cooking for delicate cooking (pancakes, crepes,eggs, etc...). Just plug in the PWM into the Super Dragon fan housing, add power cord and the dial control will allow you to set the fan speed at what ever setting you need.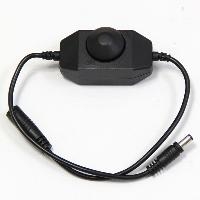 12 Volt Cigarette Lighter Cord for Super Dragon ($18.95).
Extra Accessory (must be purchased separately)
This handy cigarette lighter adaptor is perfect for field use using your vehicle or a battery pack to power your Super Dragon fan.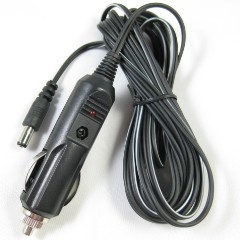 Under the Accessories tab, Super Dragon accessories can be viewed.
Basic TLUD technology has been around for over 100 years. Primary air passes through your fuel as it combusts in the combustion chamber and becomes carbon monoxide gas. The carbon monoxide gas is then burned and mixed with the preheated secondary air, above the fire. The secondary air combustion, combined with the fan burns extremely clean and appearance is much like a gas stove. This gas burner function and is know as a Chinese burner. The end result of your biomass fuel is to produce small traces of ash, soot, and bio-char. This is easily removed by just inverting the stove, and is recommended for maximum stove performance. Our portable cook stoves are insulated and are not designed for heating.
Special Note: All wood & biomass stoves create soot on the bottom of cookware. It is important to clean the bottom of your pots or after time the buildup of soot can impede heat transfer into the pot. There are many industrial cleaners such as Krud Kutter that are effective removing soot from the bottom of cookware with a paper towel, prior to washing. Tough soot buildup may also require a scouring pad and cleaner before washing cookware. Porcelain over steel and stainless cookware is easier to clean than cast iron, regular steel and aluminum cookware. Cast iron cookware dissipates heat effectively, though and the absorption of iron into the food is a benefit to those with low iron blood levels.
The founder of StoveTec® rocket stoves created SilverFire®to bring you the state of the art in clean cooking products. The SilverFire® quality clean cook stove organization represents significant advances in clean combustion technology, performance and durability.
Super Dragon Specifications:
Cooking Fire Power: ≥ 1.5 KW
Thermal Efficiency: ≥ 35% (StoveTec/EcoZoom 30%)
Emissions Concentration (smoke): ≤ 25mg / m3
SO2 ≤ 20mg / m3
NOx: ≤ 120mg / m3
CO: ≤ 0.1%
Input Power: AC 110 volt, DC 12 volt / 0.48A (≤ 6W), or 13 Watt Solar Panel
Please call for write for shipping quote to Alaska, Hawaii, & Puerto Rico for additional USPS shipping fee total. Please call or write for all International shipping quotes.
A tracking number is sent to your provided email entered at the time of order. The tracking number is generated at the end of each business day after carrier scans package (Monday through Friday). Please refer to email for tracking number. There is no ground service on weekends.
Please note many of our important stove and cookware options are found on our Accessories, Oven, and other links!
Always feel free to call with questions 10AM - 5:30PM Pacific Time Zone, Monday through Friday regarding our products. We are also usually in on Saturdays 10AM to 2PM, unless participating in a trade show or other business activity.Stove Weight: 16.7 lbs. / 7.59 kg
Super Dragon Carton Weight: 19.7 lbs. / 8.95 kg
Stove Dimensions: 12" square x 16" tall / 30.5 cm x 40.6 cm tall
Double Boxed Shipping Carton Weight: 23 lbs. / 10.45 kg
Shipping Box Dimensions: 16" square x 19" tall / 35.6 cm x 45.7 cm
Returned SilverFire products subject to 25% product restocking fee and all shipping costs are non-refundable.
Combustion Diagram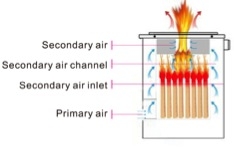 Primary Air – Air that enters the stove at the base of the fire bed to ignite and burn the fuel.
Secondary Air – Preheated air that passes through channels or pathways to be burned a second time at the top of the firebox, above the primary combustion flames.
The goal of a well designed clean burning cook stove is to burn cleanly as possible, reducing emissions and fuel use. The secondary combustion above the flame is also known as gasification. All SilverFire stoves provide both primary and secondary combustion, to maximize combustion efficiency and protect the environment.
Questions?
Write SilverFire Sales:
sales@silverfire.us
Pacific Time Zone, 10 - 5:00 PM USA Domestic & Humanitarian Sales
SilverFire Warehouse: +001 541 222-9212 Pacific Time Zone 10 -5:00 PM
Description

SilverFire Super Dragon Fan Stove!

We have very few of these stoves left. Most stove models we offer are natural draft. Due to the high cost of tariffs on our small veteran-owned business, this stove will not be continued in the future and the few models we have available are "as is" blemished stoves with small dents, cosmetic scratches, and dings.

This stove can be purchased with added accessories (bag, pot, pot and steam basket, wok, stone grill, stainless steel grill, salt stone...look at pictures for reference or under the tab "Accessories"). If purchasing bag, bags can be found under "Stove Bags" tab (Black, Blue, Gray, Green, or Multi Camo).




To Order: Select Add to Cart and proceed to Cart to checkout on top right of page. You never have to create an account to buy from SilverFire!




The SilverFire®Super Dragon with Pulse Width Modulater Fan Speed Control, a turbo charged fan stove designed for outdoor use and well ventilated spaces! This forced air fan stove is a Chef's dream stove! This is a high performing fan stove. It is much faster than the large LPG or electrical burner on your cooktop. Lets face it, sometimes we all are in a hurry. In this scenario, this is the stove for you. The Super Dragon is a top lit updraft gasifier (TLUD) powered by twigs, yard scrub, or any flammable biomass (why buy fuel?). TLUD's stoves feature a batch fed combustion chamber. It is simple to operate. Insert vertical positioned fuel into the combustion chamber; next place a little tinder on top and light! To fine tune your flame adjust the primary & secondary air control knob on the stove. The knob controls secondary and primary air flow through mechanical orifices, designed in the fan housing. No electronic parts to fail, except possibly the commonly available and durable 12V (0.48A) blower fan (one year warranty on fan). Super Dragon's operate somewhat like a LPG gas stoves.

That's all there is to it! Easy, powerful, fast and clean! The portable SilverFire®Super Dragon model opens up a new frontier in biomass clean cook stoves for real cooking performance. You now have the capacity for high performance cooking with a biomass fan stove! A 110-volt AC adaptor comes with every stove, a concentrator ring, and a cast iron trivet with pot supports. This stove is designed for large volume pots, not a small pot of water or cooking a packet of ramen, as with most small, novelty fan stoves.

In addition to gourmet recreation cooking, the Super Dragon will be an important ally in emergencies or disaster. In addition to the AV/DC option, the small fan easily runs off any 12 volt DC battery pack or small portable solar panel. The Super Dragon is much faster cooking and cleaner burning than any commercial rocket stove or natural draft TLUD. Time to boil with 5 liters of water is much faster than your home gas or electric range. Large crab pots are a small task for the Super Dragon.

The Super Dragon is easy to light, easily adjusted, lightweight, and cooks very rapidly. Thin tight packed fuel produces a very rapid boil. In the event you want to slow the cooking process down (e.g. slow cooking with cast iron) add thicker, dense fuel into the combustion chamber. Dense material takes longer to burn, ideal for slow cooking on the charcoal ember selection setting. Combustion in the Super Dragon produces minimal emissions, if using dry fuel. The only residue left is minute fine ash, due to the efficient combustion. We also have an optional pulse width modulator for extremely finite fan control. This is the preferred option where absolute temperature control is required. Boiling wort, canning, or exact replication (thin crepes) is required. In addition to the pulse width modulator, we also have a 12 Volt cigarette lighter cord (13 foot cord) for vehicles or 12 volt portable battery packs.

The Super Dragon Fan Speed Pulse Width Modulator is included with the Super Dragon stove for intricate control for canning, and low power cooking for delicate cooking (pancakes, crepes,eggs, etc...). Just plug in the PWM into the Super Dragon fan housing, add power cord and the dial control will allow you to set the fan speed at what ever setting you need.

12 Volt Cigarette Lighter Cord for Super Dragon ($18.95).

Extra Accessory (must be purchased separately)

This handy cigarette lighter adaptor is perfect for field use using your vehicle or a battery pack to power your Super Dragon fan.

Under the Accessories tab, Super Dragon accessories can be viewed.

Basic TLUD technology has been around for over 100 years. Primary air passes through your fuel as it combusts in the combustion chamber and becomes carbon monoxide gas. The carbon monoxide gas is then burned and mixed with the preheated secondary air, above the fire. The secondary air combustion, combined with the fan burns extremely clean and appearance is much like a gas stove. This gas burner function and is know as a Chinese burner. The end result of your biomass fuel is to produce small traces of ash, soot, and bio-char. This is easily removed by just inverting the stove, and is recommended for maximum stove performance. Our portable cook stoves are insulated and are not designed for heating.

Special Note: All wood & biomass stoves create soot on the bottom of cookware. It is important to clean the bottom of your pots or after time the buildup of soot can impede heat transfer into the pot. There are many industrial cleaners such as Krud Kutter that are effective removing soot from the bottom of cookware with a paper towel, prior to washing. Tough soot buildup may also require a scouring pad and cleaner before washing cookware. Porcelain over steel and stainless cookware is easier to clean than cast iron, regular steel and aluminum cookware. Cast iron cookware dissipates heat effectively, though and the absorption of iron into the food is a benefit to those with low iron blood levels.

The founder of StoveTec® rocket stoves created SilverFire®to bring you the state of the art in clean cooking products. The SilverFire® quality clean cook stove organization represents significant advances in clean combustion technology, performance and durability.

Super Dragon Specifications:

Cooking Fire Power: ≥ 1.5 KW

Thermal Efficiency: ≥ 35% (StoveTec/EcoZoom 30%)

Emissions Concentration (smoke): ≤ 25mg / m3

SO2 ≤ 20mg / m3

NOx: ≤ 120mg / m3

CO: ≤ 0.1%

Input Power: AC 110 volt, DC 12 volt / 0.48A (≤ 6W), or 13 Watt Solar Panel

Please call for write for shipping quote to Alaska, Hawaii, & Puerto Rico for additional USPS shipping fee total. Please call or write for all International shipping quotes.

A tracking number is sent to your provided email entered at the time of order. The tracking number is generated at the end of each business day after carrier scans package (Monday through Friday). Please refer to email for tracking number. There is no ground service on weekends.

Please note many of our important stove and cookware options are found on our Accessories, Oven, and other links!

Always feel free to call with questions 10AM - 5:30PM Pacific Time Zone, Monday through Friday regarding our products. We are also usually in on Saturdays 10AM to 2PM, unless participating in a trade show or other business activity.Stove Weight: 16.7 lbs. / 7.59 kg

Super Dragon Carton Weight: 19.7 lbs. / 8.95 kg

Stove Dimensions: 12" square x 16" tall / 30.5 cm x 40.6 cm tall

Double Boxed Shipping Carton Weight: 23 lbs. / 10.45 kg

Shipping Box Dimensions: 16" square x 19" tall / 35.6 cm x 45.7 cm

Returned SilverFire products subject to 25% product restocking fee and all shipping costs are non-refundable.




Combustion Diagram

Primary Air – Air that enters the stove at the base of the fire bed to ignite and burn the fuel.

Secondary Air – Preheated air that passes through channels or pathways to be burned a second time at the top of the firebox, above the primary combustion flames.

The goal of a well designed clean burning cook stove is to burn cleanly as possible, reducing emissions and fuel use. The secondary combustion above the flame is also known as gasification. All SilverFire stoves provide both primary and secondary combustion, to maximize combustion efficiency and protect the environment.

Questions?

Write SilverFire Sales:

sales@silverfire.us

Pacific Time Zone, 10 - 5:00 PM USA Domestic & Humanitarian Sales

SilverFire Warehouse: +001 541 222-9212 Pacific Time Zone 10 -5:00 PM

Reviews
---