Finex 12" Cast Iron Grill Pan
Price: $225.00
12" GRILL PAN, made in USA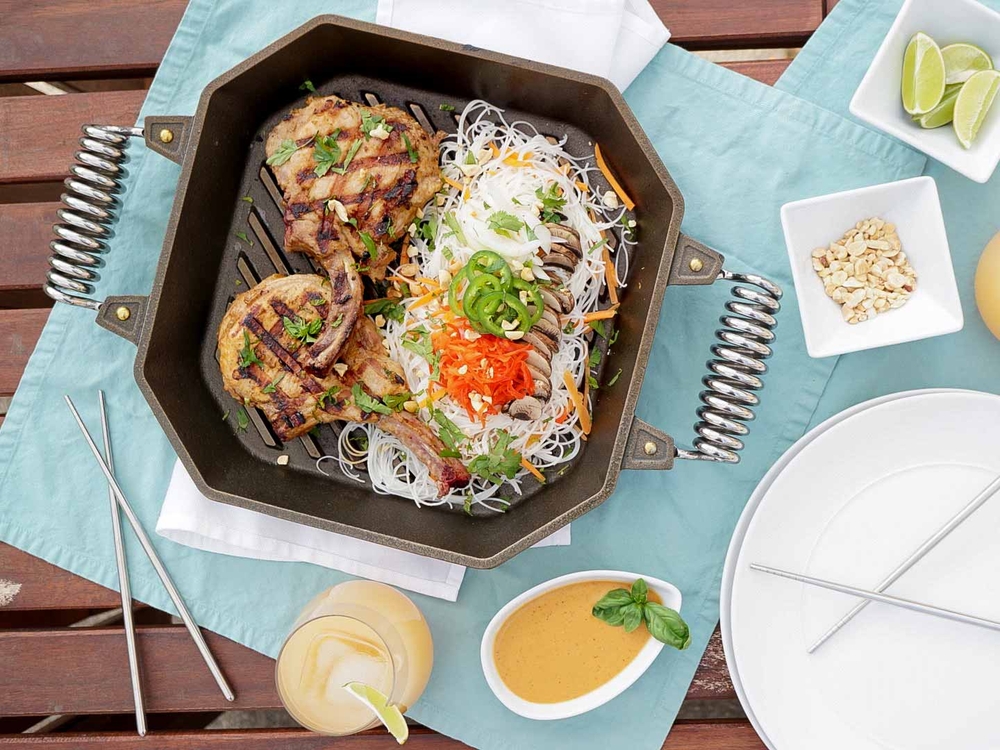 Size 17" x 12.23" x 2.5"
Cooking Surface 11.75"
Weight 10.5
Cooking Methods Gas, Induction, Electric, Oven, Grill, Fire
Perfect cast iron grilling results—indoors and out. Best used with any heat source. True BBQ-width grill ribs give you the best cross-hatch grill marks whether on the stove, grill or over the coals. Great for steaks, chops and salmon—it was made for the reverse seared steak technique. Grills peaches beautifully in the summer, and your asparagus just tastes better after spending some time on this grilling cookware.
Quick Details:
True BBQ-width grill ribs—best grill marks on or off the grill.
Early Release Polished Grilling Surface
Machined and polished to minimize sticking and makes cleaning simple.
Thick-walled design heats evenly and holds heat extremely well.
Pre-seasoned with organic flaxseed oil—ready to grill out of the box.
Twin quick cooling stainless steel spring handles—go from grill to serving table quickly.
Use with gas, induction, electric or straight over the coals. Oven safe and grill ready.
Handcrafted from the highest quality materials in the U.S.A.
Good Forever guarantee.
Perfect cast iron grilling results—indoors or out. Best used with any heat source.
FINEX cast iron grill pans get hotter than some Texas counties—and the 12-inch grill pan is just about as wide. Our cast iron grill pans are designed with true BBQ-width grill ribs for fantastic grill marks on or off the grill. Rich foods drain easily too and won't fry because our grill ribs are extra deep and patterned after commercial BBQ grates.
Our thick-bottom design heats evenly and retains heat for perfect grilling results on every heat source. For outdoor grilling you get the best of both worlds—all that wonderful BBQ flavor from the coals or grill—without the flare-ups or unintended charring. Both meats and veggies are perfectly grilled—tender and juicy.
Our cast iron grill pans were made for the popular reverse sear technique—considered by many to be the best way to prepare a steak. Especially if you smoke low and slow, and want perfect cross-hatch grill marks right before serving.
Every cast iron grill rib is individually machined and polished to minimize sticking and makes cleaning easy. Each pan is pre-seasoned with organic flax seed oil and precision assembled. Our signature Quick Cooling stainless steel springs and permanently secured with commercial rivets for handles that are as sharp looking as they are functional. Our cast iron grill pans are built for heavy-duty use on the stove top, in the oven, on the grill or over the coals.
GREAT COOKWARE.
★★★★★ "In an age of throw away products, a company who makes generational products should not only be supported, but celebrated! Thank you FINEX for producing such great cookware." - Cole Reed
HEIRLOOM FOR SURE!
★★★★★ "This is the most beautiful piece of cast iron that I own! the craftsmanship is astonishing! It will definitely sit on my stove as a decoration! Love! Love ! Love!" - Bridgette Kern
USE

Wash and dry thoroughly prior to first use.
Pre-heat using medium heat on cooktop, or place on grill to bring to temperature before cooking.
Lightly oil grill ribs prior to placing meat or veggies for naturally non-stick performance.
Use caution with handles while on the grill, over the coals or in the oven—they get very hot.

CARE

Do not wash in dishwasher and do not soak for long periods.
Wash with hot water and use a stainless steel scrubber or chainmail to remove any food material.
For tough cleaning, place a little water in the pan and boil for a few minutes before cleaning to loosen material. If necessary, add a dab of soap.
After washing, throughly dry the pan using a towel—or place on stove and use a medium heat to completely dry.
Apply a light coat of vegetable oil after washing and drying to preserve seasoning and protect when storing.
Description

12" GRILL PAN, made in USA

Size 17" x 12.23" x 2.5"
Cooking Surface 11.75"
Weight 10.5
Cooking Methods Gas, Induction, Electric, Oven, Grill, Fire

Perfect cast iron grilling results—indoors and out. Best used with any heat source. True BBQ-width grill ribs give you the best cross-hatch grill marks whether on the stove, grill or over the coals. Great for steaks, chops and salmon—it was made for the reverse seared steak technique. Grills peaches beautifully in the summer, and your asparagus just tastes better after spending some time on this grilling cookware.

Quick Details:

True BBQ-width grill ribs—best grill marks on or off the grill.
Early Release Polished Grilling Surface
Machined and polished to minimize sticking and makes cleaning simple.
Thick-walled design heats evenly and holds heat extremely well.
Pre-seasoned with organic flaxseed oil—ready to grill out of the box.
Twin quick cooling stainless steel spring handles—go from grill to serving table quickly.
Use with gas, induction, electric or straight over the coals. Oven safe and grill ready.
Handcrafted from the highest quality materials in the U.S.A.
Good Forever guarantee.

Perfect cast iron grilling results—indoors or out. Best used with any heat source.

FINEX cast iron grill pans get hotter than some Texas counties—and the 12-inch grill pan is just about as wide. Our cast iron grill pans are designed with true BBQ-width grill ribs for fantastic grill marks on or off the grill. Rich foods drain easily too and won't fry because our grill ribs are extra deep and patterned after commercial BBQ grates.

Our thick-bottom design heats evenly and retains heat for perfect grilling results on every heat source. For outdoor grilling you get the best of both worlds—all that wonderful BBQ flavor from the coals or grill—without the flare-ups or unintended charring. Both meats and veggies are perfectly grilled—tender and juicy.

Our cast iron grill pans were made for the popular reverse sear technique—considered by many to be the best way to prepare a steak. Especially if you smoke low and slow, and want perfect cross-hatch grill marks right before serving.

Every cast iron grill rib is individually machined and polished to minimize sticking and makes cleaning easy. Each pan is pre-seasoned with organic flax seed oil and precision assembled. Our signature Quick Cooling stainless steel springs and permanently secured with commercial rivets for handles that are as sharp looking as they are functional. Our cast iron grill pans are built for heavy-duty use on the stove top, in the oven, on the grill or over the coals.

GREAT COOKWARE.

★★★★★ "In an age of throw away products, a company who makes generational products should not only be supported, but celebrated! Thank you FINEX for producing such great cookware." - Cole Reed

HEIRLOOM FOR SURE!

★★★★★ "This is the most beautiful piece of cast iron that I own! the craftsmanship is astonishing! It will definitely sit on my stove as a decoration! Love! Love ! Love!" - Bridgette Kern

USE

Wash and dry thoroughly prior to first use.
Pre-heat using medium heat on cooktop, or place on grill to bring to temperature before cooking.
Lightly oil grill ribs prior to placing meat or veggies for naturally non-stick performance.
Use caution with handles while on the grill, over the coals or in the oven—they get very hot.

CARE

Do not wash in dishwasher and do not soak for long periods.
Wash with hot water and use a stainless steel scrubber or chainmail to remove any food material.
For tough cleaning, place a little water in the pan and boil for a few minutes before cleaning to loosen material. If necessary, add a dab of soap.
After washing, throughly dry the pan using a towel—or place on stove and use a medium heat to completely dry.
Apply a light coat of vegetable oil after washing and drying to preserve seasoning and protect when storing.

Reviews
---