Humanitarian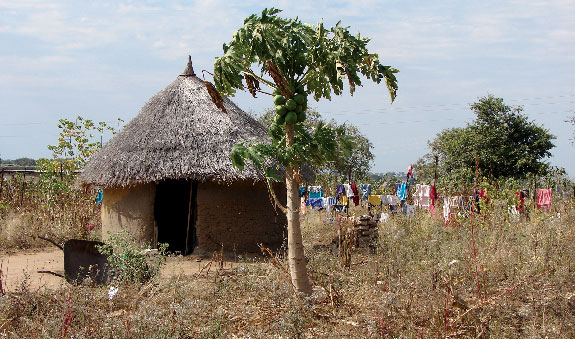 The problem: Everyday over 3 billion people in the developing world cook food on open fires or inefficient cook stoves fueled by coal or solid biomass. This action jeopardizes human health, contributes to household & community air pollution, and impacts environmental devastation by depleting forests and increasing soil erosion. 4 million premature deaths occur every year due to exposure from toxic smoke emissions. Consequently women and children are disproportionately impacted by household air pollution.
SilverFire's mission as a leading designer of clean cook stoves is to protect humans from the health and environmental impact of emissions from open fires, inefficient cook stove designs and the destruction of forests, due to charcoal production and inefficient fuel use. SilverFire is headquartered in Eugene, Oregon. Our humanitarian stove program is structured on a direct FOB unit stove cost for developing World locations. This price schedule is not applicable for developed World markets. Please contact us at sales@silverfire.us for pricing and the scope of your humanitarian project. Our Survivor rocket stove, Hunter Chimney stove, and skirted Dragon Pot are 3 of our most popular humanitarian products.
Our most recent Humanitarian project was in The Marshall Islands. The container of stoves were purchased with UNDP (United Nations Development Plan) funding, and coordinated by the KIO organization based in Majuro. Our products were chosen over StoveTec and EcoZoom, due to greater efficiency and durability. SilverFire donated an additional 60% of our very important skirted Dragon Pots to maximize reductions of required fuel, emissions, and reduce time to boil for these folks. The primary fuel used in the Pacific Islands is palm fronds and spathe to sanitize water, cookware, and to cook a meal. Well designed cookware can have a dramatic impact on the outcomes of a successful humanitarian project.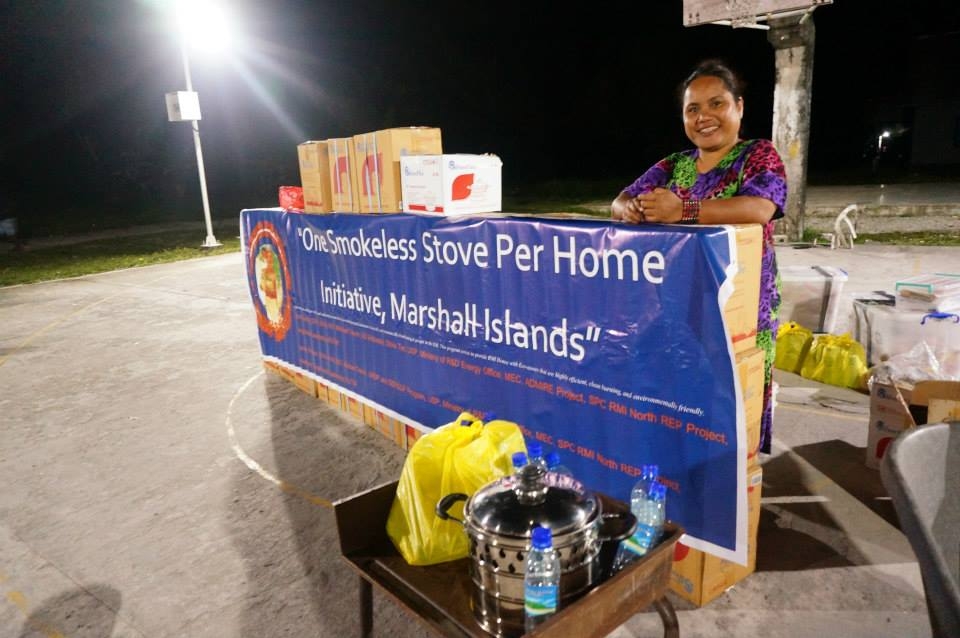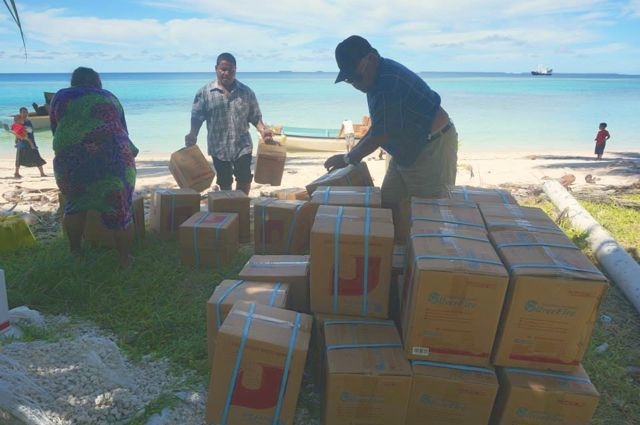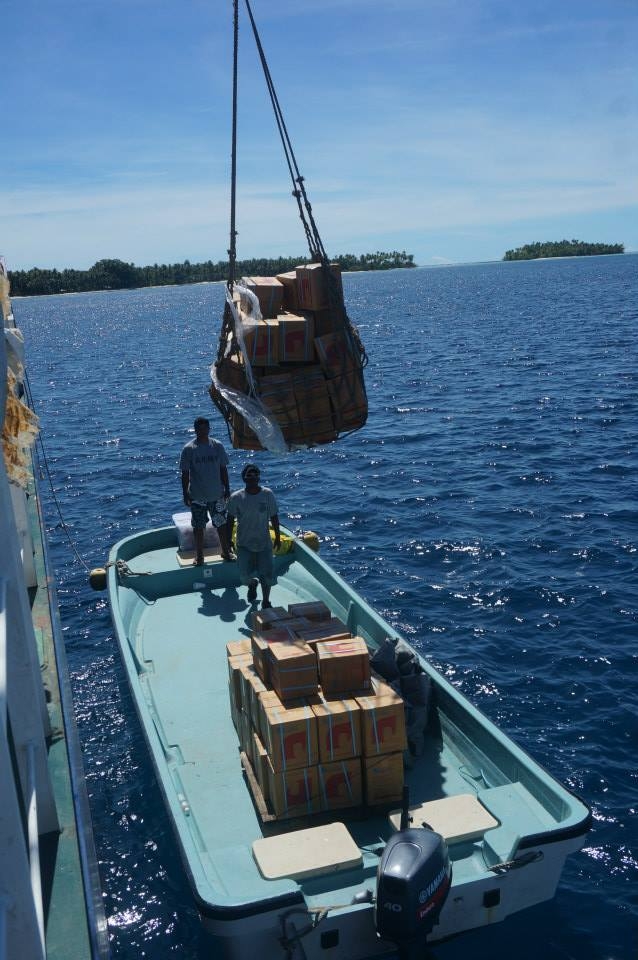 Stoves & Dragon Pots were distributed to outer Marshall Island inhabitants by KIO volunteers in small boats. A KIO volunteer below demonstrates how to insert palm fronds into combustion chamber and use our Dragon Pot on top of stove.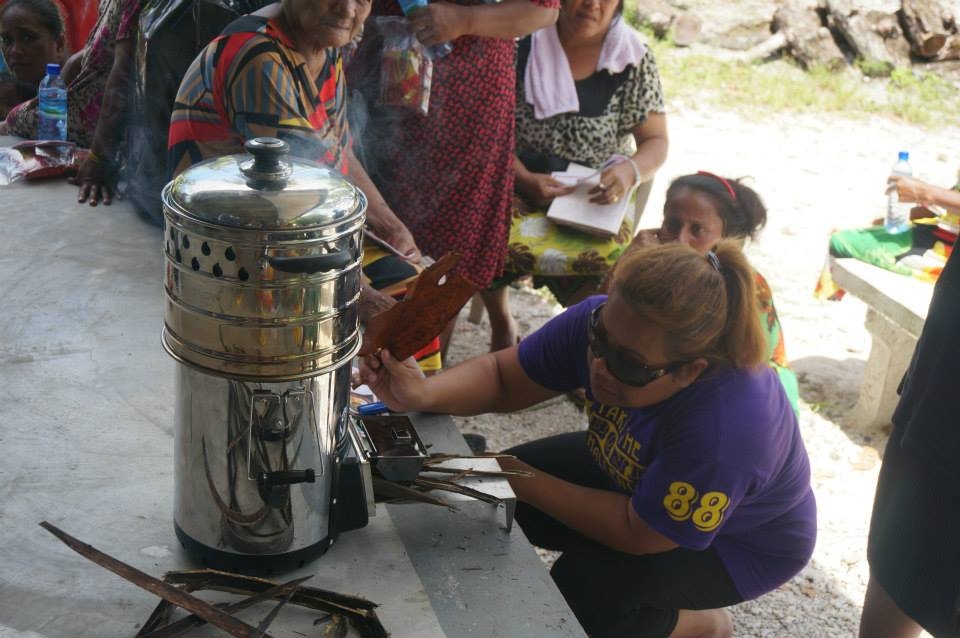 Here is our Dragon Pot at work in Kiribati for a humanitarian meal (formerly known as Gilbert Islands) near the Tarawa Atoll.
Below is a stove operation video of our most popular humanitarian stoves, The Silver Fire Survivor Rocket Stove, and Hunter Chimney stove. This video was done for a Malaysian audience that did not speak English, so it is a great visual "how to" demonstration with just music. These stoves are demonstrated indoors, to show how clean they can burn with dry optimal biomass. Appropriate real world application is to use a side-fed rocket stove outdoors since they have no chimney and to vent all emissions outdoors with any chimney stove. This was a simple how to light and use the stoves demonstration only.
The intent of our humanitarian stove project pricing program is to foster self sustaining business creation and to protect of our global air shed. Humanitarian pricing requires bulk stove purchasing by container volume orders. Insured CIF transportation and administration costs from Port to Port are applicable. A 50% deposit is required to initiate volume factory stove orders and the balance is due at time of shipping. Inter-continent and Intra-continent transportation, customs clearance, associated duties or tariffs are all the responsibility of the stove purchasing organization or individuals purchasing SilverFire products.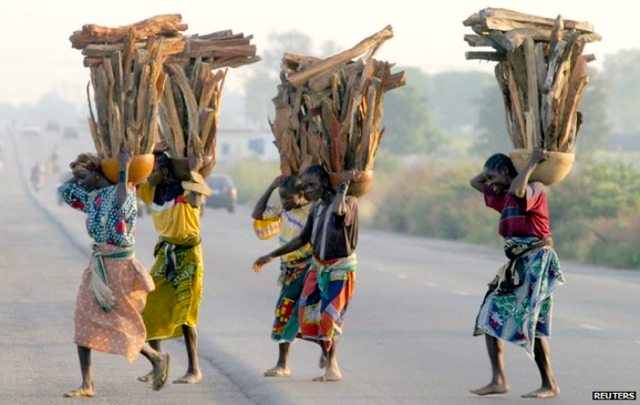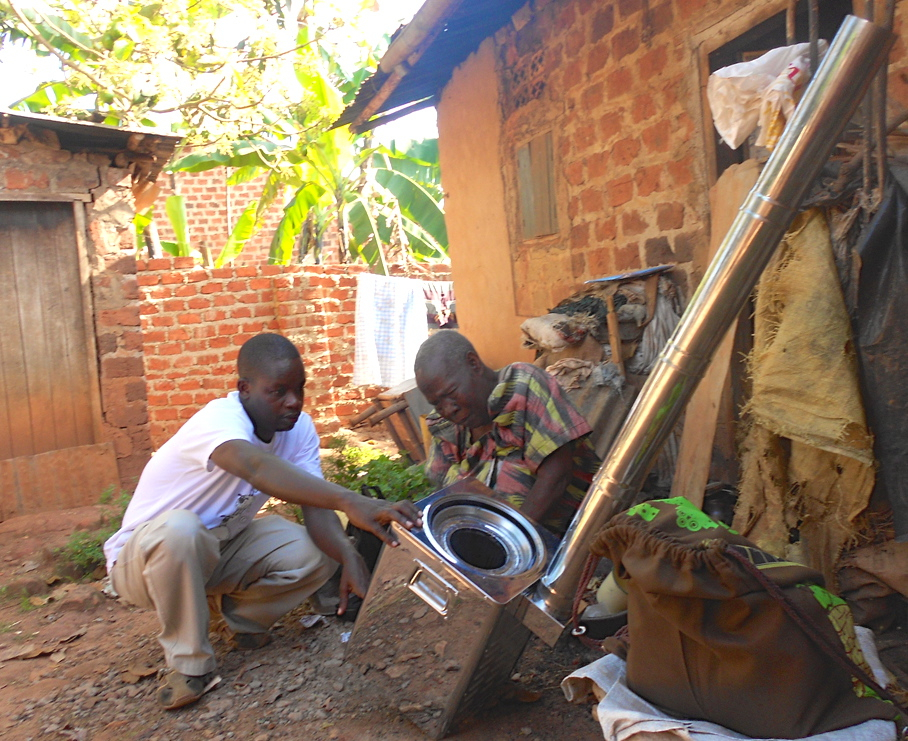 Humanitarian container orders can be ordered with numerous stove options and units can be shipped fully assembled or disassembled. Final assembly in some locations may decrease or eliminate duties and tariffs. Contact us to tell us about the needs of your specific project and field application. We offer optional low cost stove project training instruction to maximize stove project success, upon request. Transportation and daily consultant fees are applicable. Please contact us for specific needs of your project. We recommend purchasing test stoves for field evaluation for your project's requirements and acceptance in your specific market. Individual test stoves for evaluation are shipped via the postal service as humanitarian commercial samples. All costs are paid for by the stove project organization or party interested in implementing humanitarian stove projects.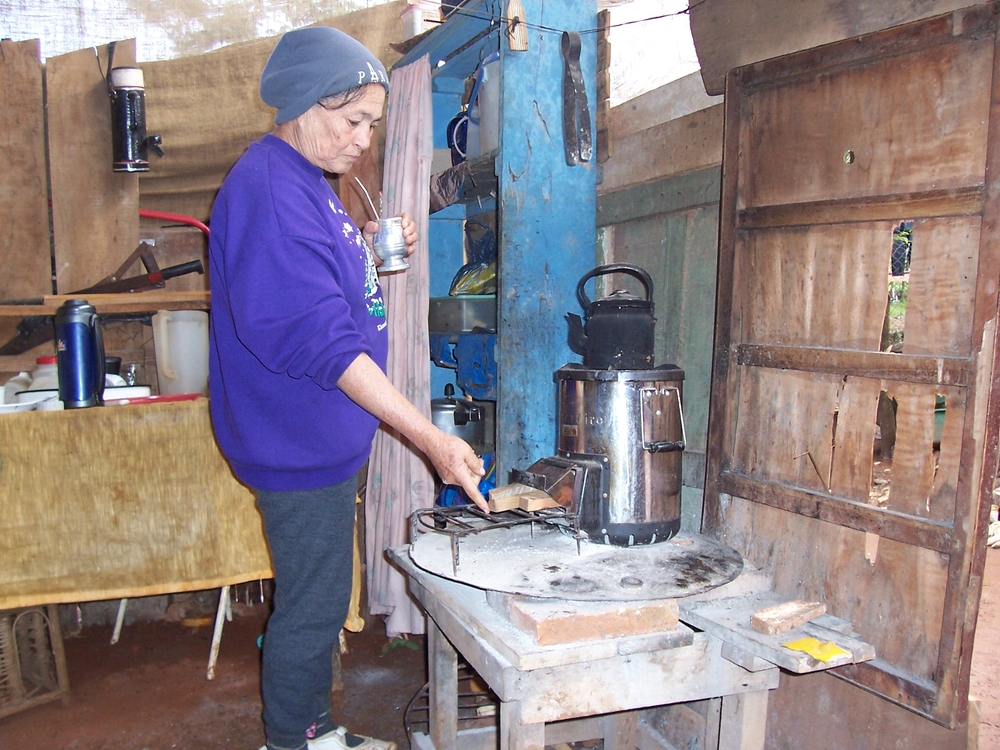 SilverFire recommends our educational consultation services with any stove project. Contact us regarding our low cost option to train your field trainers. We received the photo below with a stove placement in Uganda. This photo is a great teaching moment. This cook was likely cooking indoors with a 3 stone fire in the past. After she is shown our Hunter Chimney TLUD stove assembly above, the stove consultant did not instruct how the correct diameter pot should be supported on top of the stove. An appropriate diameter pot would provide the correct combustion gap and would seal off all emissions into her home. Note in the photo below that her pot is resting directly on top of the combustion chamber, instead of being supported on top of the stop. This means the gap between the bottom of the pot and the top of the combustion chamber was eliminated, thus the stove is not functioning as intended. Maximizing correct combustion gaps to maximize heat transfer is very important. She is actually retarding combustion the occluding fire by placing the pot directly on top of the fire and eliminating the correct combustion gap. Worse, emissions are leaking into the household between the pot gap and the stove top. If this cook had been instructed on how to seal the stove off with a larger diameter pot, the stove would function more efficiently and all emissions would be vented through the chimney outdoors. Education is a key component of any effective stove project or distribution program.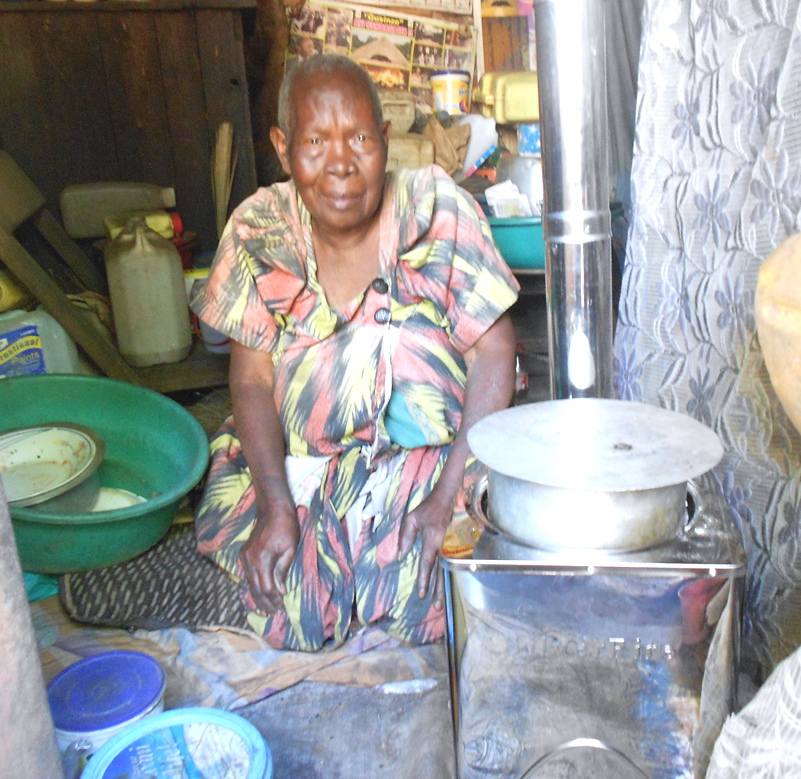 Let us know how we can help facilitate your project with high quality
SilverFire
products at specialized humanitarian pricing.
SilverFire
designs are durable, lightweight, low cost, and utilize leading biomass industry design features (sales@silverfire.us).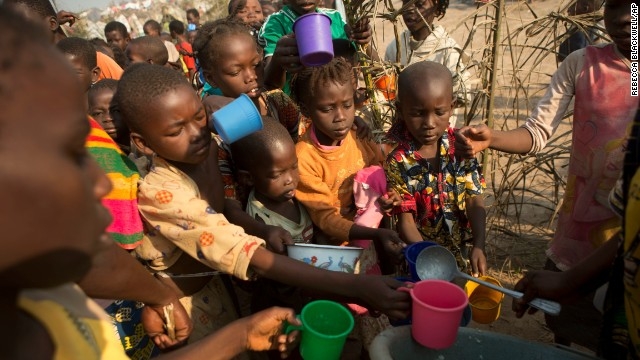 Questions?
SilverFire Sales: +001 541 222-9212 Pacific Time Zone, 10 - 5:00 PM USA Domestic & Humanitarian Sales
SilverFire Warehouse: +001 541 485-7114 Pacific Time Zone 10 -5:00 PM
Showroom / Warehouse is located at 2472 Willamette Street Eugene, OR 97405