Multi Function Tent Dragon New!
Price: $699.95

Sale

$649.95
Out of stock!
Our Multifunction Tent Dragon stove is upgraded in heavy-duty stainless steel for longer stove life. We discontinued the black mild steel option. Our SilverFire Mult-Function Stove now includes a protective recycled wooden carrying case for your stove, as shown below.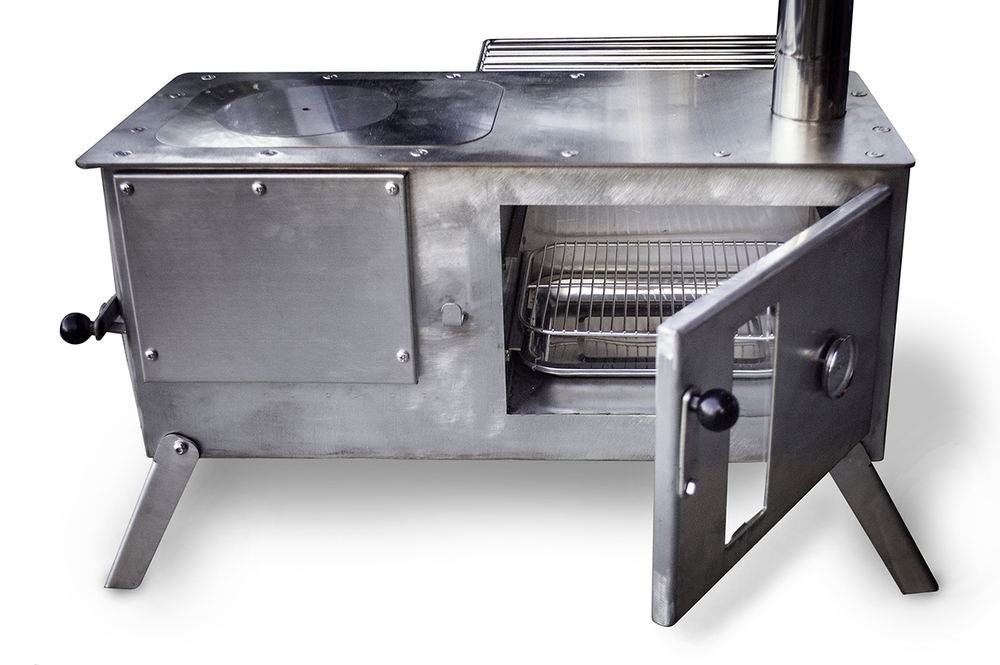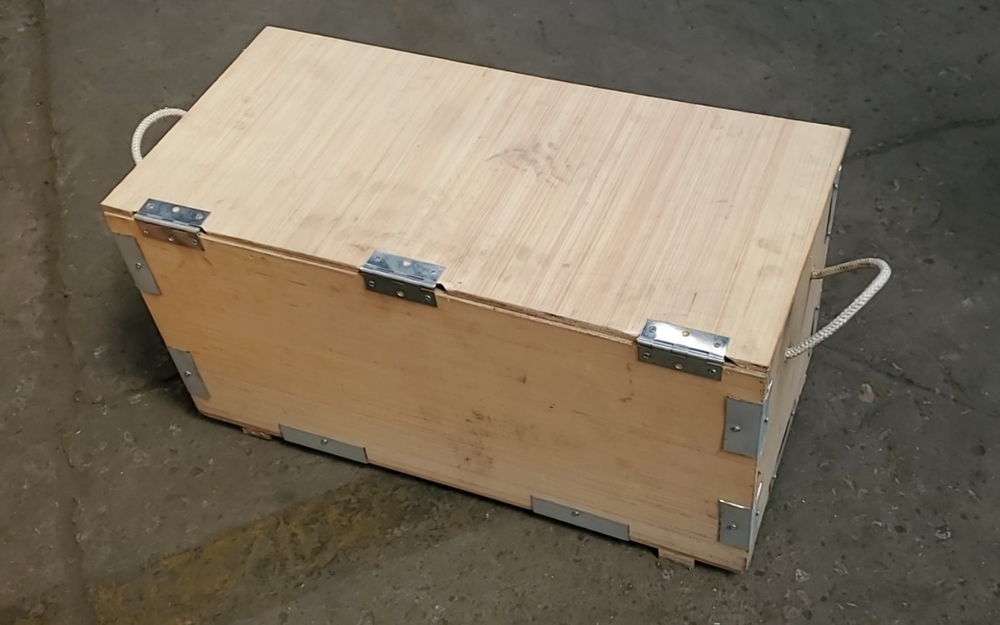 The Multi-Function Tent Dragon is now offered in stainless steel construction and optional corrugated adjustable elbows are available! See our SilverFire Accessories link to order the new adjustable elbows. The re-designed Multi-Function Tent Dragon Stainless Steel has several product design improvements.
Currently, the portable tent stove market is saturated with inefficient primary combustion stove designs that haven't changed in decades (high in both emissions & fuel use). While cleaner-burning residential heating stoves have been rapidly improving and regulated by the EPA, dirty burning stoves have been outlawed due to both high emissions and pollution. Unfortunately, the tent stove market and recreational stoves have never changed despite the fact we are all sharing the same air shed. Unfortunately, large retailers offer dirty burning recreational stove designs. We did something about that. This is 2020!
Russians as far back as WWII drove trucks that ran off wood gas, yet in American, until now you could not purchase a clean-burning tent stove from large retailers or sporting goods distributors. They only offer less efficient, dirtier burning primary combustion stoves, despite efficient wood gas design technology has been available for decades. We think that is unacceptable.
Note: All stoves burn cleaner with dry fuel, including clean-burning gasifier wood-burning stoves. Any stove with a chimney is designed to vent emissions outdoors. Our chimney stoves are designed for use with dry fuel for the most efficient outcomes. Wood or biomass fuel with increased moisture content produces smoke and results in inefficient combustion and increased soot formation. Burning fuel wet fuel is irresponsible and should be avoided if possible.
Interested in extending the duration of burn and saving wood? See our Accessories link and review our optional FireMizer, ideal for use in our stoves when performing long-duration cooking or heating.
This stove was a disruptive technology in the tent stove sector. The discontinued Multi-Function Tent Dragon tent stove shown in this video above was first produced in mild steel painted black. We introduced the World's first multi-function recreational tent stove with efficient re-burning of the wood gases (clean, secondary gasification in addition to primary gasification) to ensure a clean burn and low fuel use by introducing oxygen and air into the firebox a second time via preheated hot flue gas channels through the firebox double walls to mix with the primary combustion burn. This natural draft stove offered secondary combustion for a cleaner burn and provided high, medium, and low firepower cooking. You also have the capacity to simmer, baking, or grill. We provided a water tank, and heating in this single unit too. Now it is available in heavy-duty stainless steel construction!
This translates to the first clean-burning portable tent stove that was not only designed for low emissions and low fuel use, but for multiple cooking functions.
This portable unit now has fore & aft folding legs, that retract and fold under the stove for a compact footprint and easy transportation. The stove has an adjustable primary ventilation dampener on the firebox door and 2 rows of continuous steady-state secondary ventilation slots positioned on the sides and underneath the firebox. This allows preheated oxygen and air to be reintroduced into the primary fire to achieve a clean burn. A small stainless steel ash pan is easily accessible slides below the firebox grate for easy ash disposal. The adjustable primary damper is located in the door. There is no need to adjust the steady-state secondary burn, clean combustion is already optimized.
The heavy gauge stainless steel (1/8" thick) cooktop has a traditional 5 & 7/8" round cooktop cut out for high firepower frying, boiling, and woking for use inside or outside. The larger rectangle cut out in the cooktop allows the 7 & 3/4" x 10 & 1/2" grill insert (included) to be rotated for medium firepower indirect over the baffle, or to be used when a bed of embers is established to grill outside the tent (using included oven bake rack outdoors. The oven rack also serves as the grill rack and stores inside the oven when transporting along with the oven baking pan.
The right rear of the stove has a 10 & 1/2" wide x 9 & 1/4" x 7" tall bake oven. A removable 2 quart / 2 Liter capacity stainless steel hot water tank with brass spigot mounts to the left rear of the stove. The 12 & 1/2" long x 6" deep food or bun support rack rests above the hot water tank mounted on the left side of the stove.
6 sections of chimney come with the stove with the distal section capped (spark arrester - see picture below) and the emissions travel this section's side holes. Due to the long-circulating hot flue gas route, the last chimney section is significantly cooler than a primary combustion firebox stove, increasing safety from sparks or fabric damage. The chimney extends 89 & 5/8" above the stove's cooktop surface. The 4 long chimney sections are 19 & 3/4" long and the shorter cooktop base pieces are 9 & 7/8" long (total length: 89 & 5/8" above cooktop surface).
The final chimney section with spark arrestor cap. Due to hot flue gas and emission path circulating the entire oven before exiting the chimney on the cooktop, our distal chimney temperature is significantly lower than a chimney located directly above the firebox. This means the final chimney section is cooler than other stove designs and less likely to damage the tent fabric or the stove jack.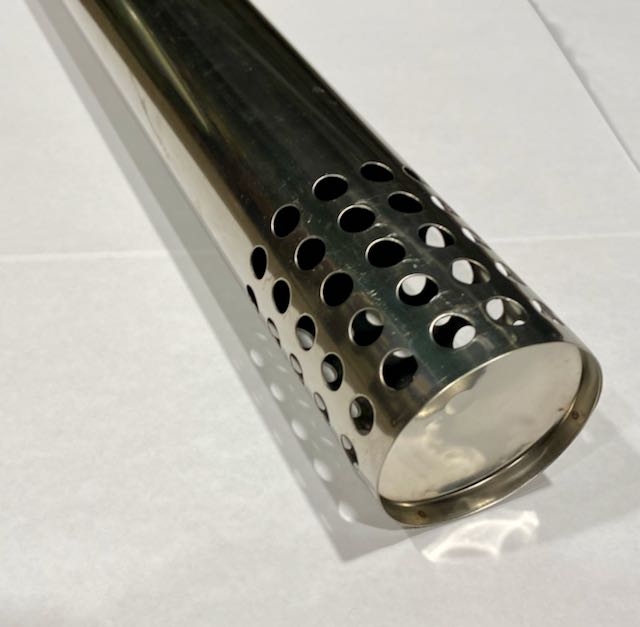 We have fielded inquiries for other small spaces, vans, boats, etc... In those specific installation applications, your likely going to want to use a standard 3" diameter through deck marine fitting to send the 2 1/4" diameter chimney pipe through. There are different manufacturers and fittings available, as shown in the photos below. We now offer elbows, but the stove was originally designed to draft vertically off the cooktop for best results. We have no idea what is or not going to work by adding multiple elbows or horizontal runs. For best results try to run the pipe as vertical as possible and avoid horizontal runs and hard "T" fittings. Additional vertical pipe sections may be required for inappropriate emission venting layout.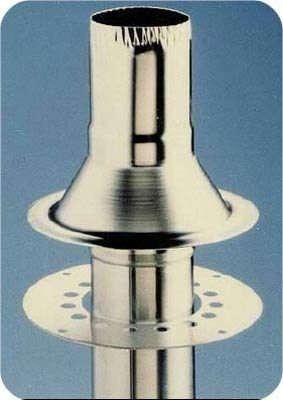 In summary, the Multi Dragon provides more options than other tent cookstoves on the market. It provides the following features:
* Space Heating (Includes 6 Stainless Steel Chimney Sections)
* Bakes (Viewing Glass and Temperature Gauge on Oven Door)
* Boil, Fry, or Wok (High & Medium Firepower Cooktop Cutout)
*Medium Firepower Cooking (Rotate Larger Rectangle Cooktop Plate)
* Low Firepower Cooking (Outdoor Grilling, with Grill Rack or Simmering above Oven)
* Provides Hot Water (Included 2 Quart / 2 Liter Capacity Stainless Steel Water Tank)
* Viewing Glass and Primary Ventilation Dampner Control on Firebox Door
* Steady State Secondary Ventilation (Ensuring Efficient Clean Combustion)
* Sustainable Clean Burning Combustion & Utilizes Minimal Fuel
* Stainless Steel Construction (The Cooktop is 11 Heavy-Gauge Stainless Steel to Ensure Long Stove Life)
* Portable Tent Stove Package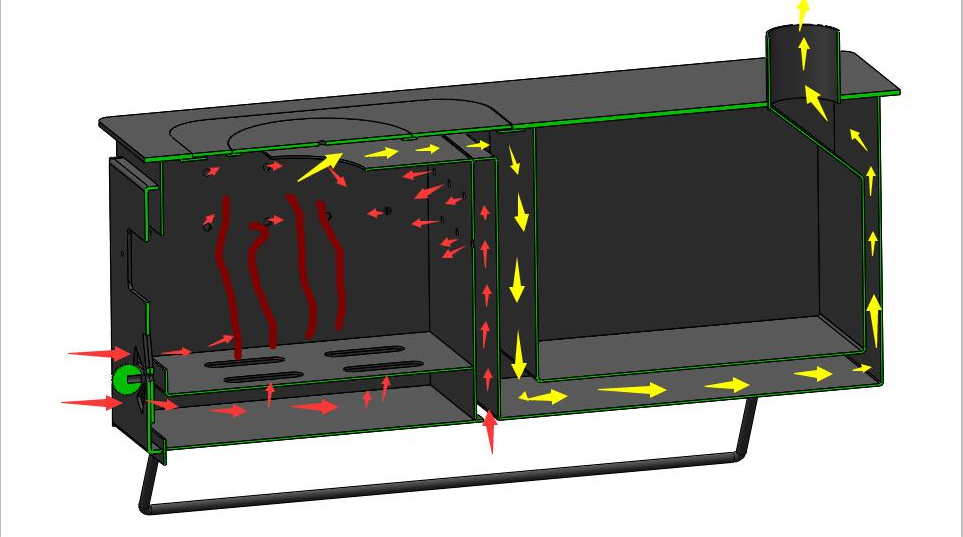 Third-Party Video Reviews:
Texas game warden, Through the Haze Survival, reviewed our stove. This party is unknown to our organization. This is our previous model in mild steel, now available in stainless steel!
Another SilverFire Clean Burn Stove Design!
Here's our favorite customer installation to date, Frank from Germany forwarded these photos and comments (note the use of custom gradual corrugated elbows used, no sharp 90 degree angles, and adequate stack height to ensure appropriate draft!). We now will offer 45 degrees or less corrugated elbows as an option, please see the SilverFire Accessories link.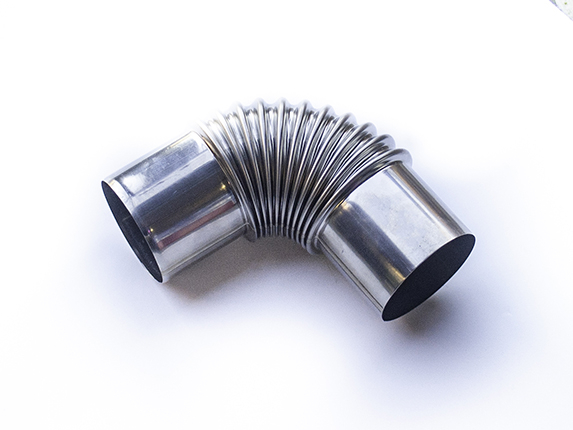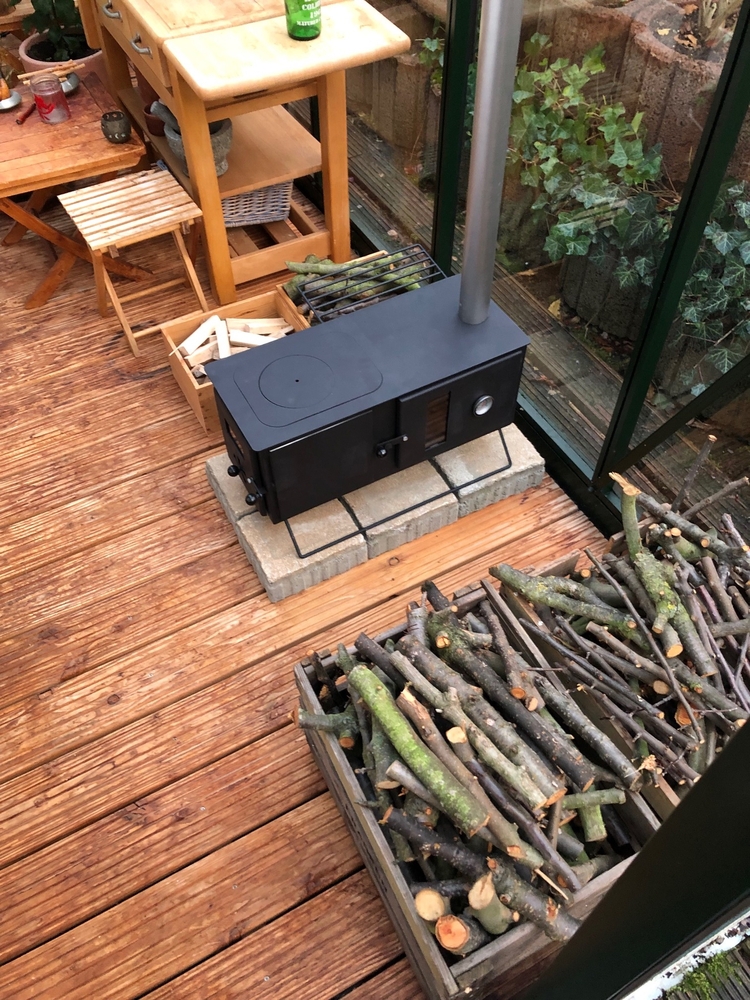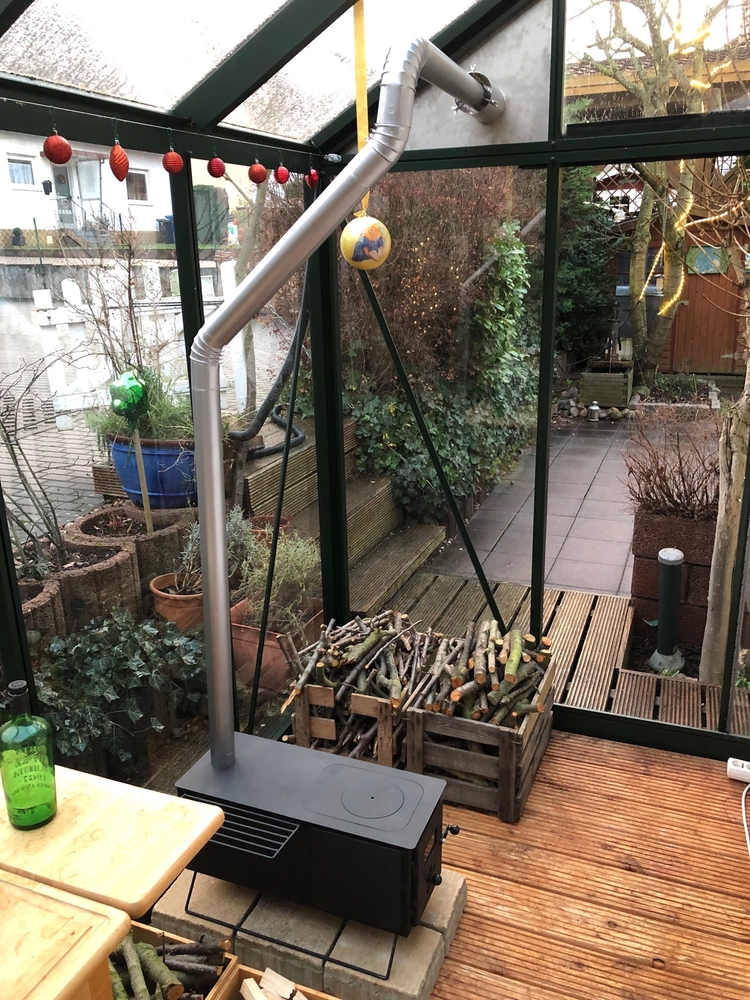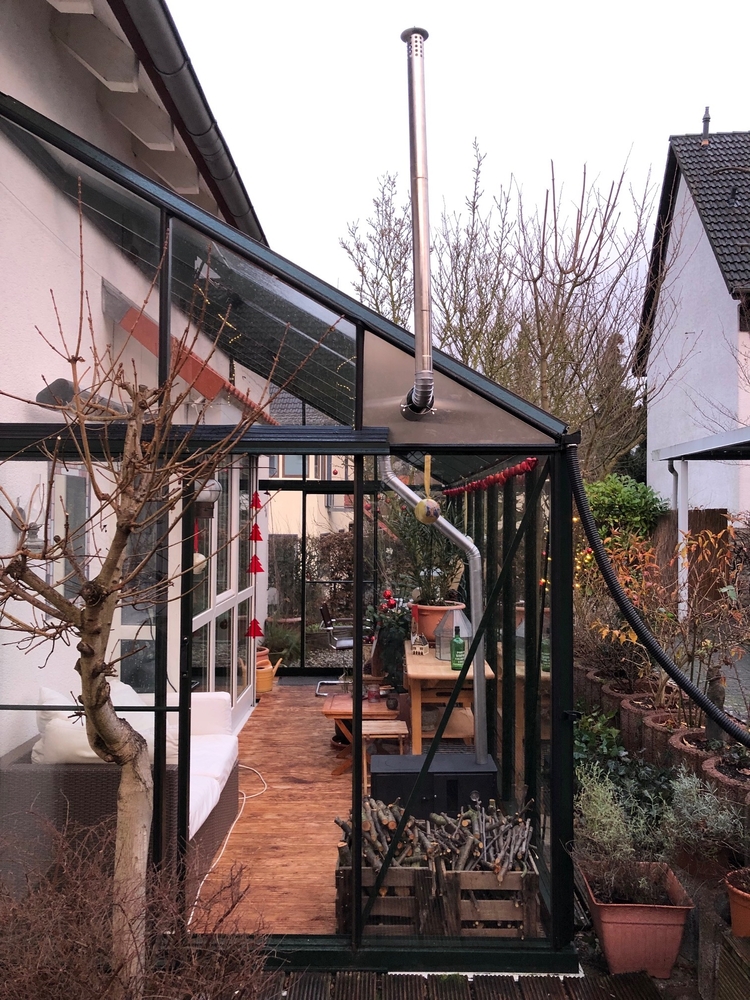 Hello Todd, wonderful! Everything installed in my office glasshouse. Look at the pictures. I've had many beautiful hours here. Outside cold and inside I'm warm with a nice cup of tea, mulled wine, a nice cigar, and with a good book. That's what I call a holiday. A number of friends are very enthusiastic about my oven. Kind regards from Germany, Frank
Dimensions with chimney housing and protruding stove knobs (minus water tank, side-mounted food tray & folding legs retracted):
11 & 3/4" wide x 25 & 1/2" long x 12" tall
The food tray and water tank extend the width of the stove to 17 & 1/2" x in width. The leg width is 1& 1/2" wide x 22" long in the legs extended support position.
The oven compartment is 10 & 3/4" wide x 9 & 1/4" deep x 7&1/4" tall.
The modular stainless steel chimney sections are 89 & 5/8" total height from top of cooktop surface to top of the capped distal chimney spark arrestor piece. The Chimney OD is 6 cm or approximately 2 & 1/4" in diameter.
The stainless steel thin wall stove pipe is easily manipulated if it is out of round if dropped or stepped on. Simply insert a round tube (dowel stick, pipe, etc...) and re-shape the female bell using clockwise or counterclockwise rotations. Never use pliers to adjust malleable stainless steel, you'll ruin the shape of the chimney wall construction.
You may choose to wear gloves handling chimney pipe assembly or disassembly. All chimney pipe suppliers recommend gloves to prevent cutting fingers when handling thinly walled chimney pipe edges, which can be sharp.
All our SilverFire stoves can be top-lit or bottom lit. We find top lighting the stove is most efficient, cleaner, and easier than bottom lighting our stoves. The fuel pile can burn downward like a candle and it is easier to light in this fashion. Simply take stove fuel (small logs, kindling, etc...), and place it in the combustion chamber with smaller tinder on top. Open the damper for the first several minutes. Top light tinder, it's that easy. Retard damper after fire established.
Some folks prefer to take a little pellet gel, alcohol gel, and squirt in small amounts to establish the flame. Others prefer tack cloth, impregnated cotton balls, char cloth, and other fire starters. Whatever you are comfortable with is fine. Lots of fire starters and techniques out there.
We occasionally are questioned about coal, in addition to biomass for fuel. Coal burns too hot and the stove was not designed for coal. Although coal could be lit and placed in the firebox, it has the potential to fatigue the stove metals and potentially shortens stove life. Coal is higher in volatiles, pollution, and CO. We do not recommend coal or charcoal fuel in stoves. This ensures as long a stove life as possible. The stove was designed for renewable dry wood or biomass.
The stove is a rugged 50 lb of heavy gauge stainless steel. The thermal mass of a stove this size typically are rated for heating larger tents, tipi's, yurts, or spaces such as 12' x 12' wall tents, or 12' x 12' Peak tents down to -30 degrees Fahrenheit. We recently received a review (below) from a happy customer heating his 16' diameter Bell tent in temperatures down in the low 20's. Warmer climates mean potentially larger size tent heating capabilities. Heating ratings are dependent on ambient temperatures, elevation, season, moisture content, humidity, and wood fuel species, density, and other variables. The secondary gasification firebox with baffle allows for a smaller footprint design due to greater efficient combustion. The dimension is: 9 & 1/4" wide x 10 & 1/4" deep x 7 & 3/4". About 75% of a cubic foot will call it. It is a small firebox offering efficient performance. See our Firemizer offering under our SilverFire Accessories link if interested in extending the duration of burn.
Our testing results are softwoods burn about 1 hour & 1/2 with heat radiating to about 2 hours maximum. Dry hardwood significantly improves the duration of the burn. Recent dense hardwood testing resulted in a 4-hour burn with very prolonged smoldering and just fine ash as the end product due to efficient secondary combustion. So anticipate a 2 - 4 hour burn maximum duration of burn when stoking the firebox with hardwood and less with softwood species. Density and species will provide variable results.
Note: This stove is a recreational tent stove for smaller footprint tents. It is unrealistic to use this type of stove as your everyday primary heating source in large spaces. It is better to have a larger stove with smaller fires for heating applications. We also recommend CO monitors when using stoves indoors. Our large fixed chimney stoves have gaskets on both doors and stove. They are designed for residential heating and cooking.
We received valuable customer input on great cast iron cookware options that fit well on the stove and in the oven, obviously, the oven is going to be hotter on the firebox side. He thinks the following cast iron pieces dissipate the heat well for more even baking results:
I continue to enjoy this little stove and have a few more pics for you. I have purchased a 2 Qt Lodge cast serving pot which fits beautifully in the oven and helps prevent food burn on the left side, hot side, of the oven. Also, I have purchased a cast iron cooking grate which was made for your stove. Perfect!
And finally, a perfect fitting baking set including two 7Ē pizza pans.
So, we have made biscuits, lemon poppy seed muffins, pizza, steaks, and beef bourguignon just to name a few. The Lodge 2 & 1/2 quart Dutch oven works well with this stove on the cooktop being a good 12Ē longer than the stove itself. Well, what can I say, Carolyn and I have enjoyed this little stove without a doubt.
Another ambitious Tent Dragon cook just submitted these photos, canning on the Tent Dragon! Wow, we are impressed! Great job Melanie!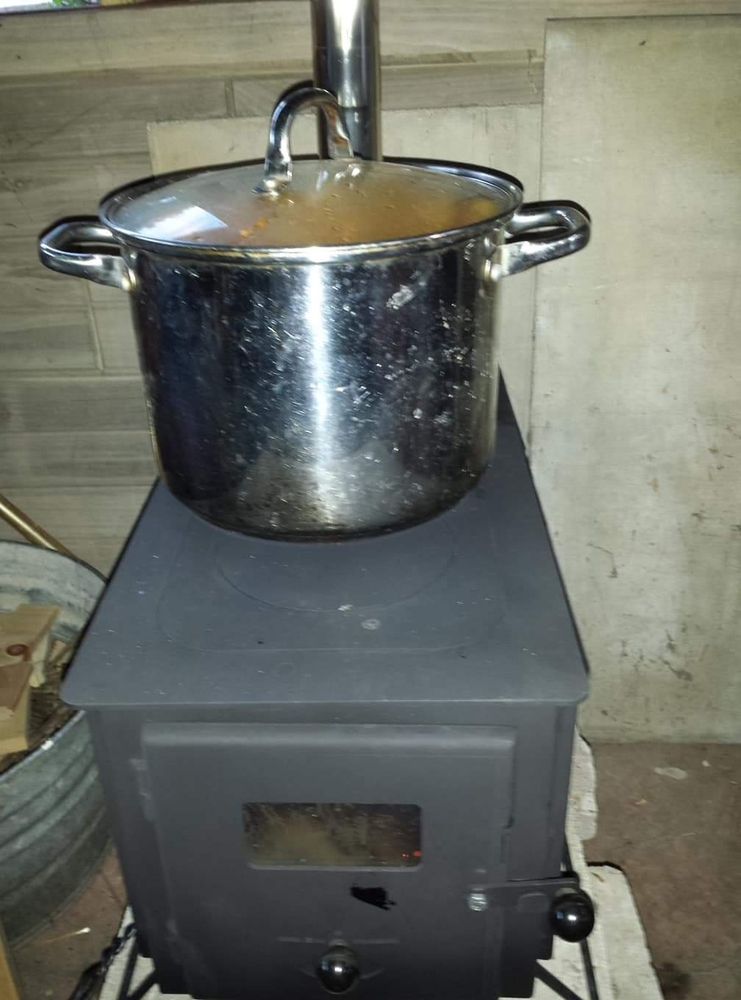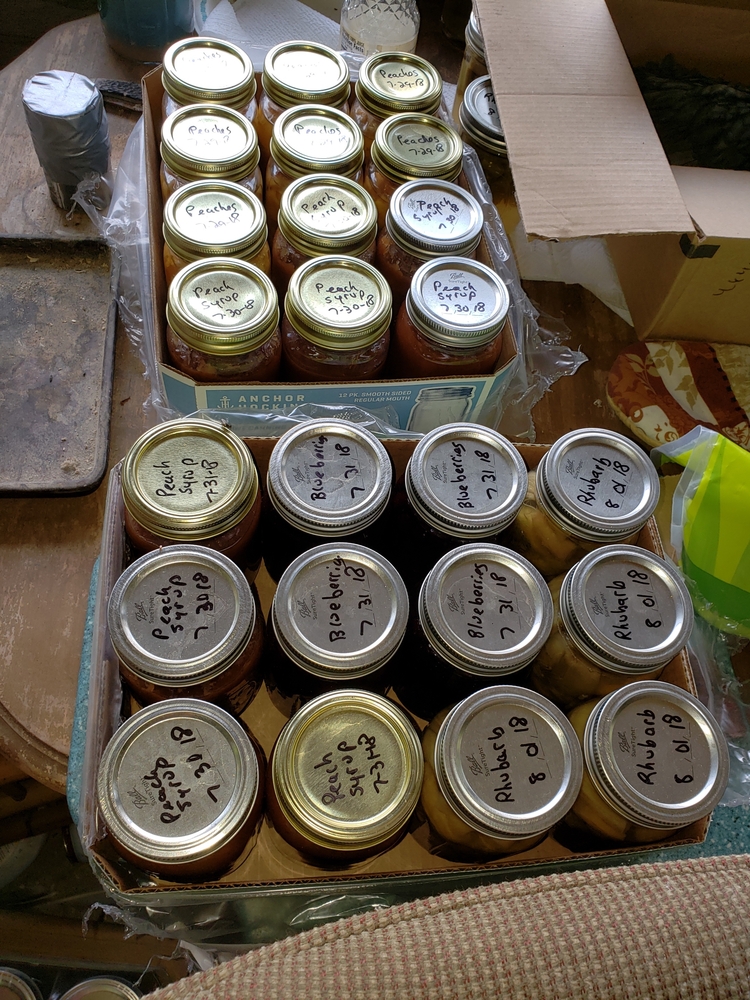 Nelani's cobbler (we are hungry)!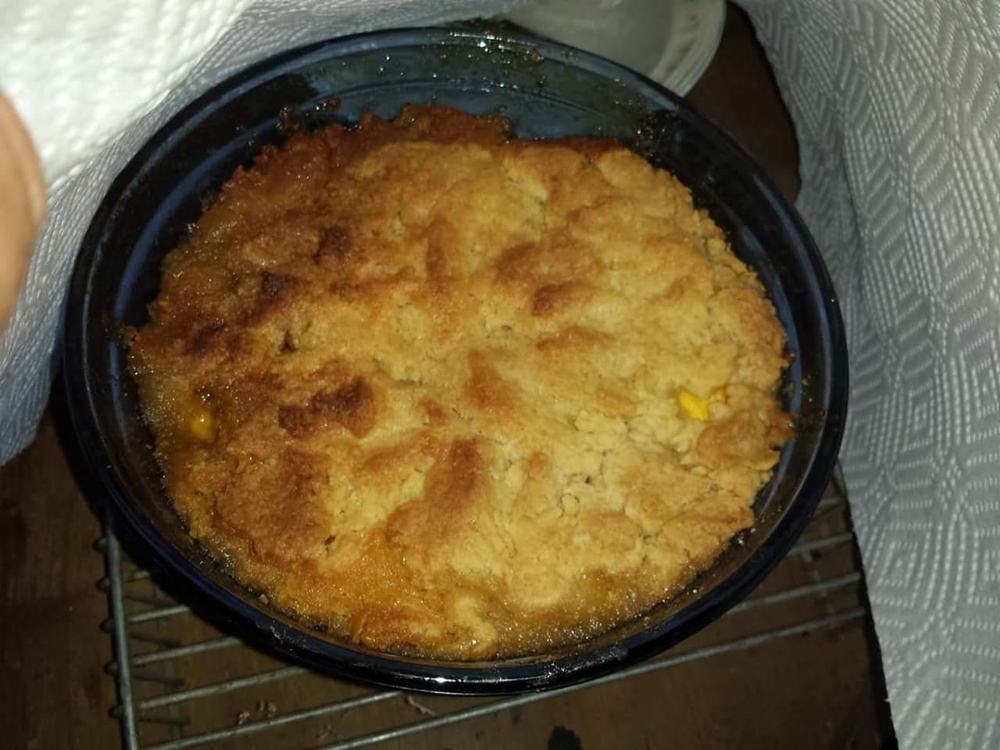 More reviews on the bottom of the page.
Shipping Unit Weight: 75 lb in protective wood crate, FedEx Ground
*********************************************************************************
These photos show our earlier 2018 Multi-Function Tent Dragon Upgrades!, prior to SS stove availability.
Firebox Door Rope Gasket :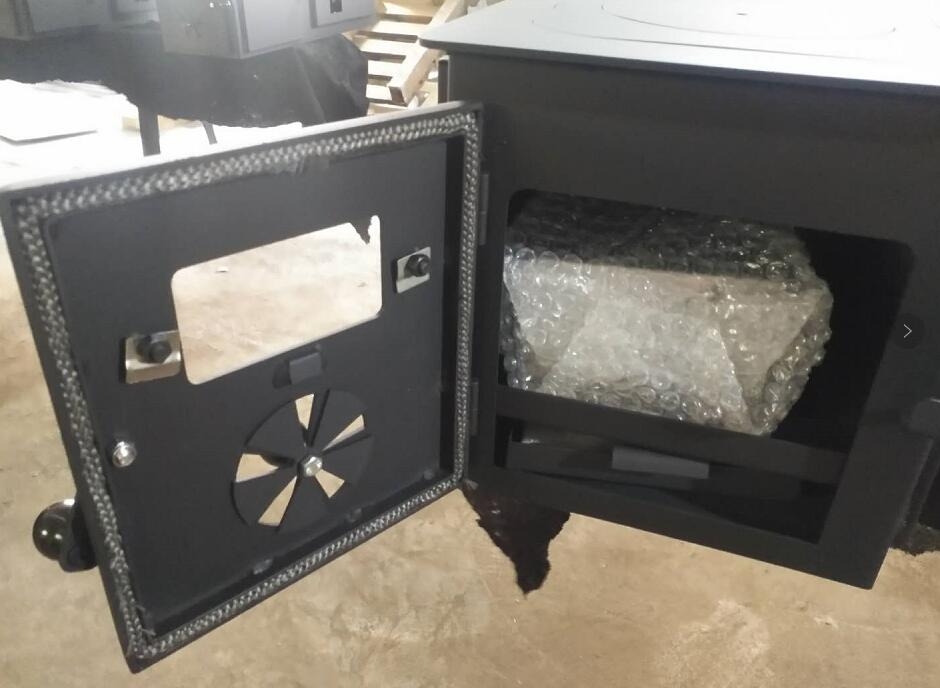 Rear Oven Soot Port: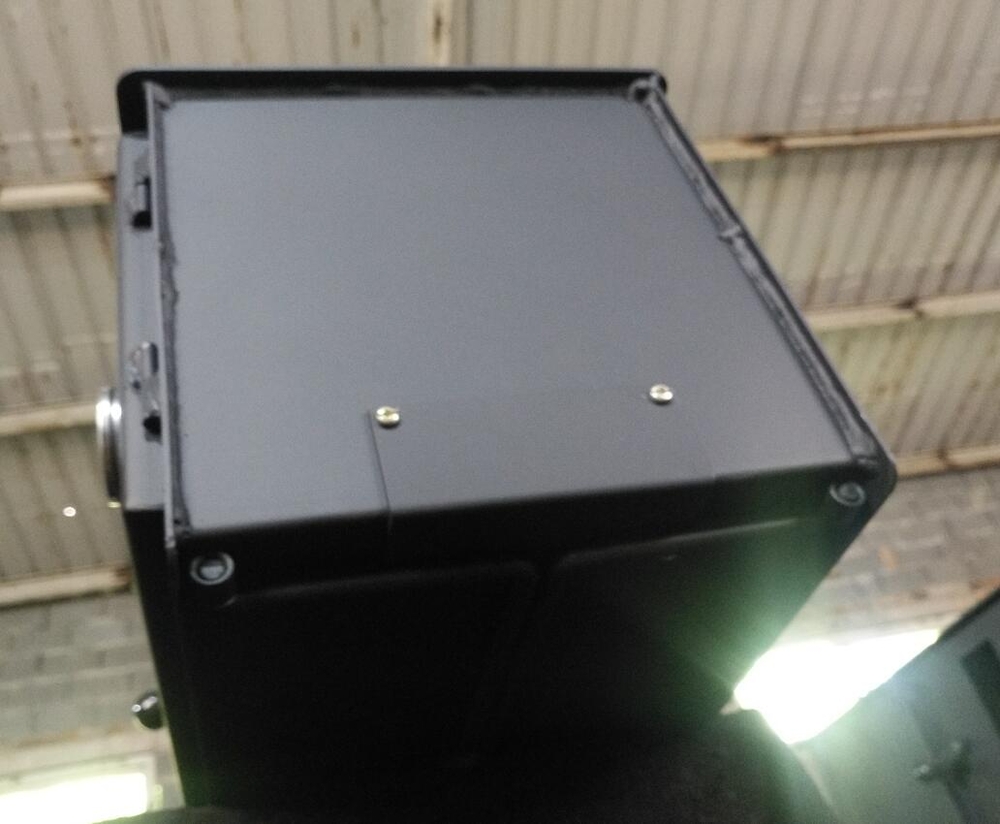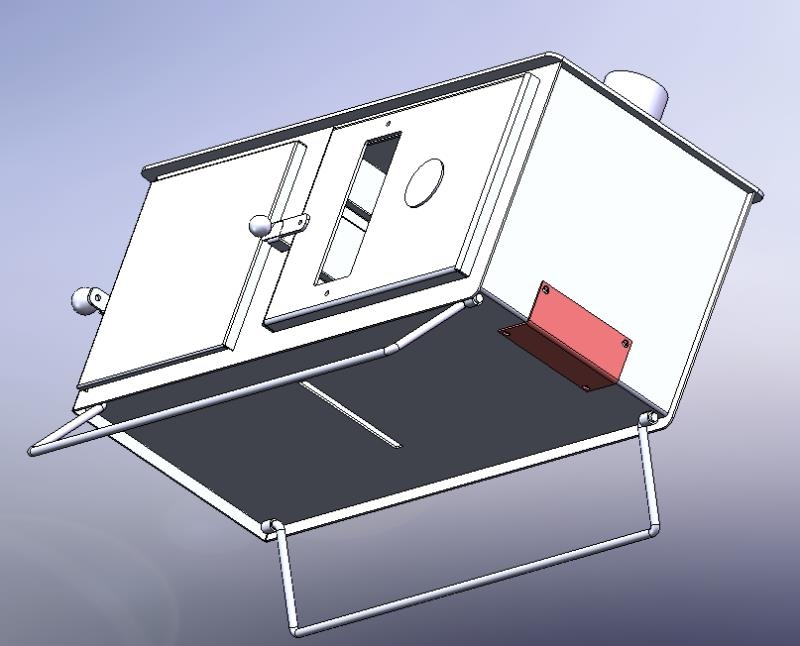 Soot Brush: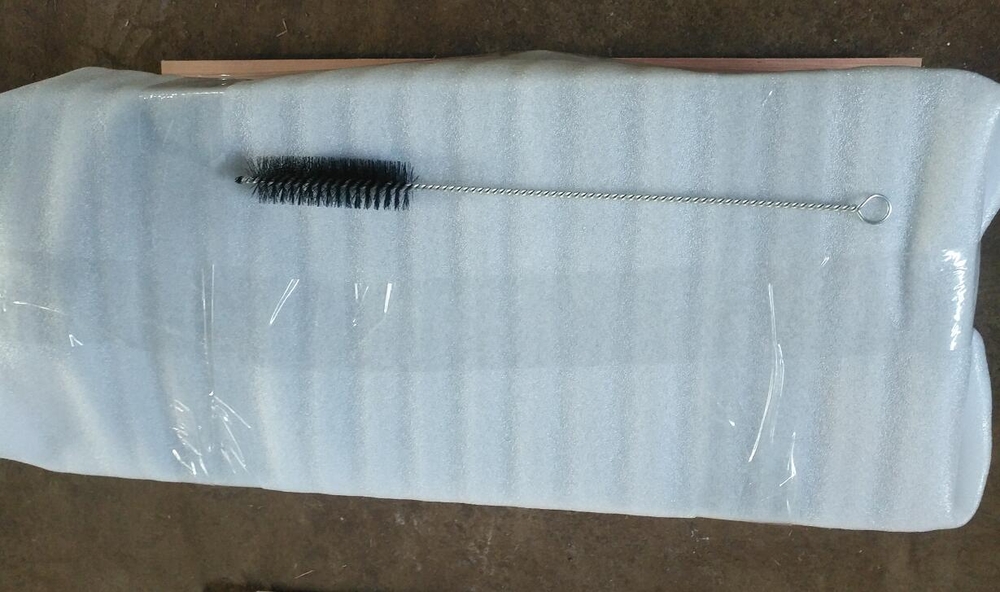 Improved Firebox Door Latch: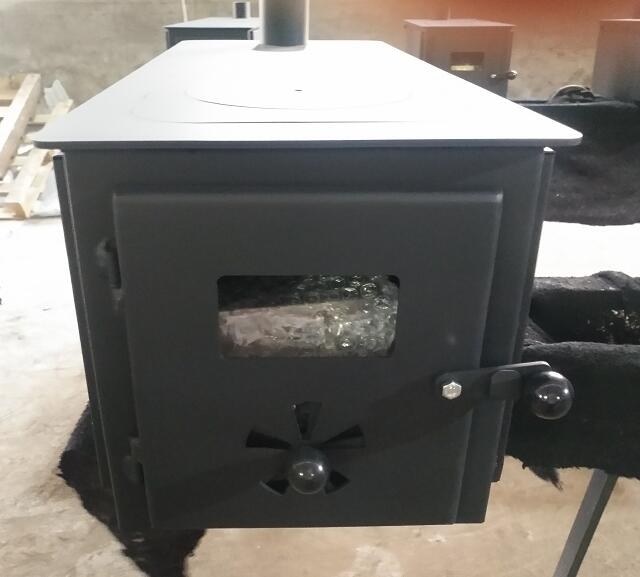 Improved Oven Door Latch: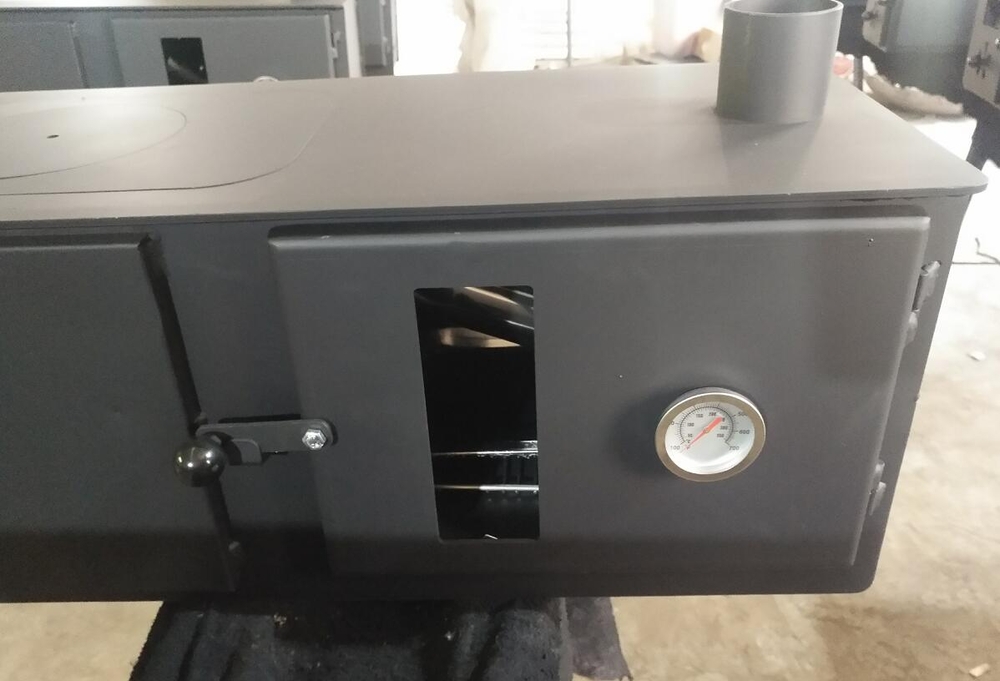 Review: New Stainless Steel Multi-Function Tent Dragon (11/30/2019)
Name: Evan (16' Diameter Bell Tent)
Review Text: This stove is nearly perfect. From the camper to the prepper this stove is perfect for anyone who needs off-grid heat and cooking. with its clean-burning design, if SHTF you could use this without giving away your position. with this stove, you get nearly 2x the heat on 1/2 the wood due to its efficiency and larger thermal mass to absorb and radiate off the stoves heat into the surrounding area before the gases go up the flue. I love how the flu pipe runs much cooler so that my tent's built-in stove jack requires no additional hardware. Pair this with a heat powered stove fan and you can heat a 16x16 tent in 19 F temps very comfortably. I will be uploading a video review so thorough on this stove at the beginning of 2020 there won't be a single unanswered question.
Product Name: Review
Submitters Name: Max
Headline: Money well spent! (Tent Dragon)
Product Rating: 5.0
Review Text: I did a good amount of research on tent stoves. The Tent Dragon was one of the first I checked out and it had set the bar. It did not disappoint. Everything is as per the video on the site. Made of excellent quality and I have cooked many various things so far (I've only had it for less than a month) including frozen French fries in the oven section. The oven was shipped in strong and durable packaging. Living up in Canada, I'm delighted to have this unit ready and able to address all sorts of situations. I had to pay exchange rates from CAD to USD but it was worth it because it was money well spent!
Tips to Prevent Soot Build Up on Wood Stove Glass
Thereís nothing quite like a beautiful wood stove fire during the colder seasons. Soot build-up on wood stove glass can decrease the visual appeal of a wood stove fire, and it can become rather laborious to have to constantly clean the glass every time you have a fire.
Here are some easy tips to prevent soot build-up on your wood stove glass. Cleaner glass will add greater ambiance to a room and allow you to enjoy more fires in your wood stove before having to clean the glass again.
Tips to Prevent Soot Build Up on Wood Stove Glass
Always burn well-seasoned wood in your wood stove. Burning wood that hasnít been well-seasoned can decrease the quality of your fire and cause it to be ďsmoky.Ē Smokier fires produce more soot build upon the glass.
Try burning harder woods like oak, cherry, or walnut, and avoid burning woods known for their higher sap content.
If your wood stove has a heat setting, try turning the heat controls up a few notches. Hotter fires will keep your glass cleaner.
Allow enough oxygen to vent into your wood stove. Many of the newer models are already built to help with the airflow. Check the chimney/vent to make sure itís clean and in a good position for airflow.
If youíre burning smaller fires, try adding some more wood to the woodstove. Smaller fires canít always produce enough heat inside the wood stove for the soot to burn off the glass.
Position burning matter closer to the front glass on the woodstove. This will put the heat source closer to the glass.
Enjoy Beautiful Fires from Your Wood Stove All Season Long
You canít completely prevent soot from accumulating on the glass, but these tips should help increase the time between cleanings. Soot build-up on wood stove glass is less of a problem for newer models than older models, but regardless of how old your wood stove is, you can still experience beautiful fires from your wood stove all season long.
Helpful stove glass cleaning links:
https://www.wikihow.com/Clean-Fireplace-or-Woodsto...
https://www.goodhousekeeping.com/home/cleaning/tips/a21354/soot-glass-cleaning-sep06/
Description

Out of stock!

Our Multifunction Tent Dragon stove is upgraded in heavy-duty stainless steel for longer stove life. We discontinued the black mild steel option. Our SilverFire Mult-Function Stove now includes a protective recycled wooden carrying case for your stove, as shown below.

The Multi-Function Tent Dragon is now offered in stainless steel construction and optional corrugated adjustable elbows are available! See our SilverFire Accessories link to order the new adjustable elbows. The re-designed Multi-Function Tent Dragon Stainless Steel has several product design improvements.

Currently, the portable tent stove market is saturated with inefficient primary combustion stove designs that haven't changed in decades (high in both emissions & fuel use). While cleaner-burning residential heating stoves have been rapidly improving and regulated by the EPA, dirty burning stoves have been outlawed due to both high emissions and pollution. Unfortunately, the tent stove market and recreational stoves have never changed despite the fact we are all sharing the same air shed. Unfortunately, large retailers offer dirty burning recreational stove designs. We did something about that. This is 2020!

Russians as far back as WWII drove trucks that ran off wood gas, yet in American, until now you could not purchase a clean-burning tent stove from large retailers or sporting goods distributors. They only offer less efficient, dirtier burning primary combustion stoves, despite efficient wood gas design technology has been available for decades. We think that is unacceptable.

Note: All stoves burn cleaner with dry fuel, including clean-burning gasifier wood-burning stoves. Any stove with a chimney is designed to vent emissions outdoors. Our chimney stoves are designed for use with dry fuel for the most efficient outcomes. Wood or biomass fuel with increased moisture content produces smoke and results in inefficient combustion and increased soot formation. Burning fuel wet fuel is irresponsible and should be avoided if possible.

Interested in extending the duration of burn and saving wood? See our Accessories link and review our optional FireMizer, ideal for use in our stoves when performing long-duration cooking or heating.

This stove was a disruptive technology in the tent stove sector. The discontinued Multi-Function Tent Dragon tent stove shown in this video above was first produced in mild steel painted black. We introduced the World's first multi-function recreational tent stove with efficient re-burning of the wood gases (clean, secondary gasification in addition to primary gasification) to ensure a clean burn and low fuel use by introducing oxygen and air into the firebox a second time via preheated hot flue gas channels through the firebox double walls to mix with the primary combustion burn. This natural draft stove offered secondary combustion for a cleaner burn and provided high, medium, and low firepower cooking. You also have the capacity to simmer, baking, or grill. We provided a water tank, and heating in this single unit too. Now it is available in heavy-duty stainless steel construction!

This translates to the first clean-burning portable tent stove that was not only designed for low emissions and low fuel use, but for multiple cooking functions.

This portable unit now has fore & aft folding legs, that retract and fold under the stove for a compact footprint and easy transportation. The stove has an adjustable primary ventilation dampener on the firebox door and 2 rows of continuous steady-state secondary ventilation slots positioned on the sides and underneath the firebox. This allows preheated oxygen and air to be reintroduced into the primary fire to achieve a clean burn. A small stainless steel ash pan is easily accessible slides below the firebox grate for easy ash disposal. The adjustable primary damper is located in the door. There is no need to adjust the steady-state secondary burn, clean combustion is already optimized.

The heavy gauge stainless steel (1/8" thick) cooktop has a traditional 5 & 7/8" round cooktop cut out for high firepower frying, boiling, and woking for use inside or outside. The larger rectangle cut out in the cooktop allows the 7 & 3/4" x 10 & 1/2" grill insert (included) to be rotated for medium firepower indirect over the baffle, or to be used when a bed of embers is established to grill outside the tent (using included oven bake rack outdoors. The oven rack also serves as the grill rack and stores inside the oven when transporting along with the oven baking pan.

The right rear of the stove has a 10 & 1/2" wide x 9 & 1/4" x 7" tall bake oven. A removable 2 quart / 2 Liter capacity stainless steel hot water tank with brass spigot mounts to the left rear of the stove. The 12 & 1/2" long x 6" deep food or bun support rack rests above the hot water tank mounted on the left side of the stove.

6 sections of chimney come with the stove with the distal section capped (spark arrester - see picture below) and the emissions travel this section's side holes. Due to the long-circulating hot flue gas route, the last chimney section is significantly cooler than a primary combustion firebox stove, increasing safety from sparks or fabric damage. The chimney extends 89 & 5/8" above the stove's cooktop surface. The 4 long chimney sections are 19 & 3/4" long and the shorter cooktop base pieces are 9 & 7/8" long (total length: 89 & 5/8" above cooktop surface).

The final chimney section with spark arrestor cap. Due to hot flue gas and emission path circulating the entire oven before exiting the chimney on the cooktop, our distal chimney temperature is significantly lower than a chimney located directly above the firebox. This means the final chimney section is cooler than other stove designs and less likely to damage the tent fabric or the stove jack.

We have fielded inquiries for other small spaces, vans, boats, etc... In those specific installation applications, your likely going to want to use a standard 3" diameter through deck marine fitting to send the 2 1/4" diameter chimney pipe through. There are different manufacturers and fittings available, as shown in the photos below. We now offer elbows, but the stove was originally designed to draft vertically off the cooktop for best results. We have no idea what is or not going to work by adding multiple elbows or horizontal runs. For best results try to run the pipe as vertical as possible and avoid horizontal runs and hard "T" fittings. Additional vertical pipe sections may be required for inappropriate emission venting layout.

In summary, the Multi Dragon provides more options than other tent cookstoves on the market. It provides the following features:

* Space Heating (Includes 6 Stainless Steel Chimney Sections)

* Bakes (Viewing Glass and Temperature Gauge on Oven Door)

* Boil, Fry, or Wok (High & Medium Firepower Cooktop Cutout)

*Medium Firepower Cooking (Rotate Larger Rectangle Cooktop Plate)

* Low Firepower Cooking (Outdoor Grilling, with Grill Rack or Simmering above Oven)

* Provides Hot Water (Included 2 Quart / 2 Liter Capacity Stainless Steel Water Tank)

* Viewing Glass and Primary Ventilation Dampner Control on Firebox Door

* Steady State Secondary Ventilation (Ensuring Efficient Clean Combustion)

* Sustainable Clean Burning Combustion & Utilizes Minimal Fuel

* Stainless Steel Construction (The Cooktop is 11 Heavy-Gauge Stainless Steel to Ensure Long Stove Life)

* Portable Tent Stove Package

Third-Party Video Reviews:

Texas game warden, Through the Haze Survival, reviewed our stove. This party is unknown to our organization. This is our previous model in mild steel, now available in stainless steel!

Another SilverFire Clean Burn Stove Design!

Here's our favorite customer installation to date, Frank from Germany forwarded these photos and comments (note the use of custom gradual corrugated elbows used, no sharp 90 degree angles, and adequate stack height to ensure appropriate draft!). We now will offer 45 degrees or less corrugated elbows as an option, please see the SilverFire Accessories link.

Hello Todd, wonderful! Everything installed in my office glasshouse. Look at the pictures. I've had many beautiful hours here. Outside cold and inside I'm warm with a nice cup of tea, mulled wine, a nice cigar, and with a good book. That's what I call a holiday. A number of friends are very enthusiastic about my oven. Kind regards from Germany, Frank

Dimensions with chimney housing and protruding stove knobs (minus water tank, side-mounted food tray & folding legs retracted):

11 & 3/4" wide x 25 & 1/2" long x 12" tall

The food tray and water tank extend the width of the stove to 17 & 1/2" x in width. The leg width is 1& 1/2" wide x 22" long in the legs extended support position.

The oven compartment is 10 & 3/4" wide x 9 & 1/4" deep x 7&1/4" tall.

The modular stainless steel chimney sections are 89 & 5/8" total height from top of cooktop surface to top of the capped distal chimney spark arrestor piece. The Chimney OD is 6 cm or approximately 2 & 1/4" in diameter.

The stainless steel thin wall stove pipe is easily manipulated if it is out of round if dropped or stepped on. Simply insert a round tube (dowel stick, pipe, etc...) and re-shape the female bell using clockwise or counterclockwise rotations. Never use pliers to adjust malleable stainless steel, you'll ruin the shape of the chimney wall construction.

You may choose to wear gloves handling chimney pipe assembly or disassembly. All chimney pipe suppliers recommend gloves to prevent cutting fingers when handling thinly walled chimney pipe edges, which can be sharp.

All our SilverFire stoves can be top-lit or bottom lit. We find top lighting the stove is most efficient, cleaner, and easier than bottom lighting our stoves. The fuel pile can burn downward like a candle and it is easier to light in this fashion. Simply take stove fuel (small logs, kindling, etc...), and place it in the combustion chamber with smaller tinder on top. Open the damper for the first several minutes. Top light tinder, it's that easy. Retard damper after fire established.

Some folks prefer to take a little pellet gel, alcohol gel, and squirt in small amounts to establish the flame. Others prefer tack cloth, impregnated cotton balls, char cloth, and other fire starters. Whatever you are comfortable with is fine. Lots of fire starters and techniques out there.

We occasionally are questioned about coal, in addition to biomass for fuel. Coal burns too hot and the stove was not designed for coal. Although coal could be lit and placed in the firebox, it has the potential to fatigue the stove metals and potentially shortens stove life. Coal is higher in volatiles, pollution, and CO. We do not recommend coal or charcoal fuel in stoves. This ensures as long a stove life as possible. The stove was designed for renewable dry wood or biomass.

The stove is a rugged 50 lb of heavy gauge stainless steel. The thermal mass of a stove this size typically are rated for heating larger tents, tipi's, yurts, or spaces such as 12' x 12' wall tents, or 12' x 12' Peak tents down to -30 degrees Fahrenheit. We recently received a review (below) from a happy customer heating his 16' diameter Bell tent in temperatures down in the low 20's. Warmer climates mean potentially larger size tent heating capabilities. Heating ratings are dependent on ambient temperatures, elevation, season, moisture content, humidity, and wood fuel species, density, and other variables. The secondary gasification firebox with baffle allows for a smaller footprint design due to greater efficient combustion. The dimension is: 9 & 1/4" wide x 10 & 1/4" deep x 7 & 3/4". About 75% of a cubic foot will call it. It is a small firebox offering efficient performance. See our Firemizer offering under our SilverFire Accessories link if interested in extending the duration of burn.

Our testing results are softwoods burn about 1 hour & 1/2 with heat radiating to about 2 hours maximum. Dry hardwood significantly improves the duration of the burn. Recent dense hardwood testing resulted in a 4-hour burn with very prolonged smoldering and just fine ash as the end product due to efficient secondary combustion. So anticipate a 2 - 4 hour burn maximum duration of burn when stoking the firebox with hardwood and less with softwood species. Density and species will provide variable results.

Note: This stove is a recreational tent stove for smaller footprint tents. It is unrealistic to use this type of stove as your everyday primary heating source in large spaces. It is better to have a larger stove with smaller fires for heating applications. We also recommend CO monitors when using stoves indoors. Our large fixed chimney stoves have gaskets on both doors and stove. They are designed for residential heating and cooking.

We received valuable customer input on great cast iron cookware options that fit well on the stove and in the oven, obviously, the oven is going to be hotter on the firebox side. He thinks the following cast iron pieces dissipate the heat well for more even baking results:

I continue to enjoy this little stove and have a few more pics for you. I have purchased a 2 Qt Lodge cast serving pot which fits beautifully in the oven and helps prevent food burn on the left side, hot side, of the oven. Also, I have purchased a cast iron cooking grate which was made for your stove. Perfect!

And finally, a perfect fitting baking set including two 7Ē pizza pans.

So, we have made biscuits, lemon poppy seed muffins, pizza, steaks, and beef bourguignon just to name a few. The Lodge 2 & 1/2 quart Dutch oven works well with this stove on the cooktop being a good 12Ē longer than the stove itself. Well, what can I say, Carolyn and I have enjoyed this little stove without a doubt.

Another ambitious Tent Dragon cook just submitted these photos, canning on the Tent Dragon! Wow, we are impressed! Great job Melanie!

Nelani's cobbler (we are hungry)!

More reviews on the bottom of the page.

Shipping Unit Weight: 75 lb in protective wood crate, FedEx Ground

*********************************************************************************

These photos show our earlier 2018 Multi-Function Tent Dragon Upgrades!, prior to SS stove availability.

Firebox Door Rope Gasket :

Rear Oven Soot Port:

Soot Brush:

Improved Firebox Door Latch:

Improved Oven Door Latch:

Review: New Stainless Steel Multi-Function Tent Dragon (11/30/2019)

Name: Evan (16' Diameter Bell Tent)

Review Text: This stove is nearly perfect. From the camper to the prepper this stove is perfect for anyone who needs off-grid heat and cooking. with its clean-burning design, if SHTF you could use this without giving away your position. with this stove, you get nearly 2x the heat on 1/2 the wood due to its efficiency and larger thermal mass to absorb and radiate off the stoves heat into the surrounding area before the gases go up the flue. I love how the flu pipe runs much cooler so that my tent's built-in stove jack requires no additional hardware. Pair this with a heat powered stove fan and you can heat a 16x16 tent in 19 F temps very comfortably. I will be uploading a video review so thorough on this stove at the beginning of 2020 there won't be a single unanswered question.

Product Name: Review

Submitters Name: Max

Headline: Money well spent! (Tent Dragon)
Product Rating: 5.0
Review Text: I did a good amount of research on tent stoves. The Tent Dragon was one of the first I checked out and it had set the bar. It did not disappoint. Everything is as per the video on the site. Made of excellent quality and I have cooked many various things so far (I've only had it for less than a month) including frozen French fries in the oven section. The oven was shipped in strong and durable packaging. Living up in Canada, I'm delighted to have this unit ready and able to address all sorts of situations. I had to pay exchange rates from CAD to USD but it was worth it because it was money well spent!

Tips to Prevent Soot Build Up on Wood Stove Glass

Thereís nothing quite like a beautiful wood stove fire during the colder seasons. Soot build-up on wood stove glass can decrease the visual appeal of a wood stove fire, and it can become rather laborious to have to constantly clean the glass every time you have a fire.

Here are some easy tips to prevent soot build-up on your wood stove glass. Cleaner glass will add greater ambiance to a room and allow you to enjoy more fires in your wood stove before having to clean the glass again.

Tips to Prevent Soot Build Up on Wood Stove Glass

Always burn well-seasoned wood in your wood stove. Burning wood that hasnít been well-seasoned can decrease the quality of your fire and cause it to be ďsmoky.Ē Smokier fires produce more soot build upon the glass.
Try burning harder woods like oak, cherry, or walnut, and avoid burning woods known for their higher sap content.
If your wood stove has a heat setting, try turning the heat controls up a few notches. Hotter fires will keep your glass cleaner.
Allow enough oxygen to vent into your wood stove. Many of the newer models are already built to help with the airflow. Check the chimney/vent to make sure itís clean and in a good position for airflow.
If youíre burning smaller fires, try adding some more wood to the woodstove. Smaller fires canít always produce enough heat inside the wood stove for the soot to burn off the glass.
Position burning matter closer to the front glass on the woodstove. This will put the heat source closer to the glass.

Enjoy Beautiful Fires from Your Wood Stove All Season Long

You canít completely prevent soot from accumulating on the glass, but these tips should help increase the time between cleanings. Soot build-up on wood stove glass is less of a problem for newer models than older models, but regardless of how old your wood stove is, you can still experience beautiful fires from your wood stove all season long.

Helpful stove glass cleaning links:

https://www.wikihow.com/Clean-Fireplace-or-Woodsto...

https://www.goodhousekeeping.com/home/cleaning/tips/a21354/soot-glass-cleaning-sep06/

Reviews
---